Top kid-friendly business hotels
By Katrina Brown Hunt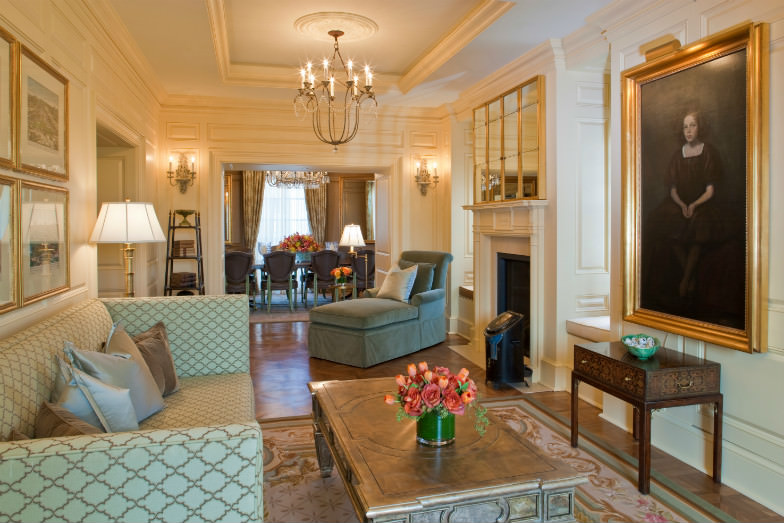 The Jefferson in Washington, DC (The Jefferson)
Hate business trips because you miss the kids too much? Pick the right hotel, and you'll have a near-mandate to take the kids, too.
Of course, most business-friendly hotels — including those located in city centers, or those that attract big conferences — always offer a few kid-friendly options, such as a pool or a kids menu. But some go above and beyond, making it all the more tempting to bring your spouse and kids, and make a vacation of it after your meetings are done. Here are seven button-down hotels around the U.S. that have upped the ante big time in terms of family-friendly appeal:
The Jefferson (Washington, DC)
This boutique hotel offers deal-cutting "cabinet" meeting rooms, but is good at keeping the rest of your family occupied. Its "Where's Tommy?" program takes its inspiration from the Flat Stanley books: Kids meet with the hotel's in-house historian then set out on a self-guided scavenger hunt around the city, featuring Thomas-Jefferson-related locations where they can photograph their Flat Tommy (such as the National Archives, the Library? of Congress, and the Jefferson Memorial). You're encouraged to chart your progress via Instagram and your reward back at the hotel is a bobble-head of TJ himself. The hotel also features a friendly resident beagle, Lord Monticello.
(MORE: Look for more kid-friendly hotels in Washington D.C.)
The Houstonian Hotel, Club & Spa (Houston, Texas)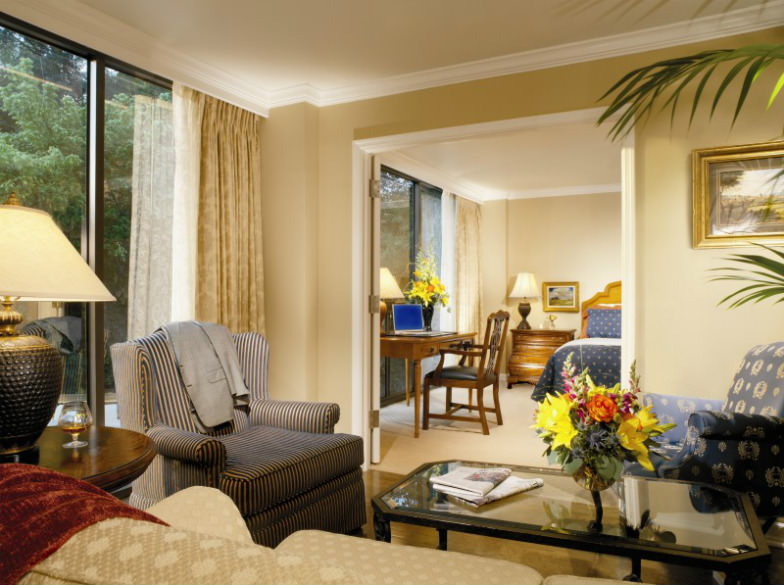 The Houstonian Hotel, Club & Spa in Houston, Texas (The Houstonian)
This hotel near the oil town's city center lets the kids take over the room. Its "Kids Camp Out" package includes a just-for-kids tent in the guestroom, with sleeping bags, s'mores, a stuffed raccoon and lantern, as well as dinner from the CampFire menu and a free movie. The hotel also has a kids club, three pools (one with a 32-foot-long slide) and is located near the The Galleria, Memorial Park and the city's excellent Museum District.
The Crowne Plaza Hotel (Indianapolis, Indiana)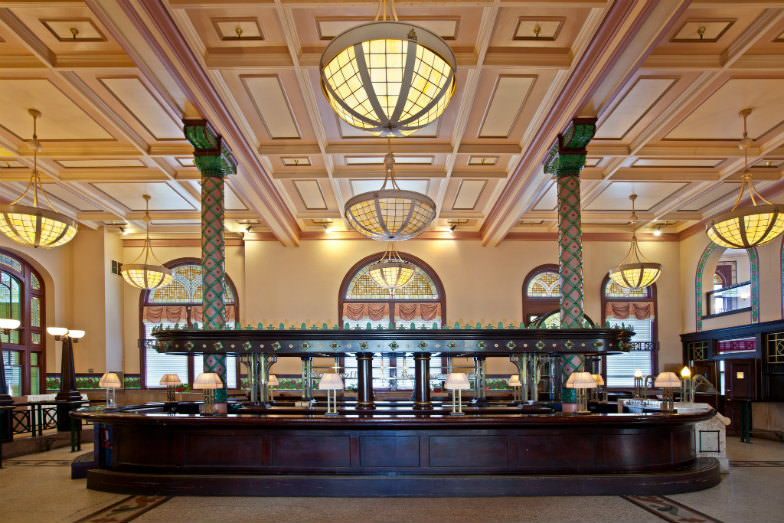 The Crowne Plaza Hotel in Indianapolis, Indiana (The Crowne Plaza)
Appealing to both business travelers and trainspotters, this downtown Indy hotel connects to the convention center and is also located in the world's first-ever Union Station, which dates back to 1853. Its history includes former station employee Thomas Edison, who worked as a telegraph operator here as a young man — at least until he got fired. The hotel — including its Grand Hall has retained a lot of the original architecture, and families can even sleep in one of the 26 Pullman traincar rooms, which sit on the original train tracks. The hotel also features an indoor pool, and is walking distance from the Indianapolis Zoo and the NCAA Hall of Champions Museum.?
Hotel Monaco (Seattle, Washington)
The Kimpton chain of boutique hotels has an excellent track record for being kid-friendly (and pet-friendly), with kids welcome amenities and even an on-loan pet goldfish for your room. But most properties go even further: Hotel Monaco in downtown Seattle has a complimentary toy chest in the lobby where kids can pick a toy upon check-in; a scavenger hunt activity put together by the concierge, and outdoor toys for loan' such as scooters, baseballs, footballs, basketballs and bikes that can be taken to nearby parks. And, just so parents can not feel bad for dragging the kids to the free lobby "wine hour," the Monaco's daily happy hour is family-friendly, with a magician, local Dry sodas and goldfish crackers for the under-21 set.
Grand Traverse Resort & Spa (Traverse City, Michigan)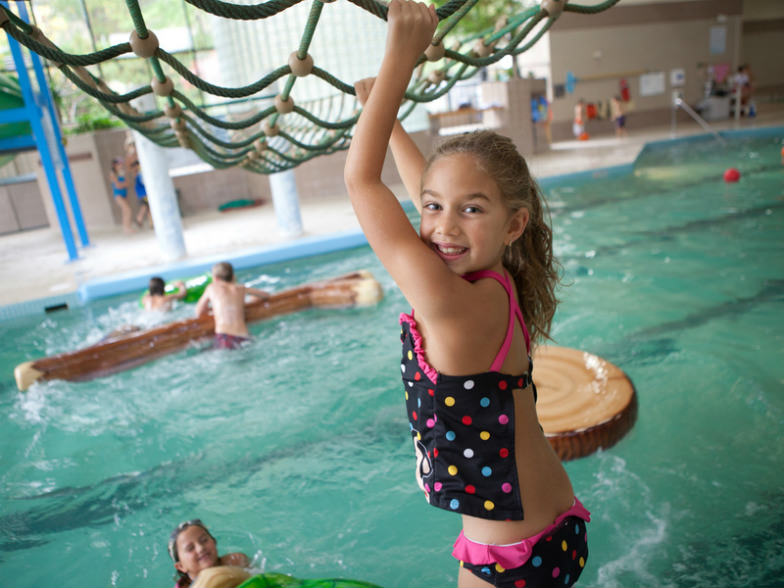 Grand Traverse Resort & Spa in Traverse City, Michigan (Grand Traverse Resort)
Having won awards from both Successful Meetings and Family Circle magazines, this Midwestern resort does a lot of big conferences — but families won't mind tagging along here for days, no matter the season. It has 15,000 square feet of ?indoor pool space, with an indoor water playground, a? 70-foot-long spiraling waterslide, and a? floatable water-walk challenge. During warm weather, there's water sports, and winter brings ice skating and cross-country skiing. As a bonus, its Gallery of Shops includes a Dylan's Candy Bar and the classic-toys store Tumbleweeds.
(MORE: Look for more kid-friendly hotels in Traverse.)
The Los Angeles Athletic Club Hotel (Los Angeles, California)
This downtown boutique hotel has provided lodgings (and workouts) for the L.A. business community for more than a century. And while its Jewelry District location makes it convenient for biz travelers, the hotel also regularly offers cool themed rooms, such as the current Island Castaway suite, where the kids' bed is tucked inside a good-sized rowboat, while parents sleep inside a canopied tiki-hut bed, and the whole suite is festooned with palm trees, fallen coconuts and a jumbo tiki statue. The hotel also has an old-school, indoor Olympic pool and a wall of fame for past Olympians who trained here. Plus it offers easy access to the underused L.A. subway, which can take you, hassle-free, to the Hollywood Walk of Fame in about 15 minutes.
Loews Regency Hotel (New York City, New York)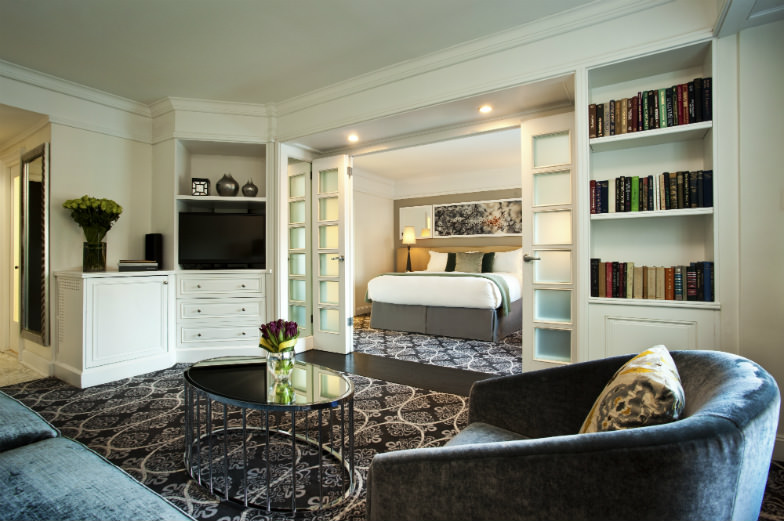 Loews Regency Hotel in New York City (Loews Hotels)
Among the bigger business hotel chains, Loews has planted its flag for being the most kid-friendly. Its Loews Loves Kids program features a goodie-bag upon arrival, a "Kids Closet" with the latest toys, books, movies and more to borrow, plus free music download cards for teens. For toddlers, they'll even baby-proof your room ahead of time. The hotel has easy access to Central Park, and a wide definition of family: bring the family dog and he'll get his own amenity bag, too.
Katrina Brown Hunt contributed this to MiniTime.