Goodies that put the typical ice cream cone to shame
By Katrina Brown Hunt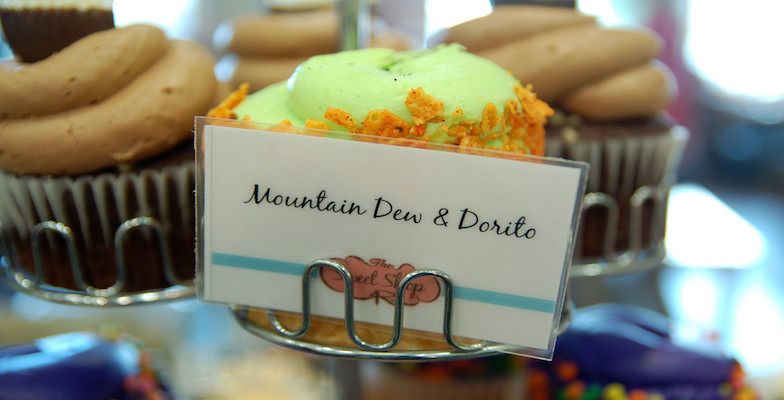 Flickr: travelingmcmahans
Family vacations offer kids the chance to broaden their horizons with new sights, smells and tastes. And while it may be a tall order to get kids to try oysters or haggis when traveling—checking out exotic (or just downright funky) desserts may bring out their adventurous side. Here are six restaurants and bakeries around the U.S. with some fabulously challenging sweets:
Mountain Dew-Dorito Cupcake, 4 Rivers Smokehouse
Florida
This small barbecue chain based in Florida—with a location in the Orlando area—is acclaimed for its Texas-style brisket with the trimmings, but it's also worth a stop here just for dessert. Its on-site Sweet Shop has a variety of classic cakes, cookies and cupcakes, including a few options that walk the sweet-and-salty line with down-home gusto, such as the Mountain Dew Dorito Cupcake and the Coca Cola Potato Chip Cupcake. Grownups, meanwhile, might be drawn to the Texas Bourbon Pecan Bar. Treats start at $3.75.
(MORE: Find a kid-friendly hotel in the Orlando area.)
Deep-Fried Candy Bars, Chip Shop NYC
Brooklyn, NY
This British comfort food joint, with locations in Brooklyn's Park Slope and Atlantic Ave, is the famed originator of the Deep Fried Twinkie, an all-American homage to the Fried Mars Bars common in chip-shops across the pond. But there's almost nothing these folks won't throw into the fryer, from Reese's to Twix and bananas or pineapple, glazed with berry sauce or chocolate syrup. For a classic British dessert instead, go for the unnerving-sounding Spotted Dick (a cake-like pudding with dried fruit) with custard. $3.50.
Pumpple Cake, The Flying Monkey
Philadelphia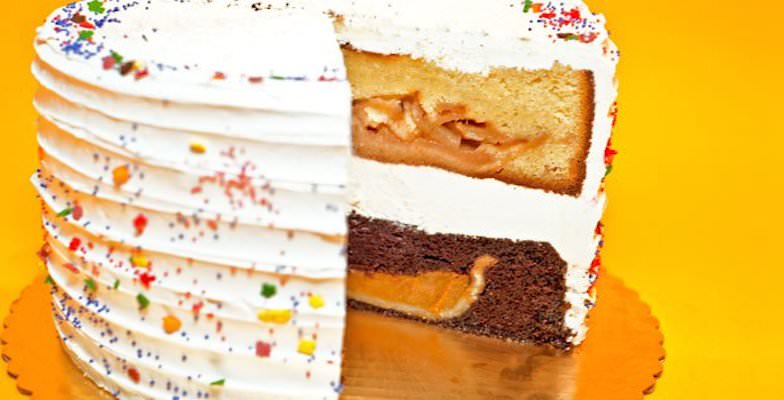 The Flying Monkey
Can't decide between cake and pie? This bakery in Reading Terminal Market does both—a chocolate cake that's been baked with a pumpkin pie inside, or an apple pie baked inside a vanilla cake. If you don't need a whole cake (they start at $45), they also offer creative mini bundts (such as the tea-and-lemon-flavored Arnold Palmer) and a wide array of whoopie pies, including the Creamsicle and the peanut-butter-banana Elvis. Treats start at $2.50.
Devil's Tress Leches, Chego
Los Angeles
If your kids can handle a little heat, take them to this rice-bowl eatery with locations in both Chinatown and Culver City. The Tres Leches is a devil's food cake that's been soaked in evaporated-milk leches infused with cinnamon and cayenne pepper, and topped with spicy peanut brittle. Its Sriracha Bar, meanwhile, features a chocolate-covered crispy-rice base and is then layered with chili sauce, spicy candied peanuts, caramel and dark chocolate. $4.
(MORE: View a family trip plan: 2 days in Los Angeles with kids.)
Golden Opulence Sundae, Serendipity 3
New York City
This Upper East Side ice cream parlor is a destination unto itself, but to up the ante from its famed Frrrozen Hot Chocolate, think about ordering the Golden Opulence Sundae or the Frozen Haute Chocolate. For $1,000, the Golden Opulence (which claims the Guinness World Record for the most expensive dessert) features the pricey Amedei Porcelana syrup and is topped with Venezuelan Chuao chocolate, edible gold shavings, gold–coated almonds and caviar infused with orange, passion fruit, and Armagnac. For a whopping $25,000, you can get the Frozen Haute Chocolate, which comes in a golden goblet and includes 28 rare cocoa flavors as well as a 23-karat edible gold shavings, a jewel-encrusted spoon and a diamond bracelet that are yours to keep. One hitch: You must order them at least 48 hours in advance. If you're not up for a four-digit dessert, the classic Frrrozen Hot Chocolate costs a mere $8.95.
Ranch Cookie, Rogue Bakery
Columbus, Ohio
Rogue Bakery
This artisan bakery has created a savory cookie focused on the beloved salad dressing, and in the spirit of balanced eating, recommends having your cookie alongside some carrot sticks or Buffalo wings. For slightly more conventional sweet tooths, try their Bacon Pecan Blondies, the Cornflake Marshmallow cookie or the WTF cookie (butterscotch with potato chips, chocolate marshmallows and pretzels). A four-pack of Ranch cookies costs $10, but other four-packs start at $5.
Katrina Brown Hunt contributed this to www.MiniTime.com.