Theme parks? Who needs theme parks?
By Katrina Brown Hunt on Jul 14, 2015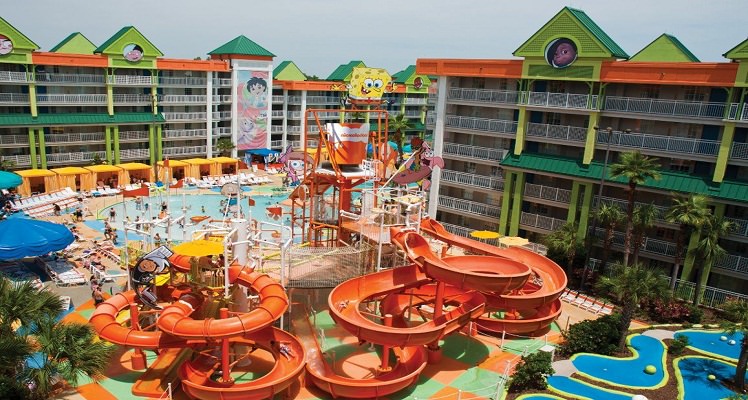 Nick Hotel's lagoon pool and water slides. (Nickelodeon Suites Resort in Orlando)
You don't take the family to Orlando just to stay at a hotel with a pool. And yet—after a long day standing in theme park lines and negotiating souvenir purchases—nothing hits the reset button for everyone's mood like taking a dip in the hotel pool.
Somewhere along the way, the resorts of Orlando got into an aquatic arms race to build the most fabulous pool zones, using water slides, play areas and even underwater sound systems as ammo. Here are six resorts where the pools are so enticing, you may want to cut your roller coaster time short:
The Nickelodeon Suites Resort in Orlando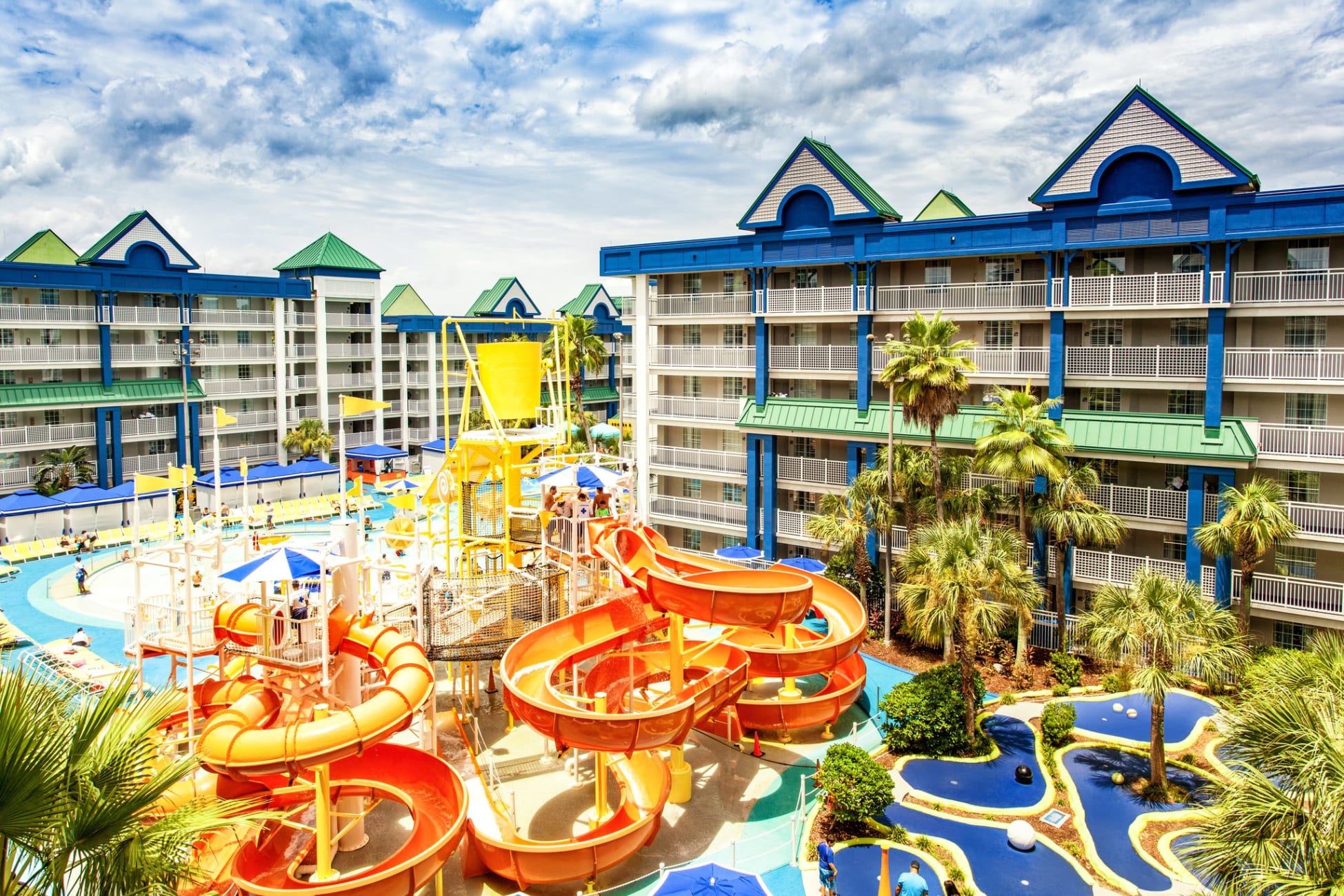 What do SpongeBob, green slime, and water slides have in common? The 777-suite "Nick Hotel" boasts not just a pool but its own cartoon-themed water park. The Lagoon Pool side has a zero-depth entry heated pool and a four-story tower with seven water slides, as well as flumes, climbing nets and a 400-gallon tank that plays a vital role in the daily mass sliming. On the Oasis Pool side (which, depending on the weather and crowds, closes occasionally during the winter), there is a heated, Olympic-Style pool, more slides and a play area.
Disney's Caribbean Beach Resort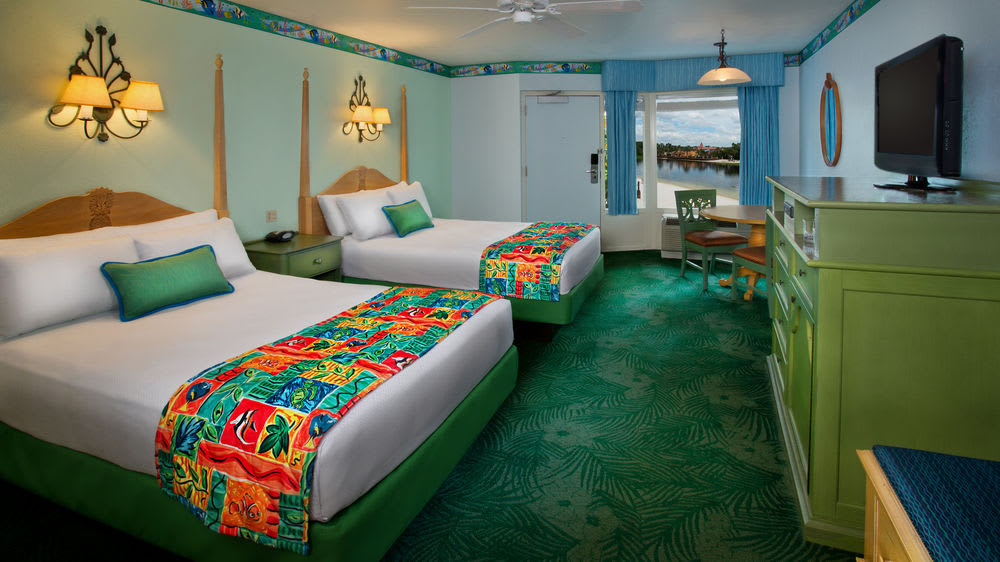 No surprise, the 57 pools at Disney World resorts are so creatively detailed that it can be hard to pick a favorite. We adore the Polynesian Resort's fabulous Nanea Volcano pool featuring a 40-foot volcano with its own waterfall and slide. We love the Disney's Yacht Club Resort's life-size shipwreck and sand-bottomed pool, and we're crazy about the Art of Animation Resort's Finding Nemo pool, whose underwater sound system transmits friendly messages from Nemo and Dory to little swimmers.
Yet our vote goes to the wonderfully elaborate pool scene at the 200-acre Disney's Caribbean Beach Resort. There are six heated pools (one in each "village" section of the resort), a kids' water play area (with three kiddie-friendly slides) as well as a huge Spanish fortress-themed main pool, with a zero-depth entry, water cannons, and two water slides (one, at 82 feet long, traverses the interior of the fort).
Hard Rock Hotel at Universal Orlando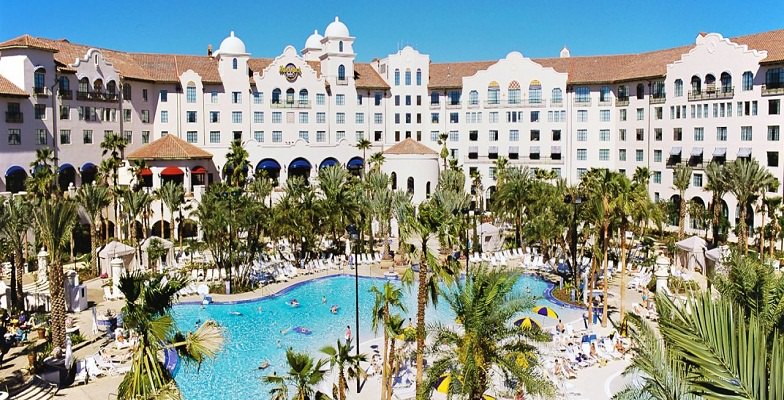 Pool complex at Hard Rock Hotel in Orlando (Hard Rock Hotel at Universal Orlando)
Who says that only grownups get cool poolside parties? The 12,000-square-foot pool complex at this 650-room Universal Orlando hotel has a family-friendly sand beach, a 260-foot slide, interactive fountains and play area as well as a sand volleyball court. There's also a calendar of ping-pong tournaments, hula-hoop contests and water-balloon-tossing contests. The coolest feature, however, may be the underwater sound system, so you can enjoy tunes below the surface.
(MORE: View a family trip itinerary: 5 days in Orlando with kids.)
Hyatt Regency Grand Cypress Resort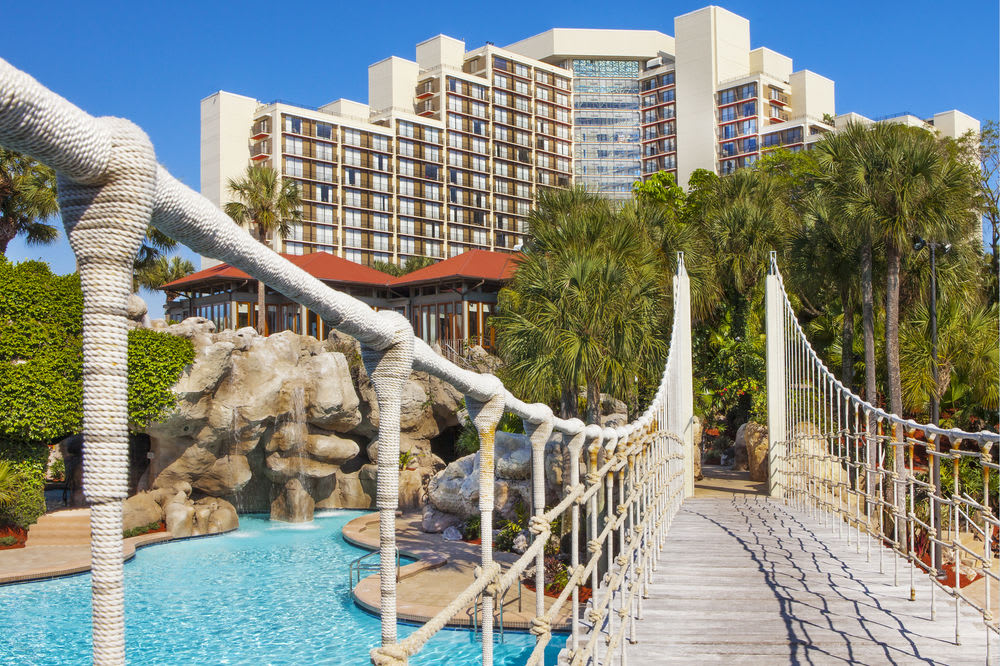 Not just a pool, but a lake: the pool complex at this 815-room Orlando resort has 1,000 feet of sandy beach, alongside the private Lake Windsong (which offers water sports), and the half-acre-sized, grotto-themed pool has 12 waterfalls, a water slide tower, a rock-climbing station and a rope bridge. For dry time, there are 45 holes on four Jack Nicklaus-designed golf courses.
(MORE: Browse reviews on kid-friendly things to do in Orlando.)
Ritz-Carlton and JW Marriott Orlando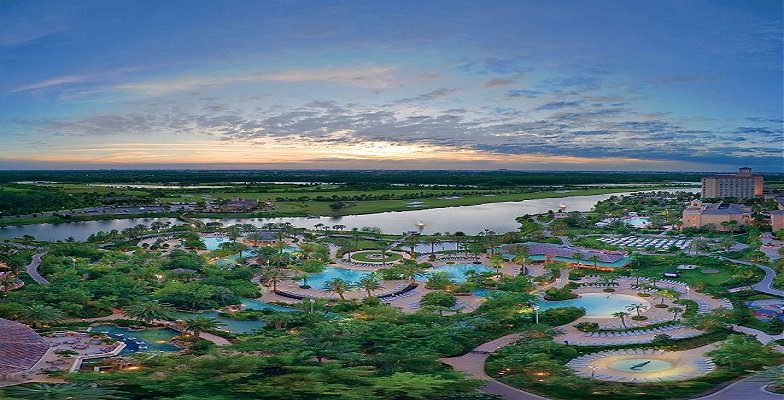 Grande Lakes complex between Ritz-Carlton and JW Marriott (Ritz-Carlton and JW Marriott Orlando)
Love a lazy river? This shared pool area between these two upscale Orlando resorts in the Grande Lakes complex offers a 24,000-square-foot river that's the ultimate in crowd-pleasing, bob-in-the-stream waterways. The Ritz-Carlton side also boasts the Ritz Kids program and in-room camping, and both sides offer sand volleyball, dive-in movies, bocce ball and bike rentals.
Orlando World Center Marriott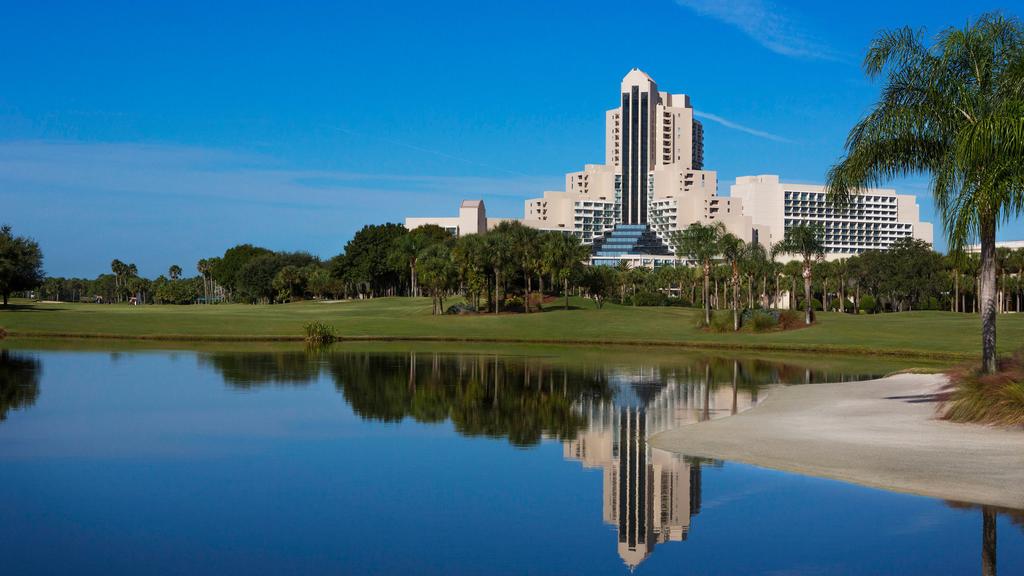 This 2,000-room Marriott, less than two miles from Disney World, just got a huge pool makeover that will appeal to water-slide lovers. The resort's Falls Pool Oasis has two, 200-foot winding waterslides, one 90-foot speed waterslide, a zero-entry pool, a splashy play area, and, for drying-off time, a Legoland-themed activity center.
Katrina Brown Hunt contributed this to www.MiniTime.com.