Great restaurants for families to try in Vegas
By Sarah Vernetti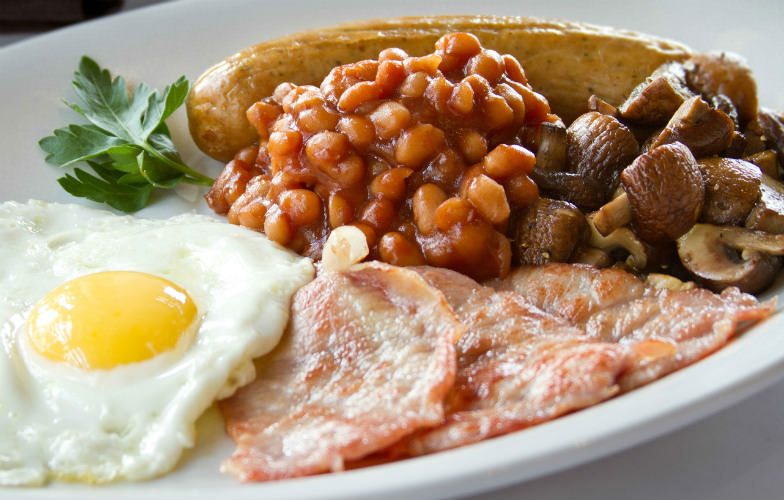 English breakfast at English's (English's)
Las Vegas is a foodie's dream come true. From upscale restaurants named after celebrity chefs to casual burger joints, the city's vast array of eateries makes it difficult for travelers to narrow down their options. If you're traveling with children, consider these restaurants for food that will make the entire family happy.
(TRIP PLAN: Find out how one family of four spent a three-day vacation in Las Vegas.)
British: English's Quintessentially British restaurant and tea room
Add some European flare to your trip to Las Vegas by visiting this British restaurant for afternoon tea. Ask your server about the special options for kids, which include hot tea and kid-friendly sandwiches, scones, and desserts. The scones are served with house-made strawberry jam and luxurious whipped cream. English's is located at Town Square, just south of the Strip.
American: Cheffini's Hot Dogs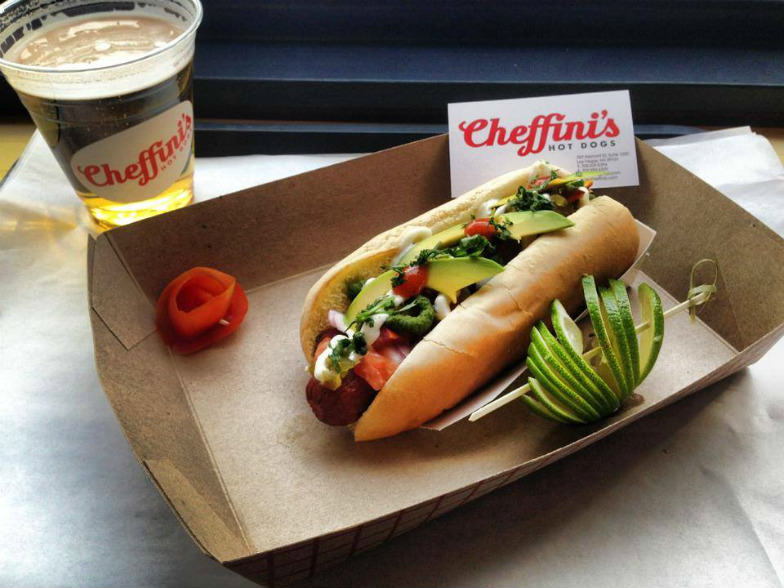 Cheffini's delicious hotdog (Cheffini's)
Offering beef, turkey, and vegan hot dogs with a variety of creative toppings, Cheffini's at Container Park is a great place to enjoy a casual, outdoor lunch. Try the crunchy dog, which consists of a grilled frank topped with onions, red peppers, bacon bits, crushed potato chips, and seaweed. Cheffini's is conveniently located north of the Strip, right next to the Container Park playground. Stop by for lunch and playtime before visiting other attractions in Downtown Las Vegas.
Buffet: Spice Market Buffet
You can't get the full Las Vegas experience without eating at one of the city's legendary buffets. For a plethora of kid-friendly food options, try the Spice Market buffet at Planet Hollywood Resort and Casino. Kids will particularly enjoy the dessert station, which includes cotton candy, cupcakes, build-your-own crepes, and soft serve ice cream.
Greek: Stephano's Greek and Mediterranean Grill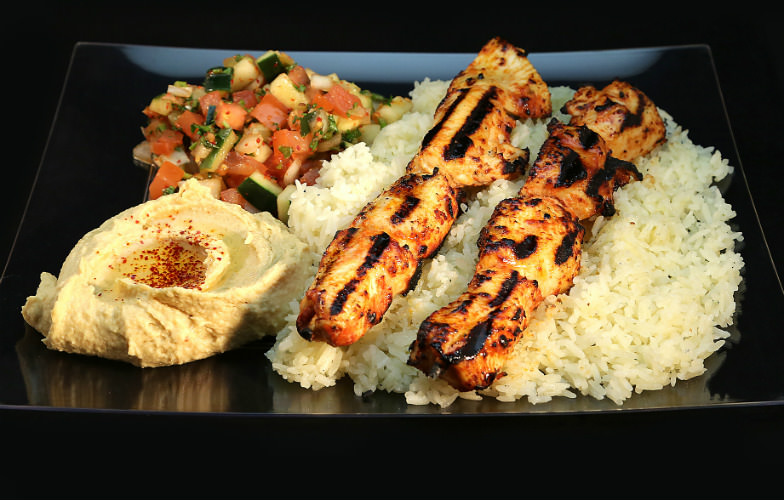 Greek kebab at Stephano's (Stephano's Greek and Mediterranean Grill)
If your Las Vegas travels take you near the UNLV campus, stop by Stephano's for delicious Greek food. The kids menu diverges from the usual American fare by offering smaller portions of Greek entrees like a filet mignon skewer served with rice or fries. Parents will want to try the crispy falafel, either as an appetizer or as a meal. Reasonable prices and quick, order-at-the-counter service make this a great option for those traveling with children.
Farm-to-Table: Honey Salt
Families will feel right at home in this hip yet welcoming atmosphere. The kids menu includes staples like pizza, pasta, and cheeseburgers, but also offers unique sides like edamame and grilled asparagus. Parents can opt for fresh and unique delights like the burrata and heirloom tomato salad and the caramelized sea scallops. Honey Salt is located in the suburban neighborhood of Summerlin, not far from attractions like Red Rock Casino Resort & Spa.
Mexican: Leticia's Mexican Cocina
Leticia's is the place to go for Mexican fare in a casual, family-friendly environment. Try the QuesaTacos or the build-your-own burrito. With lunch specials and a kids menu, this restaurant is ideal for a hearty midday meal. It's a popular spot on the weekends.
Breakfast: Egg Works
Offering generous portions, reasonable prices, and several locations through the valley, this is the perfect place to start a busy day of sightseeing. Try the zesty "works potatoes" or the eggs benedict. The kids menu includes a variety of classic, kid-friendly options. Egg Works is open daily until 3 p.m.
Japanese: Ohjah Japanese Steakhouse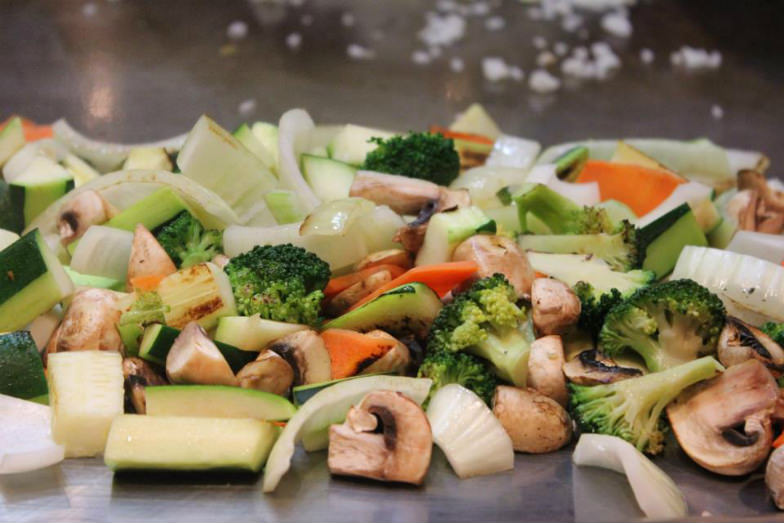 Stir-fry at Ohjah (Ohjah Japanese Steakhouse)
Hibachi-style restaurants are ideal when dining out with kids. After all, it's dinner and a show combined into one fun evening. Watch the chefs create your meal, while they chat with diners and catapult shrimp at eager volunteers. Portion sizes are large, although a kids menu is available. Ohjah's menu also includes sushi, noodle dishes, and Thai specialties. Travelers will find three locations in the Las Vegas valley.
(MORE: Look for great kid-friendly hotels to stay in during your Las Vegas vacation.)
Dessert: Sweet Addiction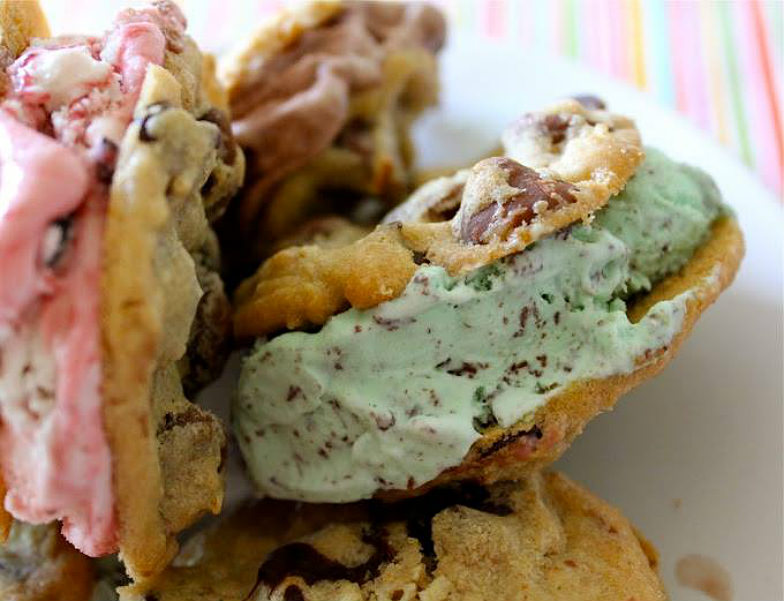 Ice cream sandwiches at Sweet Addiction (Sweet Addiction )
A family vacation is the perfect time to splurge on dessert. Stop by Sweet Addiction for custom-made ice cream sandwiches. Choose two varieties of house-made cookies and a flavor of Thrifty ice cream to go in between them. You can also buy cookies by the dozen, if you feel like you might need some snacks for the road.
Sarah Vernetti contributed this to MiniTime.