Orlando, Florida
By Suzanne Rowan Kelleher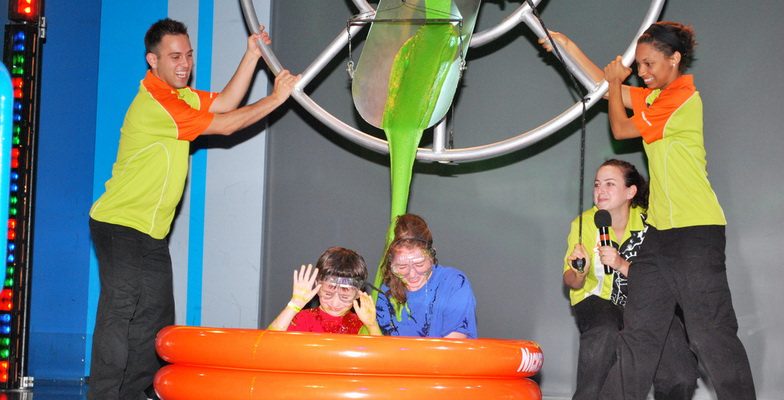 Water park at Nickelodeon Suites Resort (Flickr: cletch)
Why Go: If you're a typical kid, not much is funnier than SpongeBob romping around in his square BVDs. But a close second might be watching your bossy big sister take a cream pie in the kisser or beholding your dad wearing an oversized diaper. Such zany antics are just part of an average day at the Nickelodeon Suites Resort.
Formerly known as Holiday Inn Family Suites Resort, the hotel got a $20 million makeover and re-emerged in May 2005 with a new name, a lime-and-orange color scheme, Nick-themed KidSuites, huge pool-and-waterpark areas, a retro-style food court, wake-up calls from Nick stars, and daily character breakfasts. For the zillion kids growing up on Nick TV, the orange splat brings instant street cred. The network's signature brand of irreverent humor is doled out by Team Nick, a troupe of energetic emcees who lead guests in silly poolside games, family trivia contests, and karaoke nights. The highest honor: Getting slimed with a green goo that's rumored to taste like pre-congealed lime Jello. Yes, that's right. The winners get slimed. Runners up must content themselves with a pie in the face.
As theme hotels go, it's difficult to recollect one that's caused more excitement among family travelers in recent years. Already there are more Nick Hotels in the pipeline, slated to open in locations such as San Diego in coming years. But for now, the chance to be slimed means coming to Orlando, as our correspondent, Suzanne Kelleher, did with her family. ("Staying at this hotel is a blast, especially if your kids are Nick fans. My kids loved the pool and the fun atmosphere. The entertainment is absolutely hilarious and in a very good-natured way. What surprised me was that parents could get equally caught up in the shows, which made for some of the funniest moments on stage.")
When hotels strive to be both mid-priced and kid-centric, there are always some trade-offs. Don't expect an upscale experience. Bright colors and a spiffy paint job distract from mediocre-quality furnishings and generic bathrooms. Rooms are basic but comfortable, with motel-like outdoor corridors. None of that matters, of course, to Nick's fan base. ("My kids couldn't care less about luxury. They were thrilled to have their own space with bunk beds, their own TV, and walls covered in murals of their favorite Nick characters.")
Getting Oriented: Location, location, location. The hotel is centrally located at the corner of State Road 536 (a.k.a. World Center Drive) and Continental Gateway, about a mile west of the southern end of South International Drive and about a mile east of Interstate 4. Since so many of Orlando's attractions are located near International Drive (a.k.a. I-Drive) and off I-4, this address makes it a snap to find the city's top attractions. (Traffic is another story.) You're less than two miles from the Epcot entrance of Walt Disney World, six miles from SeaWorld, and 12 miles from Universal Orlando.
There are 777 suites on the 24-acre site. You enter the hotel lobby and check in at the reception area. An outdoor walkway leads to "The Lagoon," the courtyard that contains the main pool and four-story waterpark and is enclosed on all sides by six stories of hotel rooms. A footpath from The Lagoon leads further back to "The Mall," a large indoor space with two restaurants, the Nick @ Nite Lounge, a food court, an arcade, and a gift shop. This is also the location of Studio Nick, where nightly family-oriented game shows take place. From The Mall, another outdoor walkway leads to a smaller pool area called "The Oasis," whose courtyard is surrounded by yet more hotel rooms.
Getting Around: The major attractions in Orlando are spread out, so it's handy to have a car if you plan on covering a lot of territory. The hotel offers complimentary shuttle buses to the four major theme parks at Walt Disney World (Magic Kingdom, Animal Kingdom, Disney-MGM Studios, Epcot), SeaWorld, Universal Studios, Islands of Adventure, and Wet 'n Wild. Note, however, that some of these shuttles pick up passengers at other hotels, so total travel time can be long.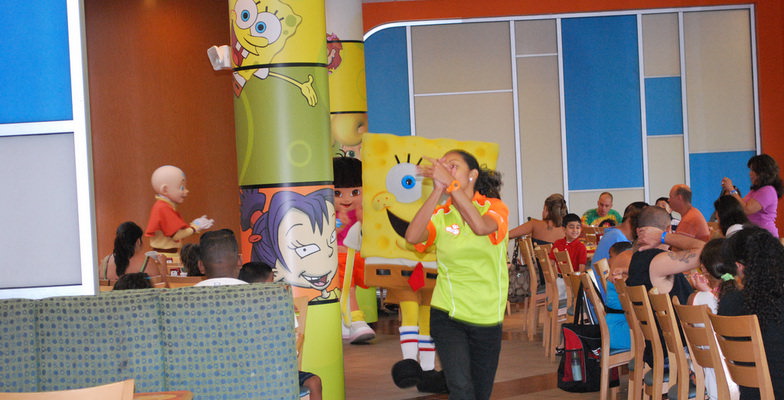 There's plenty of fun to be had at the Nick Resort, Orlando. (Flickr: cletch)
We Are Family: The child-friendly vibe hits you the minute you enter the lobby. Kids get their own check-in area where they can sign the registry book, get free Nick magazines, and plop down on oversized beanbags to watch Nick shows on TV. Along with your room keys, you get a four-day activity schedule and wristbands for every member of the family. Kudos to Nick and Holiday Inn for making safety a top priority. The hotel's public areas are restricted to guests wearing these wristbands. While you're settling into your suite, tune your TV to the in-house video that teaches hotel safety through funny vignettes: A parent who leaves his kids unsupervised at the pool gets a pie in the face; a teen who opens the door before identifying his visitor gets slimed; a girl who's clueless about what to do in an emergency gets blanketed in silly string. You get the message. So do kids.
The Lagoon is open daily from 8am to 11pm. It's a wonderland for kids of all ages, with a fun soundtrack of pop hits playing until an hour before closing, and enormous portraits of favorite Nick characters overlooking the action. The large zero-entry zone is a safe hangout for small fries, with many spray guns, water wheels, mushroom fountains, and other fun interactive elements. The shallow end deepens gradually to about three feet, where a floating rope cordons off the deeper end. Next to the pool stands an enormous four-story water tower with bridges, mezzanines, and seven orange waterslides that end in landing troughs (slides are open 9:30am to 9pm). To be able to ride on the biggest slides, which twist, turn, and sometimes slip through tunnels, kids must be at least 38 inches tall (the sign says 48 inches, but the measuring line is set significantly lower). At the top of the structure, there's an enormous tipping bucket that periodically overturns, dumping 400 gallons of water on squealing victims below. The pool area is lined with ample lounge chairs and tables, and laundered towels are readily available.
For toddlers and preschoolers, there's a gated splash area festooned with some of the gentler Nick characters, such as Blue, Dora the Explorer, and the Backyardigans. Here, little ones can cool off with pop-up fountains and spray guns, or play on a mini gym with twin straight 5-foot slides that land safely in troughs of shallow water. Loungers and tables with umbrellas are set up in this area, so parents can relax while they keep an eye on the action. Admirably, this area has a designated lifeguard.
The Lagoon also features two giant family-size hot tubs, a small basketball court with multi-height hoops for all ages, a 9-hole mini golf course, and a bar and grill serving light meals, snacks, and beverages (open daily 10am-10pm). Twice daily, kids can check out the Craftzone next to the grill for artsy activities such as tie-dying, puzzle-making, or designing their own backpacks (prices vary, depending on craft offered).
The smaller pool courtyard, The Oasis, would be considered fabulous at any other resort. Here, it pales next to The Lagoon. There's a lap-style pool with two long, twisting waterslides and lower-level slides for younger kids. There's also a wet/dry toddler play area, with a mini gym, slides, and squirt guns and a sandbox. This pool also offers a bar and grill that serves light fare and drinks (open daily 10am-8pm). The Oasis may not be as exciting as The Lagoon, but it's quieter and less crowded.
While preschool kids will love encountering favorite characters at special breakfasts (see Where to Eat, below) and at the occasional meet-and-greets in the lobby and other public areas, most goings-on are aimed at kids old enough to appreciate a slightly more sophisticated sense of humor. Four times a day, game show-style entertainment takes over the pool areas. Armed with wireless microphones, a mega stereo system, and dozens of crazy props, Team Nick revs up the crowd as they lead a series of silly contests, hitting just the right note between naughty and nice. Consider the "Plankton Plunge," where contestants transfer green water balloons from teammate to teammate using toilet plungers. In "Musical Pies," players pass a cream pie until the music stops. The one left holding the pie is brought forward while the audience is encouraged to yell, "Make the pie fly!" Nobody is spared. When a freckle-faced 6-year-old pies herself in the face, the crowd erupts into cheers. She smiles and curtsies. For the finale, lucky participants sit on a bench as a sheet of green slime cascades from above.
There's always something to do in The Mall. Kids can check out the 3,000-square-foot arcade, which has dozens of games as well as rentals for in-suite games (open Sun-Wed 8am-11pm and Thurs-Sat until midnight). Or pop over to the Cyberzone, where a bank of computer terminals let kids play free games on Nickelodeon's web site. Girls may want to stop into the Kid's Spa for manicures, pedicures, hair braiding, hair wraps, and temporary airbrush tattoos ($10 to $40 per service). Also available: Face painting (daily 3:30pm-9:30pm), balloon art (daily 5pm-10pm), and caricature artists (daily 7pm-10pm). Every afternoon for little kids, there's an organized activity tied in to a Nick character, such as Blue's Scavenger Hunt, Dora's Super Silly Fiesta, or SpongeBob's Buccaneer Bash. For older kids, there are skee ball tournaments and Dance Dance Revolution lessons in the arcade. Less frequently, there are activities offered for over-12s, such as a TEENick Scavenger Hunt.
Feel like grabbing a workout? One ground-floor two-bedroom suite off The Lagoon has been converted into a very basic fitness room. Equipment consists of three treadmills, weights, and stationary bikes.
Where to Eat: The Nick Hotel's dining policy for kids isn't as generous as it once was, but it's still a good deal. Since January 2007, the "Kids Eat Free" program is now restricted to kids 5 and under at the hotel's two main restaurants at every meal except the character breakfast. For children 6 to 12, a $6.95 kid's menu is available. There are unlimited refills of coffee and soda.
Nicktoons Café is the venue for the daily character breakfast, where kids can meet their favorite Nick stars, such as Dora, the Rugrats, the Fairly OddParents, and Patrick and SpongeBob. The buffet offers a selection of hot and cold foods, and there's wait service for beverages and table clearing. During other meal times, there's always a buffet and an à la carte menu offered. (7am-11am character breakfast buffet $17/adult, $10/child. Noon-2pm lunch buffet $10.95/adult, $6.95/kids 6-12, free for kids 5 and under; Lunch average entrée $10.95/adult, $6.95/kids 6-12, free for kids 5 and under. Dinner buffet Sat-Thurs $18.95/adult, $6.95/kids 6-12, free for kids 5 and under. Friday dinner seafood buffet $22.95/adult, $6.95/kids 6-12, free for kids 5 and under. Dinner average entrée $15.95/adult, $6.95/kids 6-12, free for kids 5 and under.)
The Buffet is a self-serve cafeteria with seating in the open area of The Mall. The hot and cold food choices are less extensive than what's offered at the Nicktoons Café buffet. (Open daily 7am-11:15am and Fri-Sat 5pm-9pm. All buffets $13.95/adult, $6.95/kids 6-12, free for kids 5 and under).
The Mall also contains a mini food court with open seating and nationally-branded fast food chains.
Barnie's Coffee & Tea delivers the all-day caffeine fix (open daily 7am-10pm).
A&W All-American Food is a classic for hot dogs and burgers (open daily 11am-11pm).
Pizza Hut Express offers a limited menu for pick-up or in-suite delivery (open daily 11am-midnight; room service 5pm-midnight).
Subway is the name for deli-style made-to-order subs and sandwiches (open daily 11am-11pm).
Other Stuff Convenience Store sells packaged snacks and soft drinks (open daily 7am-12:30am).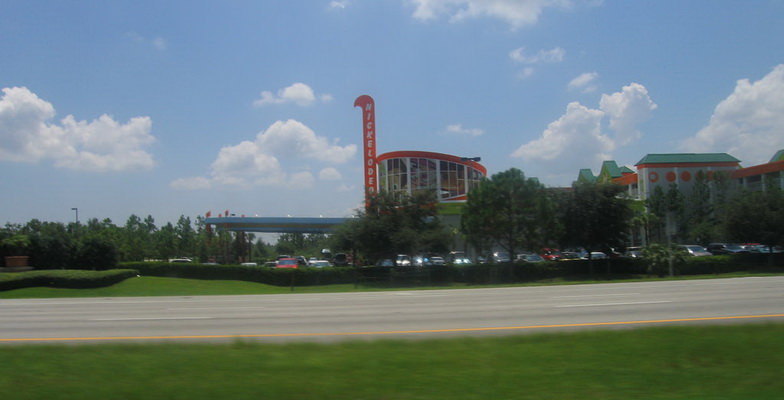 Nickelodeon Suites Resort (Flickr: Just Deon)
Nightlife: After sundown, there's a lot going on at the hotel to keep families busy and entertained. Both pools stay open every night until 11pm (waterslides until 9pm). Several times a week at The Lagoon, a "dive-in movie" is shown on a giant screen, kicking off at 8:30pm with several favorite Nicktoon episodes, followed by a 9pm showing of a Nick feature film such as "Jimmy Neutron: Boy Genius" or "The Rugrats in Paris."
No visit to the Nick Hotel is complete without attending one of the family game shows held every evening at 6pm, 7:30pm, and 9pm in Studio Nick. The Kelleher family watched a trivia show called "Family Style" played between pre-selected families. At several points during the show, the emcee pulled additional players of various ages and sizes from the audience to participate in goofy beat-the-clock games. Kelleher's 6-year-old son, Cian, was one of those brought up on stage. ("He was so excited to get picked and he had a ball on stage. He couldn't wait to tell all his friends when he got home.") At then end of the show, an 11-year-old girl from the winning family sat in an inflated kiddie pool while a bucket of slime was unceremoniously dumped on top of her. A boy from the losing family had the chance to pie one of his parents, but decided to hold that honor for himself. Seats are limited for each show, and it's necessary to sign up in advance at the Guest Services desk in The Mall. No reservations are required for the last show of the evening, a 10:30pm family karaoke show.
On Thursday, Friday, and Saturday evenings from 5pm to 11pm, kids 5 to 12 can sign into the supervised Nick After Dark program, where they play Nick-themed games, get a behind-the-scenes look at Studio Nick, play with slime, and bring home a slime souvenir. A buffet dinner and a snack are included. The bad news is that Nick After Dark makes for a pricey night, particularly if you have more than one kid ($60/child, $50 per additional child). On the upside, it gives parents the chance to grab dinner together or a cocktail at The Lagoon Bar, The Oasis Bar, or the Nick @ Nite Lounge in The Mall (open Mon-Fri 5pm-midnight; Sat-Sun noon-midnight).
Where to Stay: Since the hotel features outdoor corridors, guests who are passing your suite can look directly into your family room and master bedroom. For more privacy, request a room on an upper floor at the end of a hallway. The Kellehers stayed in a ground-floor suite on The Lagoon courtyard and were not bothered by noise from the pool area. ("We liked being able to walk out of our room and be out to the pool in 30 seconds. It's the kind of place where it's fun to be in the middle of the action. But we did tend to keep our curtains closed for privacy.") For the quietest rooms, request The Oasis courtyard.
The Kellehers stayed in a 485-square-foot two-bedroom KidSuite, which was divided into three separate rooms. None of the rooms were particularly spacious, "but it was nice that kids and adults got their own space." You entered the suite directly into the family room, which had a pullout double sofa facing a 25-inch TV and a Playstation game console. In the corner was a wet bar with a small fridge, microwave, and coffeemaker. Next to the wet bar was a small table and chairs. ("The wet bar was rather cramped with a tiny plot of counter space. There was no tableware or cutlery provided, not even a bottle opener. Since we didn't bring our own utensils, we really only used the fridge.") The master bedroom was appointed with a king-size bed, a small desk, and a built-in corner dresser topped with a 25-inch TV. The kid's bedroom was separated from the hallway by a semi-private curtain and featured a large mural of the "All Grown Up" kids. There were bunk beds, a small table and two chairs, and a built-in wall cubby that held a 20-inch TV. The bathroom was nondescript, with white tile and standard fittings, but there was a magnifying make-up mirror and a hair dryer. Note: Some two-bedroom suites have a queen-size master bed and two twin beds in the kid's room. You can request a suite with your child's favorite Nick show theme, including SpongeBob SquarePants, Rugrats, The Fairly OddParents, Jimmy Neutron, or Danny Phantom.
The most spacious option is the three-bedroom KidSuite, which is twice the size of a two-bedroom suite. It features two master bedrooms, a kid's bedroom, a fully-equipped kitchen with a stovetop range and dishwasher, two bathrooms, and five TVs.
All suites feature pay-per-view TV, high speed Internet access, and express check-out. There's free WiFi Internet access in the hotel's lobby.
Price Tag: The low-priced kids' meals and inexpensive food court mean that meals at this hotel won't suck you as dry as they do at some resorts. But there are plenty of opportunities to spend, spend, spend in the arcade, spa, and gift shop—so keep an eye on those extra purchases. The Nick After Dark evening program is one of the most expensive "kids night out" offerings we've come across.
Prices for KidSuites vary substantially—from $189 to $294—depending on the season, day of the week, and school calendar. It pays to be flexible with dates, since shifting a few days forward or back can sometimes save hundreds of dollars. Three-bedroom KidSuites cost almost exactly twice as much as two-bedroom suites.
Now for some nasty news: The hotel recently introduced a $20-a-night resort fee to cover the cost of the poolside entertainment, theme park shuttles, waterpark features, and unlimited local phone calls—all of which were previously free to guests. We hate this sort of unexpected charge—the fee is mandatory, so why doesn't the hotel just come clean and raise the advertised room rate? Just know that your actual nightly room rate is $20 higher than you thought.
Insider Tips:
Study the activity schedule so you don't miss the shows held at the pool and in Studio Nick. The entertainment is what makes this hotel so unforgettable for your kids.
Consider passing on the character breakfast if your kids are old enough to enjoy the poolside shows. Catch the characters in the public areas instead.
Bring your child's swim bubble or life vest if it makes him more confident in the pool. You can also borrow a child-size life vest at no charge from any lifeguard.
Pack a few basic kitchen utensils so you can get more use out of the wet bar facilities.