Brewster, Massachusetts
By Jinny VanDeusen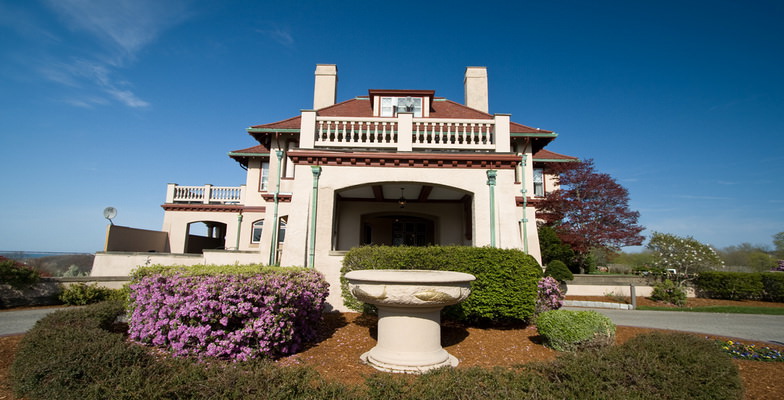 Why Go: Blessed with a fabulous location on Cape Cod Bay and an upscale yet understated atmosphere, Ocean Edge Resort delivers a quintessential, laid-back Cape experience. It's the kind of place where families build memories and return summer after summer, drawn by a kid-pleasing mix of sun, surf, and sporty pursuits. One key draw is an exceptional choice of comfortable accommodations, ranging from upscale hotel rooms to roomy condos with fully equipped kitchens and laundry facilities.
Billed as "Cape Cod's Premier Resort," the roots of Ocean Edge are steeped in the area's rich heritage. The 400-acre grounds were once the estate of Samuel Nickerson, a bigwig in the Cape's social swirl at the turn of the 20th century. His parties were legendary, with guest lists brimming with luminaries such as President Grover Cleveland. After World War II, the estate was sold and converted into a seminary. In 1980, it changed owners again and was transformed into Ocean Edge. The exquisite woodwork in Nickerson's mansion has been restored and the expansive grounds are again beautiful, now featuring a half-dozen pools and lots of wide open spaces and manicured lawns perfect for flag football, croquet, or just running around. Families have a special soft spot for the spectacular private beach, one of the safest and most pristine on the Cape. If you can ever coax your kids away from the sand and surf, there's a roster of non-stop family activities offered, from campfires and face painting to wiffleball, outdoor movies, and scavenger hunts.
The appeal of this resort has nothing to do with having staff at your beck and call. Nor does it deliver the kind of vacation where children pass their time in the kid's camp while parents chill out at the spa. Instead, Ocean Edge attracts sporty, active families that want to spend their vacation time together and are at home at the beach, pool, tennis courts, and golf links. Arrive with an open spirit and sample from the raft of inclusive, family-oriented pursuits. Our correspondent, Jinny Mansfield, and her family discovered that children are included and welcomed just about everywhere, with the exception of the poolside hot tubs.
Getting Oriented: Brewster is a historic sea captain's town established in 1803, located at the inside bend of Cape Cod's elbow. It's bordered by Cape Cod Bay to the north, with the towns of Orleans to the east, Harwich to the south, and Dennis to the west. Brewster's 23 square miles remain largely undeveloped, with 325 acres of beaches and marshland. Nearby, Nickerson State Park contains 400 acres of trails for biking and hiking, plus several freshwater ponds for swimming and fishing. The town's year-round population of about 9,000 swells to over 20,000 in the summer.
One of the most quintessential of all Cape towns, Brewster has fiercely protected its historic ambience. Don't miss a stop at the Brewster General Store, an authentic old-style shop built in 1852. ("The place oozes with creaky-floored, filled-to-the-rafters charm.") The benches out front fill up as early as 7am with folks waiting to get their morning coffee and newspapers, and it's a fun place to shop for penny candy, inexpensive toys, and beach accessories. (For more great finds, see our Insider Guide to Cape Cod.)
Ocean Edge is a vast resort complex that straddles both sides of Route 6A. The grounds north of Route 6A are referred to as bayside, where you'll find the mansion and a smattering of condos (the resort uses the term "villas"), a fitness center, one indoor and one outdoor pool, tennis courts, and the private beach. The reception area, the hotel, and several restaurants are housed in Nickerson's mansion. Built in the early 1900s, the building resembles a large English country manor-style home with many authentic Victorian interior details. South of Route 6A, referred to as the resort side, there are many more villas, four pools, a casual poolside restaurant, a bike rental shop, the Ocean EdgeVenture clubhouse, more tennis courts, a playground and picnic area, and an 18-hole golf course and clubhouse.
Getting Around: The resort has a complimentary shuttle bus that completes a loop around the grounds every 15 minutes. While there's plenty to do on-site, most families will want a car to get around. ("You'd be nuts to not leave and explore the Cape.") The resort is close enough to the main shops and restaurants of Brewster to make it seem within walking distance. ("But I wouldn't do it with children. Route 6A is busy and there aren't any sidewalks.")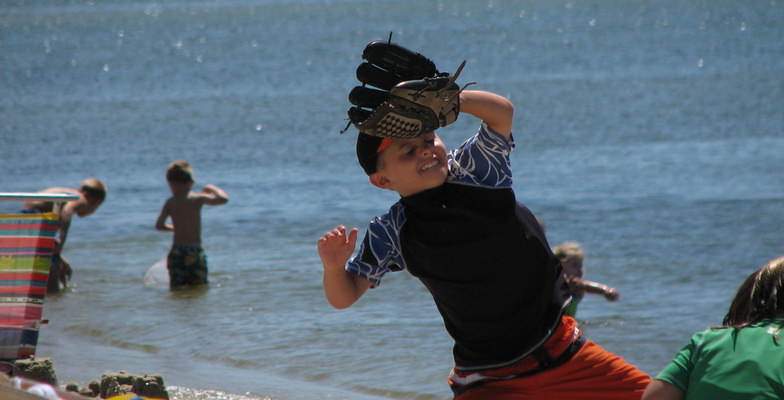 We Are Family: Families make up the vast majority of the resort's clientele. Most organized offerings at Ocean Edge are geared to school-age kids between 4 and 12. While the resort does not offer childcare for babies and toddlers, the concierge can help you hire a babysitter from an outside agency if needed. There is also no designated teen program, but plenty of recreational opportunities to keep older kids busy.
Ocean Edge is the sort of place where families hang out together at the pool or beach and dip into the myriad scheduled group activities. There is an impressive range of family-fun events and workshops, from the organized to the do-it-yourself. In a typical week, you can expect family games of softball, soccer, bandminton, field hockey, basketball, bocce, wiffleball, and sand volleyball. Add in trivia contests, bingo, scavenger hunts, beach Olympics, coloring contests, sandcastle building, ultimate Frisbee, and bike tours. At the pools, there are sessions of water balloon tossing, "splashtastic" games, and bellyflop and cannonball contests. A different craft workshop is offered each afternoon, from sand art and beach bag decorating to tie-dying tee-shirts and making flip flops. Mansfield's kids, Kate and Jack, participated in a kite-making workshop on Sunday afternoon. ("They enjoyed it. When they finished making their kites, the kids took them out on the front lawn and flew them, which made a nice family memory.") The front desk also offers an assortment of non-electronic entertainment, such as cards, board games, and a croquet set for playing on the front lawn.
No matter where your accommodations are located, you're never far from a pool. There are four outdoor and two indoor pools scattered throughout the resort. The Arbor Pool, on the resort side, is the largest and most kid-friendly of them all, with a big shallow end, an adjacent kiddie pool, and lots of pool deck space. Families with small fries gravitate to the L-shaped Fletcher Pool, also on the resort side, which features a terrific zero-entry toddler pool. The Reef Pool has the best poolside dining options. Don't expect a waterpark atmosphere at Ocean Edge, though, as there are no slides or lazy rivers. Each outdoor pool area has a hot tub with an enforced minimum age of 16. No noodles, rafts, or other floating devices are allowed in the pools, although beginners can wear swim bubbles or life vests. (Private and semi-private swim lessons offered for $25 per 30-minute session, per child.)
The beach at Ocean Edge is a family's dream. Take heed of the tidal schedule, as your experience will vary greatly depending on when you go. When the tide is in, the gently inclined, nearly flat entry to the water makes for ultrasafe wading and swimming with no dangerous undertows or currents. ("At low tide, the beach extends out nearly one mile, which is a heck of a long walk for a swim. That said, make sure you hit the beach at low tide at least once during your stay for great exploring, and bring plenty of scoops, nets, and containers for what you find.") Expect to come across a wide array of shells, clams, hermit crabs, minnows, and more.
Like bike riding? A family ride along the 25-mile Cape Cod Rail Trail is one of the most rewarding ways to explore the Cape. The trail runs from South Dennis to South Wellfleet, following the now-paved route of the long-defunct Penn Central Railroad along terrain that's generally flat and great for easy pedaling. The best part? The trail cuts right through Ocean Edge Resort, with a convenient access point right on the grounds. You can rent bikes and helmets and cycle all the way to Wellfleet and back or just do a shorter segment of the trail. Note, however, that there are no training wheels available for the rental bikes. (Bike rentals $35/day per person.)
The kids' camp is called Ocean EdgeVenture, available to kids 4 to 12. The clubhouse is located on the resort side and open Monday to Saturday, 9am to 4pm. A typical day at Ocean EdgeVenture starts with a morning at the beach or swimming in a pool (decided by group consensus), followed by lunch and a movie. In the afternoon, there are group games often built around a theme, such as "Pirates' Adventure," "It's a Bug's Life," or "Under the Big Top." Nevertheless, Mansfield heard rumblings of kids spending a significant amount of camp time playing video games. Kids can be signed up for full-day or half-day (mornings only in June and July, afternoon half-day available in August). The fee is $65 for full-day and $40 for half-day. If your kids stay for lunch, you pay an additional $10 per child. The resort advises registering 24 to 48 hours in advance for Ocean EdgeVenture. ("Judging from what I saw and heard, though, I don't think it happens very often that there's no room.") One counselor told Mansfield that 12 kids was the most they'd ever had in the camp at one time, but four kids was a more typical turnout. Low attendance is likely due to the relatively high fee, considering that activities are rather generic to kids' camps everywhere. Another possibility may be that a drop-off camp is simply at odds with the togetherness nature of the resort. As Mansfield observed, "Most families come here intending to hang out together."
If you want to grab a workout, the fitness center is located in the west wing of the mansion. Along with cardio and weight training equipment, there are his and her saunas, a hot tub, and classes in yoga, pilates, spinning, and aqua fitness. Select spa services can be booked through the concierge.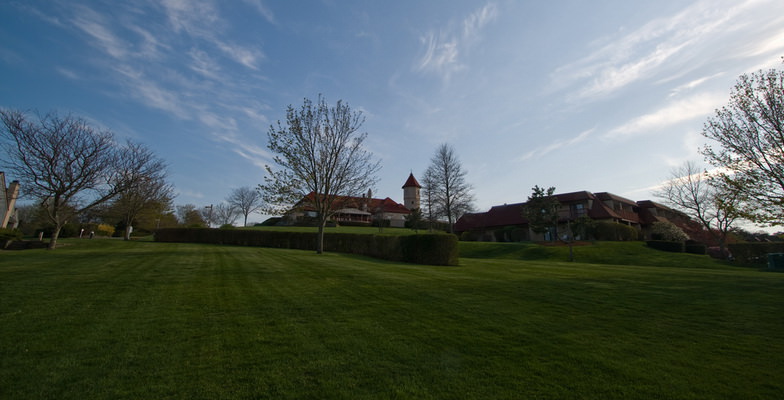 Where to Eat: All restaurant prices are subject to a 14% service charge, plus a 4% administration charge, plus the 5% Massachusetts sales tax. Each restaurant offers the same children's menu, featuring the usual suspects: chicken nuggets, pasta, grilled cheese, and the like.
Ocean Grille is the resort's flagship restaurant, located in the lower level of the Mansion with an expanse of windows overlooking Cape Cod Bay. At breakfast there is a copious buffet with a wide variety of tasty dishes. ("This was fantastic, and a marked improvement over the typical hotel buffet.") At lunch and dinner, selections run the gamut from seafood to beef and chicken, accompanied by a fairly extensive wine list. ("The service was very good, as was the food. A beautiful view of the sunset, too.") Dress is smart casual. (Breakfast buffet 7:30am-10:30am; $18/adult, $9/kids 5 to 12, free for under 5. Lunch average entrée $17/adult, kid's menu items $5-$7.50. Dinner average entrée $28/adult, kid's menu items $5-$7.50.)
Bayzo's Pub is an English-style pub, done up in dark woods and located on the lower level of the mansion. Expect tavern-style dishes, such as burgers, fish and chips, and salads. Dress is casual. (Average entrée $18/adult, kid's menu items $5-$7.50.)
Linx Tavern, located in the golf clubhouse, is open seasonally. You can eat inside under the vaulted ceilings, or outside on the patio overlooking the 9th fairway. Dress is sporty casual. (Open breakfast, lunch, and dinner. Average entrée $20/adult, kid's menu items $5-$7.50.)
The Reef Café, located at the Reef Pool on the resort side of Ocean Edge, is open seasonally. The menu changes throughout the day for breakfast (bagels, muffins, pastries), lunch (salads, burgers, pastas, pizza), and dinner (seafood, pasta, beef, pork, chicken, pizza). Lobster is sometimes available at market price. Dress is beach casual. (Breakfast average item $4. Lunch average entrée $12/adult, kid's menu items $5-$7.50. Dinner average entrée $17/adult, kid's menu items $5-$7.50.)
Also note: Each pool has a snack shack that stays open from late morning until late afternoon. Since there's no mini-mart at the resort, these snack bars are the most convenient place to grab a quick soda, water, sandwich, or hot dog. Prices run from $1 to $6 per item. The location at the Bay Pines Pool is the handiest for picking up food and drinks for the beach. There are also vending machines at various locations that sell sodas and bottled water for $2 each.
Beware of room service surcharges. When you order food up to your room, you inexplicably pay the same 14% service fee and 4% administration fee incurred when you sit down to a meal in one of the resort's restaurants. Naturally, you also pay the 5% sales tax. And to top it all off, there's a $2 in-room dining charge. Bon appetit.
Nightlife: The don't-miss evening event is a popular beach campfire held every Thursday evening in the summer at sunset, complete with sing-alongs and marshmallow roasting. Each Monday night, there's a family movie screened outdoors. And on Sundays, you can attend the late-afternoon Family Barbecue with music and a roster of family games ($25/adults, $12/kids 5-12, free for kids under 5).
For kids 4 to 12, Kids' Night Out is offered on Wednesday, Friday and Saturday evenings from 6pm to 9pm. Each evening has a theme, such as "Space Invaders," "Unbirthday Party," or "Pajama Jama Jam." Typically the evening includes a pizza dinner and a movie, playing some group games, and an arsenal of video games. The big downside is the $45-per-child pricetag, which is more than what we typically encounter for similar services at resorts.
The concierge can also set up in-room babysitting through an outside agency.
Where to Stay: Ocean Edge offers a nice array of accommodations, ranging from hotel rooms to villas and townhouses. The best option for your family depends largely on your budget and dining preferences. Do you want to eat all your meals in a restaurant or would you rather have your own kitchen facilities? Remember that the additional cost of a villa can be offset by lower meal expenses.
Also consider how you will be spending most of your time. Stay bayside to be closest to the mansion and its restaurants, the fitness area, and the beach. If golf or bike riding is a top priority, book a villa on the less expensive resort side.
When you face the front of the mansion from the front lawn, you might not even notice its two wings of hotel rooms. The wings are actually separate buildings accessed via covered breezeways from the mansion. The ground behind the mansion slopes down steeply in such a way that the wings are located behind and several floors below the mansion, much closer to beach level. Rooms are done up in a very evocative coastal style, with a sand-and-sea palette, wainscoting, louvered shutters, and framed beach scenes. Each room at the hotel features a balcony or patio and either a bay view or a garden view. Rooms feature a coffeemaker but no microwave and cable TV but no DVD player.
The least expensive hotel room is the deluxe guest room, sized anywhere from 480 to 580 square feet, which has either one king-size or two queen-size beds. Some rooms in this category also have sleeper sofas.
Mansfield and her family stayed in a superior guest room in the east wing of the mansion. The room was a spacious 680 square feet and beautifully decorated in shades of cream and blue. ("Overall, we loved the room. I wouldn't say that our accommodations were luxurious, but they were several notches above merely comfortable.") There was a king-size bed and a good-sized sitting area with a pull-out sofa. The roomy bathroom was nicely done up in green with white wainscoting and contained a tub with combined shower. There was also a large closet and a large dressing area with a sink and vanity. A nice touch: Sliding louvered plantation shutters that led to a small patio. ("The view, however, was of the parking area.") For Mansfield, the biggest minus was the lack of an in-room refrigerator. ("And the ice machine in our building was out of order. I don't know how a family could stay there for more than a couple of days and not go nuts with no way to keep anything chilled in the room.")
The largest hotel option is a luxurious corner suite, whose floorplan includes a bedroom with a queen-size bed, a gas fireplace, flatscreen TV, and Jacuzzi tub. The living area features another gas fireplace, flatscreen TV, and a full bathroom. Amenities include a coffeemaker, microwave, refrigerator, wet bar, and dishwasher.
Staying in a villa gives you the privacy of a condo community and the recreational offerings of a resort. Villas are arranged in clusters on both sides of the resort, so you can choose the location closest to your preferred activities. These units offer the home-away-from-home comfort of separate living and dining areas, and the practical convenience of a fully equipped kitchen and a washer and dryer. There are one- and 2-bedroom villas and three-bedroom townhouses available. Some floorplans feature a Murphy bed in the living area, which adds an additional bed without sacrificing floor space during the day.
If you have a baby or toddler, the resort will provide a cot or travel crib at no extra charge, but you need to pre-book.
Price Tag: Ocean Edge is a year-round resort, with room rates varying enormously from one season to the next. Summer rates are the highest, naturally, with spring and fall rates falling in the middle price range. Value season runs from the end of November to the end of February. The least expensive hotel category, a deluxe room, runs $375 a night in the summer but can be had for $290 just after Labor Day, or $159 in the dead of winter. The next expensive hotel option is a superior room, which costs $450 a night in summer, $310 in spring and fall, or $179 in winter. A suite will set you back $650 in summer, $510 in spring and fall, or $379 in winter.
Think you'd be more comfortable in a villa? Staying bayside is predictably more expensive than staying on the resort side. Summer nightly rates run the gamut from $395 for a one-bedroom resort side villa to $1,575 for a waterfront 3-bedroom townhouse. A 2-bedroom villa costs $800 a night on the resort side and $925 on the bayside.
One of the best values is the one-bedroom deluxe villa available on the resort side. The niftiest feature is a full-size Murphy bed in the living area that effectively transforms the space into two-bedroom accommodation at night. A one-bedroom deluxe villa runs $500 a night in the summer, $350 during spring and fall, and $230 in value season.
Despite its affable ambience, Ocean Edge isn't all that friendly on the pocketbook. The resort takes every opportunity to slip in an extra fee or surcharge. On top of your nightly room fee, you pay for all meals, kids' programs, and most recreational activities. Meals in restaurants are hit with a 14% service fee, plus a perplexing 4% "administration fee." Want room service? You pay the same 18% in mandatory fees plus a $2 in-room dining charge. Remember that complimentary shuttle bus that loops the resort? Well, it turns out that it's not quite so free after all. The shuttle bus is covered in the $12-per-night "resort service fee," which also pays for use of fitness center and pools, wireless Internet, local phone calls, in-room coffee makers, and daily newspaper. Considering what you're paying for your digs, you'd expect these services to be complimentary. A service charge for coffee makers? Local phone calls? Access to the pools? Mercifully, there's no parking fee.
Note: Always check the "Rates and Specials" section of the resort's web site for its "Internet Special Offers," which are typically discounted to 50% below the rack rates. At press time, there were fantastic end-of-summer deals available through Labor Day, including a $199-a-night rate for a one-bedroom villa.
Insider Tips:
1. Check the resort's web site for special internet rates.
2. If your child is learning to swim, don't forget to bring her swim bubble or life vest.
3. Have lunch one day at JT's Seafood Restaurant, located on Route 6A across from Ocean Edge's golf club entrance.
4. Hang out at the Reef Pool mid-to-late afternoon and then just walk on to the adjacent deck for an early outdoor dinner at the Reef Café.
5. If you're staying in a villa, stock up on groceries at the Shaw Market on Route 6A in Orleans, just a 5 to 10 minute drive east of Ocean Edge.
6. If you have time, get to a Cape Cod Baseball League game!