Great theme parks for families
By Josephine Levin
Grand Siera ride at Knott's Berry Farm (Courtesy Knotts Berry Farm)
If you are looking for a budget and family-friendly vacation as fun-filled as Disney World, there are many of these attractions all over the country. Some of these theme parks may be closer to where you live so you can drive there or pay less for a flight and others are more affordable for families and less crowded but just as effective in showing kids a fun and unforgettable time.
Here are our top picks for Disney World alternatives in the US.
Southern California
A former berry farm in Buena Park in southern California is now the site of a very family-friendly theme park, Knott's Berry Farm and the Knott's Soak City Water Park. Knott's Berry Farm offers exciting rides for all ages such as the Timberline Twister, a not-so-scary roller coaster suitable for little kids that goes through the Camp Snoopy wilderness with its Peanuts characters. The brand new interactive 4D Voyage to the Iron Reef is suitable for the whole family. Knotts also has family-friendly shows and live entertainment. The gate price for the Berry farm is $67 ($37 for kids ages 3-11) and for Soak City Water Park is $38 – so much cheaper than Disney World plus you can save up to $27 per ticket when booking in advance. A Knott's Berry Farm Gold Pass will give you the two parks for the price of one and after two visits pays for itself. You can also get discounts on admission to the two parks if you stay at the Knott's Berry Farm Hotel that features a Camp Snoopy wing and the Amber Waves Restaurant where Snoopy visits every day.
Knott's Berry Farm Hotel (Photo: booking.com)
When visiting Knott's Soak City Water Park and Knott's Berry Farm in Southern California, you just can't miss an opportunity to experience exquisite accommodation in Knott's Berry Farm Hotel.
All attractions are near: This hotel is close to Knott's Berry Farm Amusement Park and provides a free shuttle to Disneyland Theme Park, which is just 9.7 kilometers away. The motel is 1.6 kilometers from Buena Park Mall. Knotts Soak City Water Park and downtown Buena Park are less than 1.6 km from this hotel.
Fun and comfortable: Guests of this hotel have free access to recreational activities, including an outdoor pool, a hot tub, and a sauna. A sports court for basketball and tennis is accessible, along with a small gym. All rooms are pleasantly designed with carpet flooring and contain safe air conditioning.
For food enjoyment: At the Knott's Berry Farm Hotel, a daily breakfast buffet is provided for an extra fee. Amber Waves Restaurant and Bar serves American cuisine all day and features a daily visit from the character Snoopy.
Northeast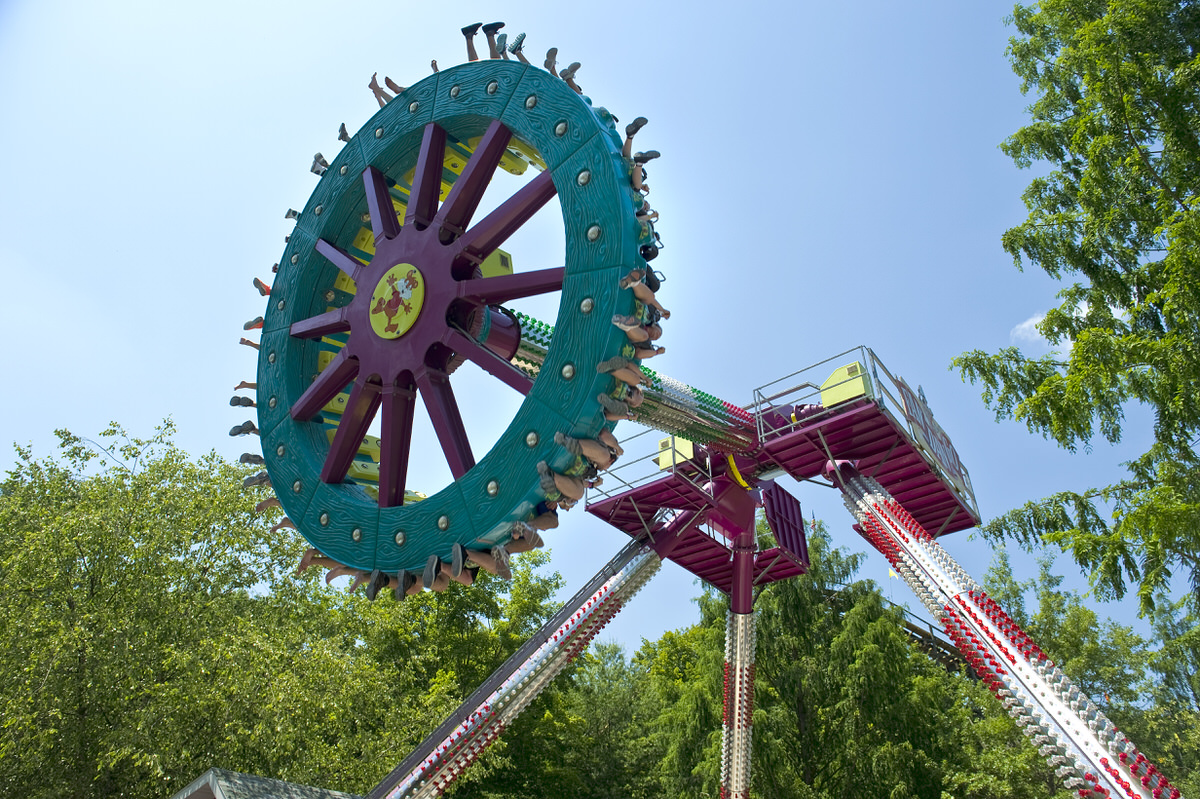 Fandango at Knoebels Amusement Resort (Courtesy Knoebels)
Knoebels Amusement Resort in Elysburg, Pennsylvania is America's largest free-entrance amusement park resort that also offers free parking, free entertainment, free picnic sites and free attractions like museums and Kozmo's Special Playground. You can pay just for whatever rides you and the kids want or opt for a ride-all-day plan that costs $38-$46 ($24-$30 for kids less than 48" tall). There are kiddie rides, family rides like the carousel swing Italian Trapeze and thrill rides like Impulse, the new steel roller coaster with upside down twists and a 90-degree drop. There is also a restaurant, a pool with water slides and a golf course. On-site are 16 air-conditioned cottages of varying sizes – the largest can hold up to 10 people and a campground with over 600 campsites and log cabins. Knoebels Amusement Resort, located in central Pennsylvania, is only a day's drive from New York, New Jersey, Ohio, Maryland, Delaware, West Virginia, Virginia and Massachusetts – a perfect Disney World alternative for families in the Northeast.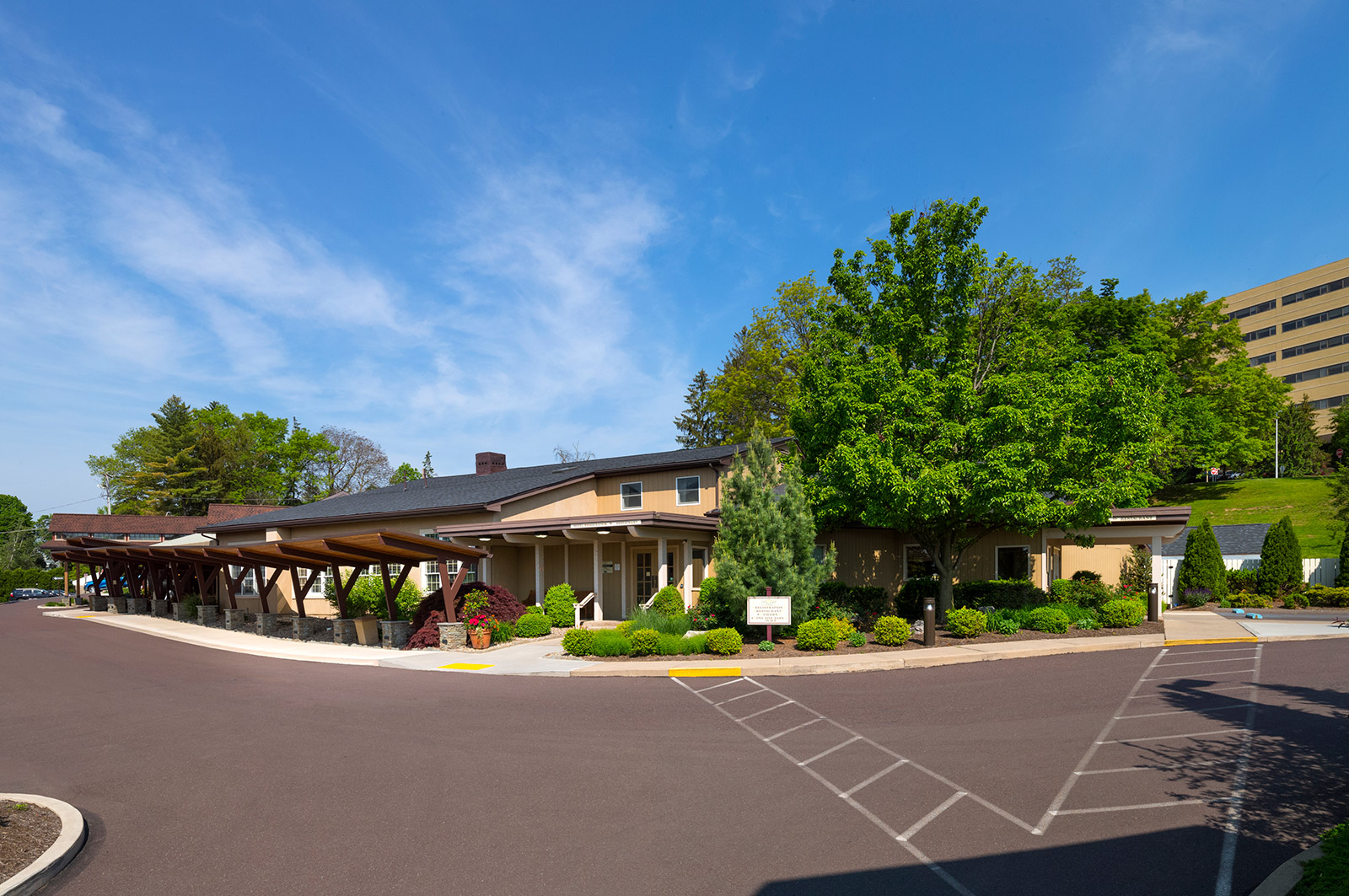 Pine Barn Inn (Photo: booking.com)
After a day of exciting adventures at the Knoebels Amusement Resort, you can have a restful and fun time at Pine Barn Inn.
The location is absolutely awesome: Only ten minutes of walking separates the hotel from the Danville town center. 1.7 miles distant is Frosty Valley Country Club. The Pine Barn Inn is situated in Danville, Pennsylvania, about 4 minute walk from Geisinger Medical Center.
Convenience and fun: On-site amenities include a fitness facility and a free daily shuttle service to Geisinger Medical Center. The on-site restaurant, pub, and banquet facilities are available to visitors. Free WiFi is available.
Midwest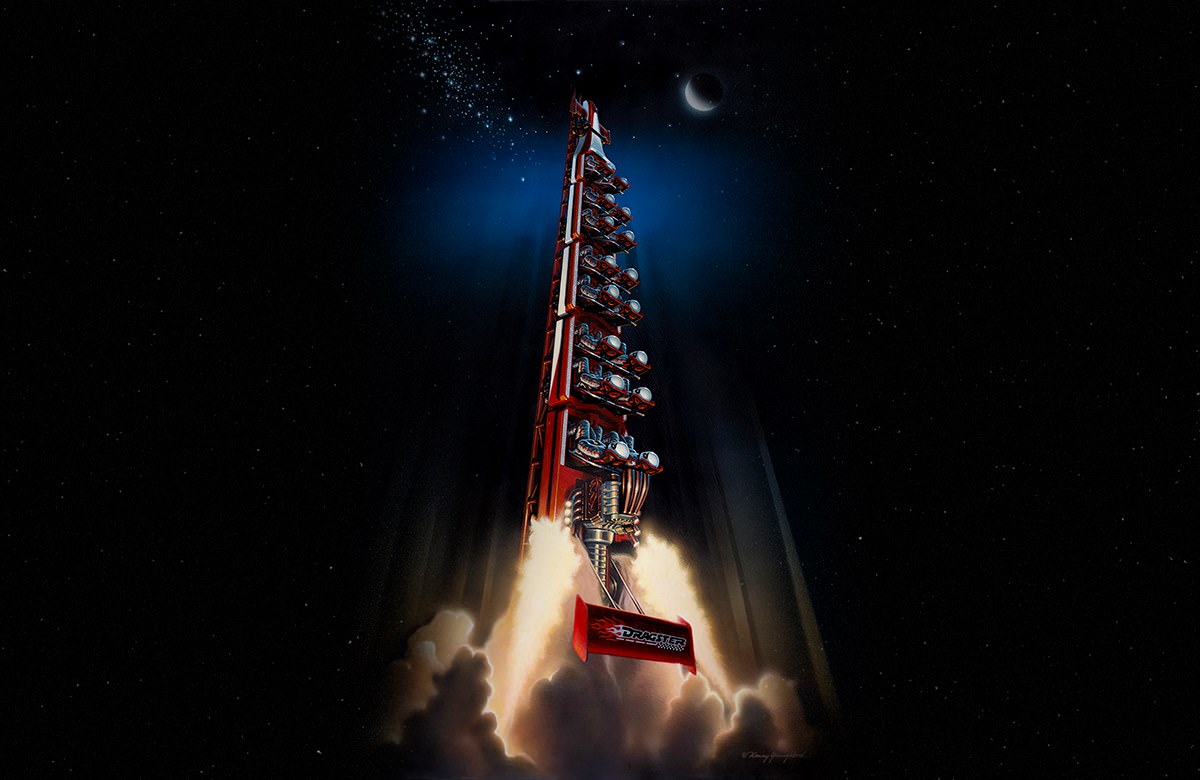 Top Thrill Dragster at Cedar Point (Courtesy Cedar Point)
Cedar Point on Lake Erie in Sandusky, Ohio claims to be the roller coaster capital of the world with 17 roller coasters. It also has a Cedar Point Soak City Water Park. Besides all the thrill-seeking experiences like the brand new floorless Rougarou roller coaster where your legs will dangle just a few inches above the track while traveling 60 miles an hour, there are rides suitable for kids of all ages like the Snoopy Bounce. The gate price is $62, and discounts of up to $12 can be had. Gate price for the Cedar Point Soak City Water Park is $34.99 regular and $19.99 junior/senior. If you opt to stay at the family-friendly newly refurbished Hotel Breakers, you and the kids can enter the park one hour earlier than the general public.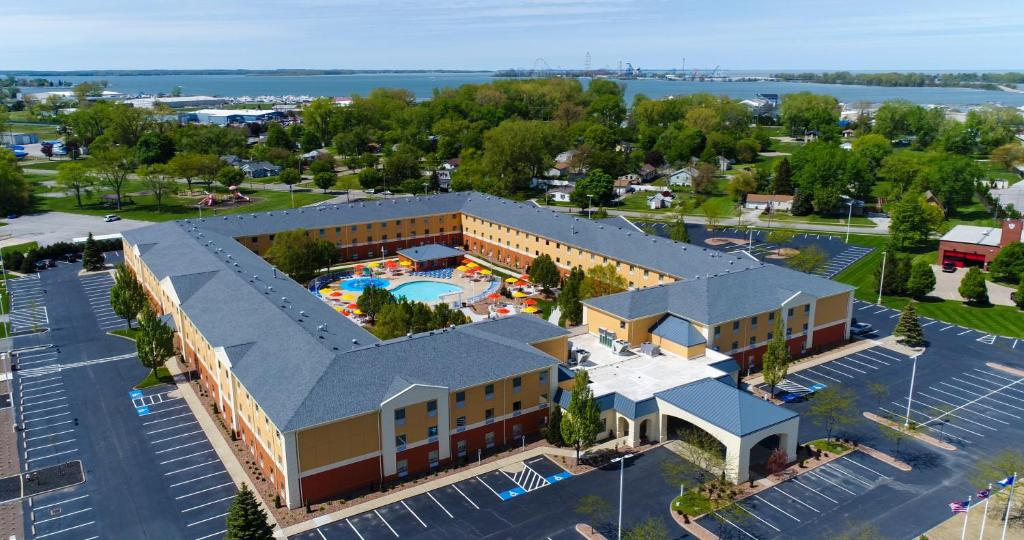 Cedar Point's Express Hotel (Photo: booking.com)
During your Cedar Point Soak City Water Park adventures, you can greatly benefit from your stay at Cedar Point's Express Hotel – a family-oriented place with all the fun and comfort provided. Tickets to Cedar Point are reduced at the hotel. Visitors can enter Cedar Point one hour earlier as well (with paid admission). A boat trip to Lake Erie is available via Jet Express Ferry, which is about 8 minute drive from the hotel.
You can't find a better located place: This hotel has free WiFi and an outdoor pool and is only 3.2 kilometers from Cedar Point amusement park and Cedar Point Shores Waterpark. The Sandusky motel that is closest to Cedar Point is this one.
Amenities and comfort: The Cedar Point Express Hotel offers complimentary parking and on-site laundry facilities. A cable TV and a coffee maker are features included in each room at Cedar Point's Express Hotel. The rooms offer air conditioning and an en suite bathroom with complimentary amenities.
South Central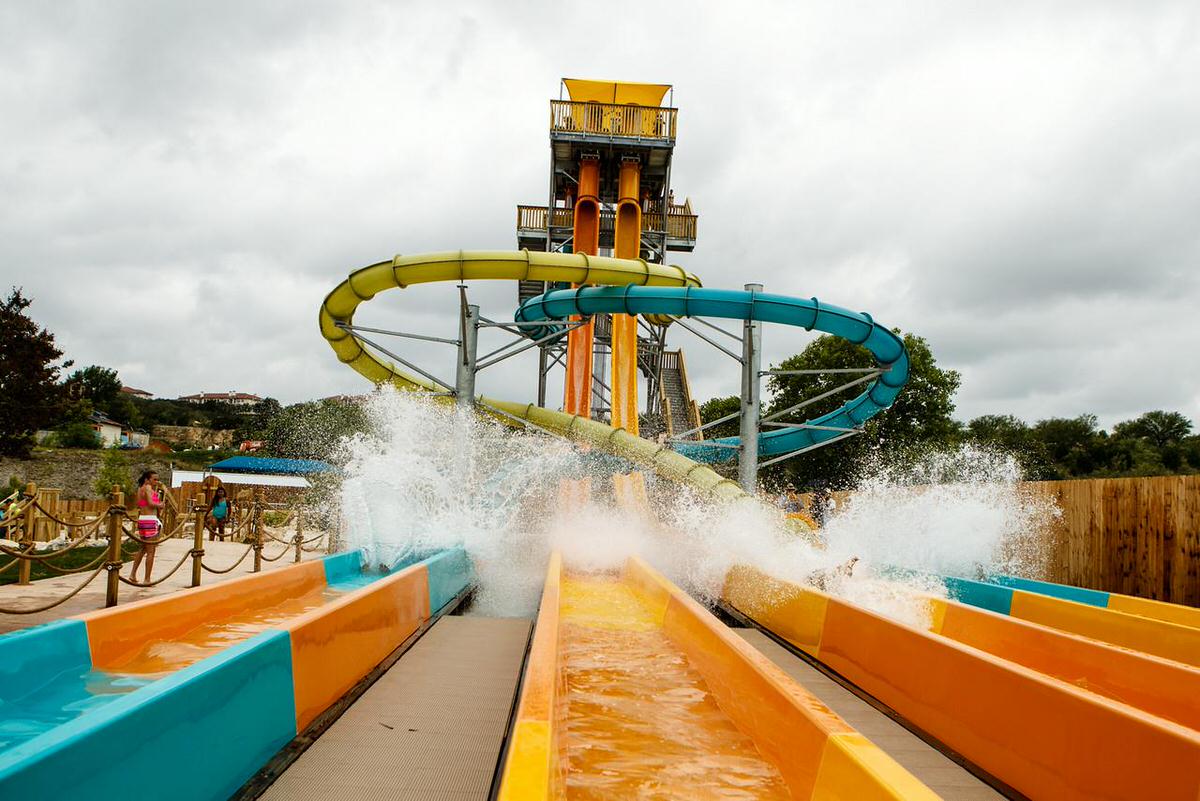 Water ride at Six Flags Fiesta Texas (Courtesy Six Flags Fiesta Texas)
Six Flags Fiesta Texas is a theme park in San Antonio that also has the White Water Bay Water Park and live entertainment. The admission price covers both parks, which alone is money-saving. Six Flags has thrill rides, family rides, kids' rides and water park rides. A popular family ride is Bugs' White Water Rapids that takes you and the kids back to medieval England to see the knight, Bugs Bunny while a favorite water park ride is a massive wave pool, the Lone Star Lagoon. A new thrill ride is BATMAN: the Ride that is a 4D free fly coaster that actually causes you to flip while flying over a 12-story hill (the only kind in the world). Gate price is $67.99 for regular admission ($52.99 for children under 48", free for kids under 2); and you can get significant discounts when buying tickets in advance, with rates starting at $47.99.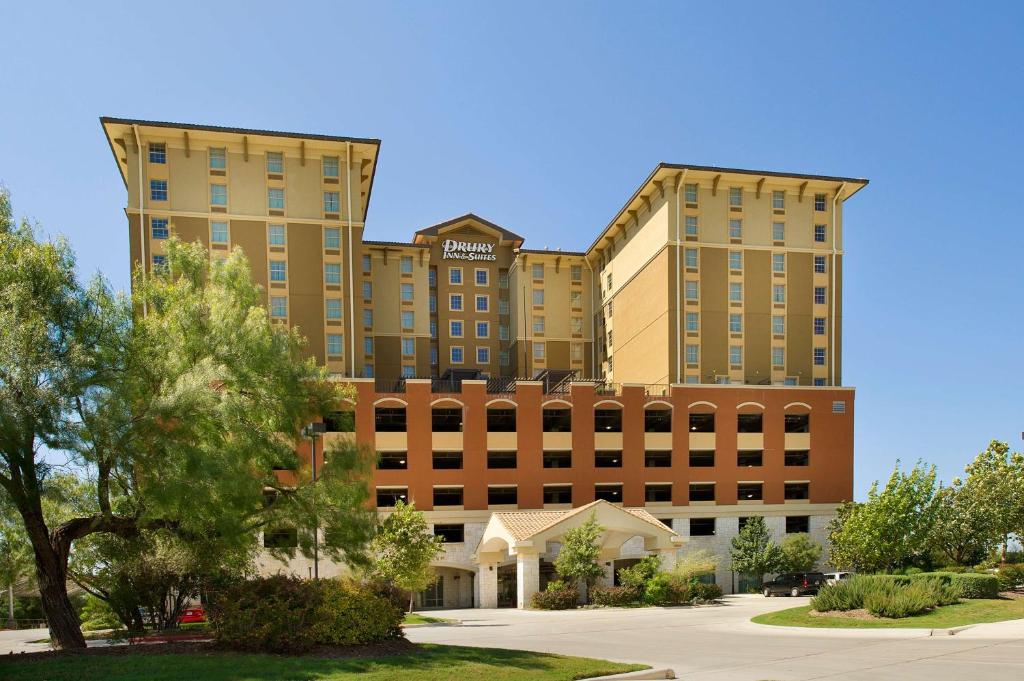 Drury Inn & Suites San Antonio Near La Cantera (Photo: booking.com)
When splashing all the fun out in White Water Bay Water Park, you can spend a great time at Drury Inn & Suites San Antonio – a nature-friendly hotel with a whirlpool and an indoor swimming pool. The hotel is a 5-minute drive from the Shops at La Cantera. 3.1 miles distant lies the theme park Six Flags Fiesta Texas.
For business trips and activities: The fitness center is available for use at any time by visitors. The Drury Inn & Suites San Antonio Near La Cantera has a business center where guests may check email and do online business.
All thirst and hunger sated: Every day, a complementary cooked breakfast is provided. Every evening at 5:30, free hot meals and cold drinks are also provided.
(MORE: Accommodations at Disney World for Large Families)
Southeast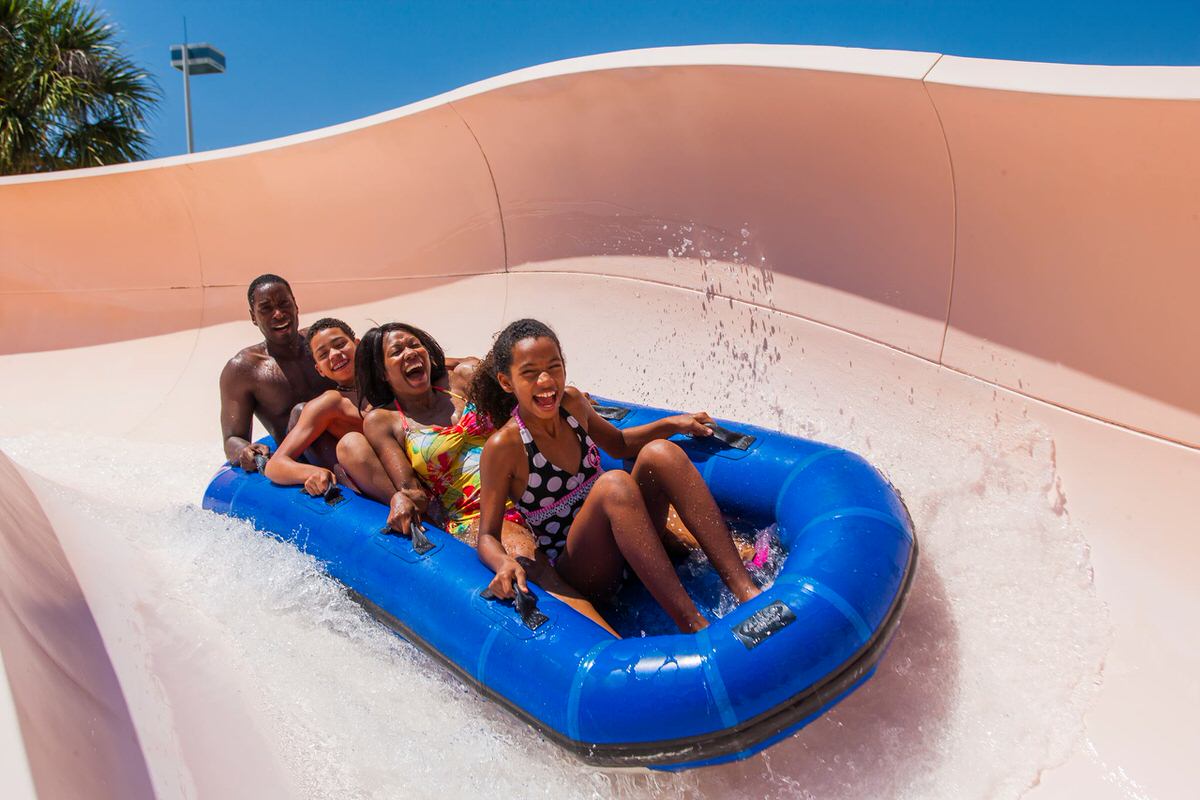 Wet 'n Wild Orlando (Courtesy Wet 'n' Wild)
If you are still hankering for an Orlando family-friendly vacation, there is Universal's Wet'n'Wild Water Park that has more rides and multi-person rides than any other one in Orlando. From thrill rides to family rides, there is something for everyone. Blastaway Beach is the largest family water play site in Florida. Fully-trained lifeguards are on staff and life vests for you and the kids are available without charge. Florida residents get a discount. The price of a ticket purchased online is $47 for out-of-state residents and you can get a discounted price if you buy a 3-park ticket that also includes Universal Studios and Islands of Adventure. You can also purchase tickets for an unlimited all day BBQ that allows you and the kids to eat or drink whenever you want for $18.99 – child size $10.99. Florida's warm climate allows Wet'n'Wild to remain open all year round.
Universal's Cabana Bay Beach Resort (Photo: booking.com)
Quite in the spirit of the Wet'n'Wild Water Park is Universal's Cabana Bay Beach Resort – a wonderful accommodation option. The Universal Studios Florida and Universal Islands of Adventure theme parks, as well as Universal CityWalk, are both within 1.6 kilometers of this resort. It is also close to Universal's Volcano Bay.
Fun is just near: One hour prior to park opening, Universal's Cabana Bay Beach Resort provides Early Park Admission to both Volcano Bay and The Wizarding World of Harry PotterTM. All three theme parks of Universal Orlando, as well as Universal CityWalk, are accessible via a free shuttle.
Gourmet delight offered for your family: Visitors may easily eat in or get takeout at Universal's Cabana Bay Beach Resort. Burgers, milkshakes, pizza, and sandwiches are available at the food court. Along with the lobby and pool bars, there is a coffee shop on the property.
Josephine Levin contributed this to MiniTime.