Puerto Rico with kids
By Michelle Rae Uy
Old and new San Juan from San Cristobal (Photo: Michelle Rae Uy)
From one-inch frogs that sing their nightly songs to cascading waterfalls that pour into natural swimming pools offering respite from the year-round heat to hidden beaches with natural barriers for calmer waters, the lush island of Puerto Rico presents a trove of natural treasures that inspire visitors to leave the pool and spend more time exploring the outdoors.
When vacationing in Puerto Rico with the family, these outdoor adventures are definite must-adds to your itinerary.
(MORE: 7 Reasons to Visit Puerto Rico with Kids)
Visiting a Bioluminescent Bay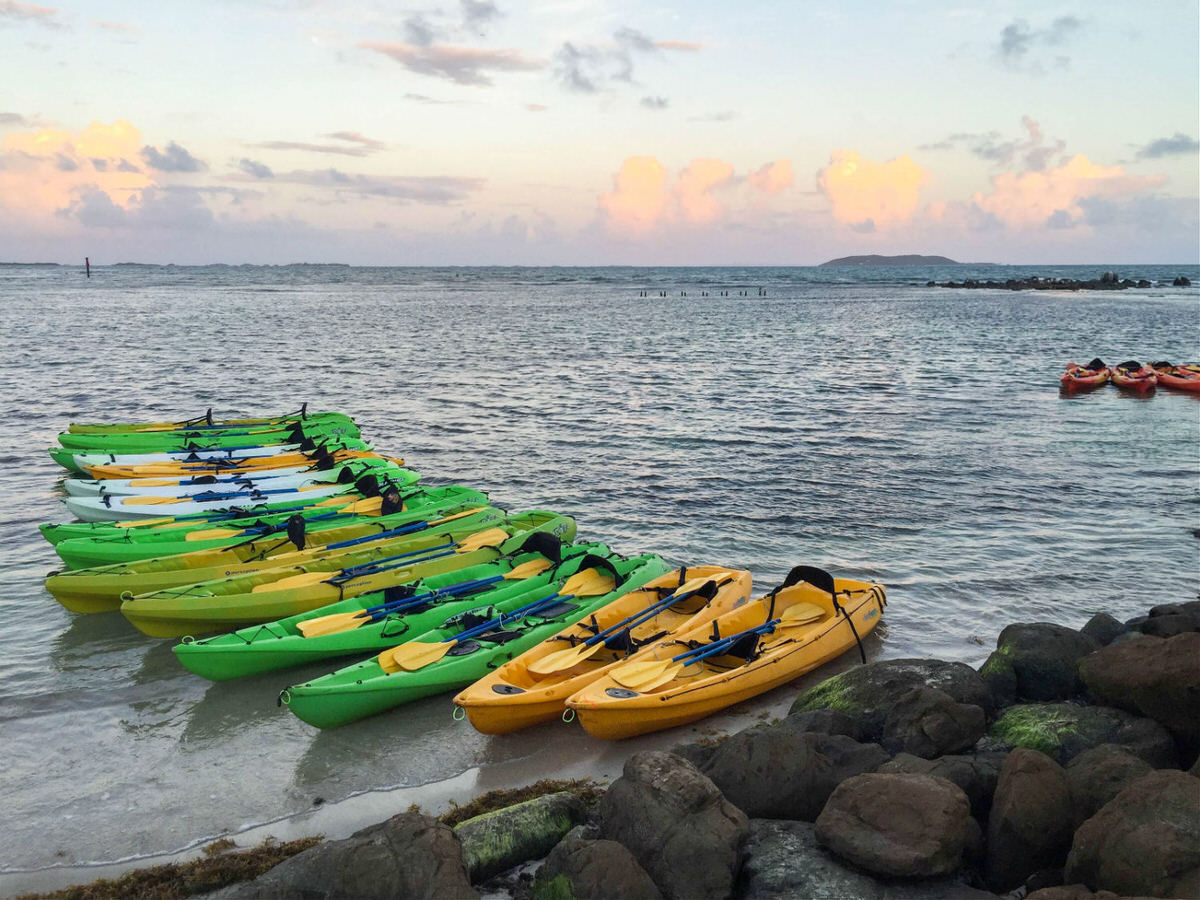 Kayaks for the Bioluminescent Bay excursion (Photo: Michelle Rae Uy)
Bioluminescent bays are some of nature's most enchanting wonders and Puerto Rico is home to three of the remaining few in the world. While naysayers may tell you that it's not that impressive and tour guides will confirm that only about 10% of the original population of dinoflagellates is left due to several factors – including nearby development, kayaking to one of Puerto Rico's magical bio bays is an experience that will last a lifetime. The bigger kids will enjoy navigating through the mangrove forest in the darkness, an awesome adventure on its own, while everyone will enjoy gently sloshing their hands in the water to see flecks of blue-green light appear and disappear. Allow your guide to tell you about these fascinating microorganisms and the conservation efforts being done to preserve their habitat, and look up to enjoy the twinkling stars in the sky.
Laguna Grande in Fajardo, only an hour's drive away from capital San Juan, is easily accessible, while Mosquito Bay on Vieques is brighter and more popular.
Kayaking and Snorkeling Around Palomino Island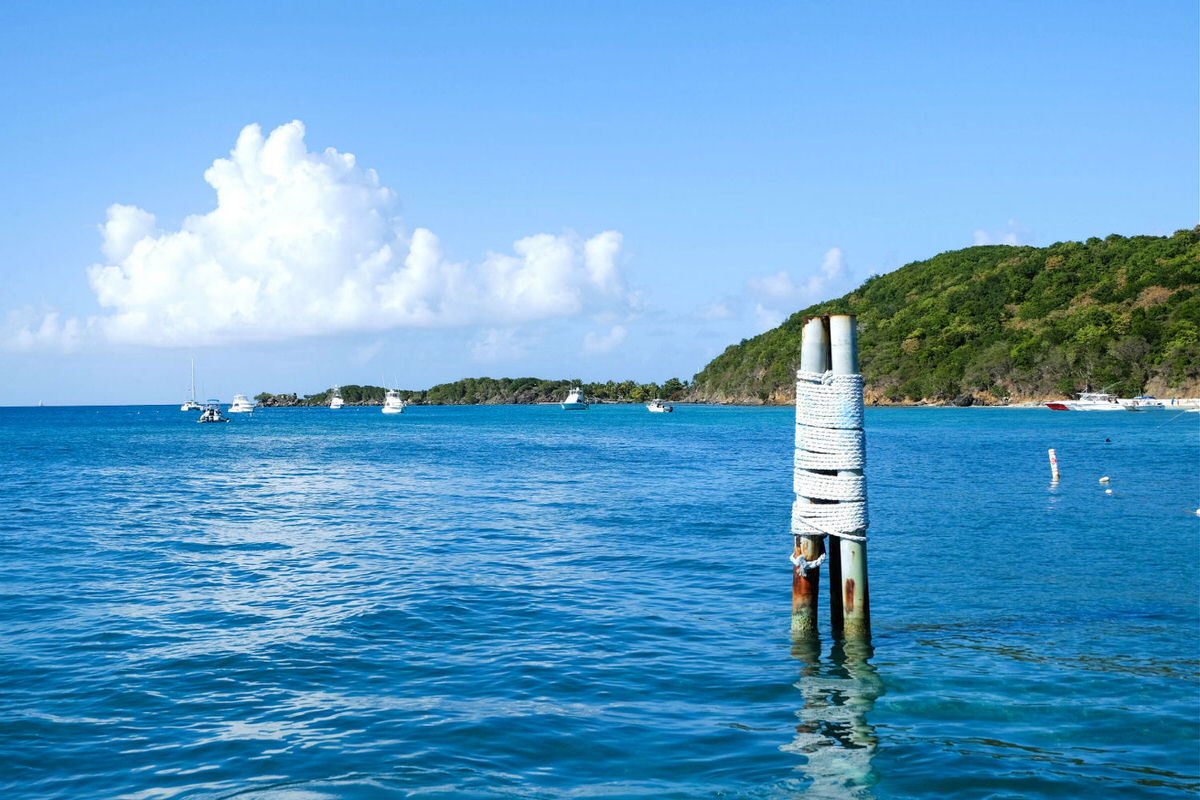 Palomino Island at El Conquistador (Photo: Michelle Rae Uy)
Off the northeastern side is the lovely and family-friendly Palomino Island, El Conquistador Resort's tropical island, which offer families plenty of outdoor activities. Whether you are seeking to enjoy some watersports or to simply laze around on the beach and indulge in a bit of sunning, this spot is paradise.
Available watersports include catamaran and wave runner rides, hobie cat tours, boat dives, snorkeling and kayaking. Horseback riding, hiking, beach volleyball, ping pong and soccer are also available on the island. Rent snorkeling equipment, then kayak to the nearby Palominito Island where a scene from Pirates of the Caribbean: On Stranger Tides was filmed. Once there, secure your kayak on the shore and do some snorkeling. Back on Palomino Island, find a lovely spot near the water, order that delicious, refreshing Palomino Adventure drink (virgin for the kids) and relax before heading back to the resort. And remember to save some time to enjoy the onsite Coqui Water Park.
Hiking in the Rainforest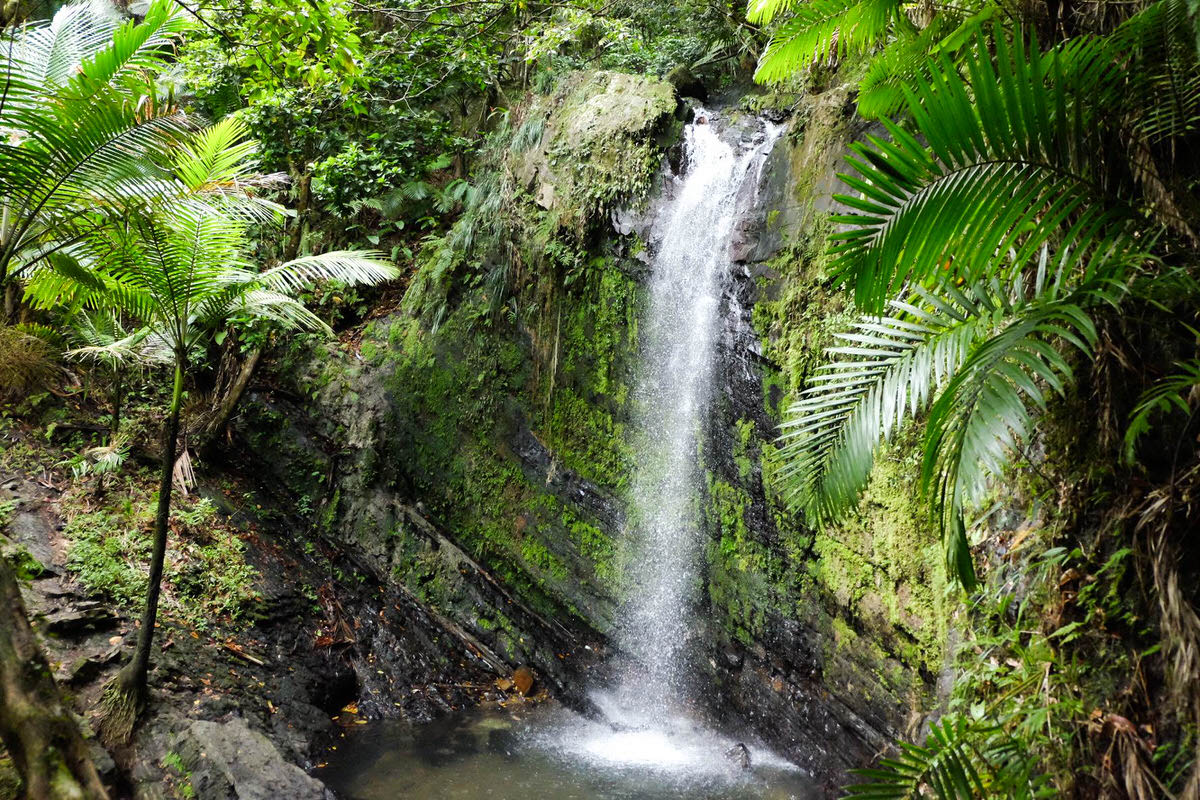 Waterfalls in El Yunque (Photo: Michelle Rae Uy)
Located on the eastern side of the main island, El Yunque National Forest, along with its many notable, family-friendly attractions, is easily accessible, making it a great place to visit for both outdoorsy and non-outdoorsy families. The only tropical rainforest in the United States National Forest System boasts a plethora of natural wonders such as waterfalls, sweeping views, different types of forests, endemic wildlife, dramatic hiking trails and more. Enjoy picture-perfect moments at La Coca Waterfall, take in the panoramic views atop the Yokahu Tower and get some mud on your boots—literally—on a hiking trail. Later, have a refreshing swim at La Mina Waterfalls. Visit the visitors' center for a lovely and well-earned lunch outdoors, and take some time to learn about the indigenous plants and their medicinal properties. You can go on your own by car, or better yet, hire an accredited tour company so your tour guide can give you interesting facts about the forest you wouldn't know otherwise.
Zip Lining at ToroVerde
While it may seem daunting at first especially to those who are afraid of heights, zip lining at ToroVerde is an exhilarating adventure that the older kids and adults in the family will want to do over and over again. Hike, cross thrilling suspension bridges, rappel and zip line your way through the ecological adventure park, and enjoy its beauty from way up high, with the assistance and guidance, of course, of the park's experienced guides. The park offers several tour packages, so visitors can take their pick based on their adventure levels and preferences. Purchase a combo that includes several short zip lines, a couple of suspension bridges, the "Jump of the Coqui" rappel, and the Beast, which takes you flying like Superman on one of the world's longest single run zip lines. Kids 8 and older can enjoy the Bull Maze.
Later, head to the restaurant for some much needed nourishment. Order croquette risotto and plantains to start. The stuffed chicken breast with yellow rice is terrific and filling; so are the different types of mofongo, Puerto Rico's national dish.
(MORE: Warmest Destinations for Snowbird Families)
Exploring Old San Juan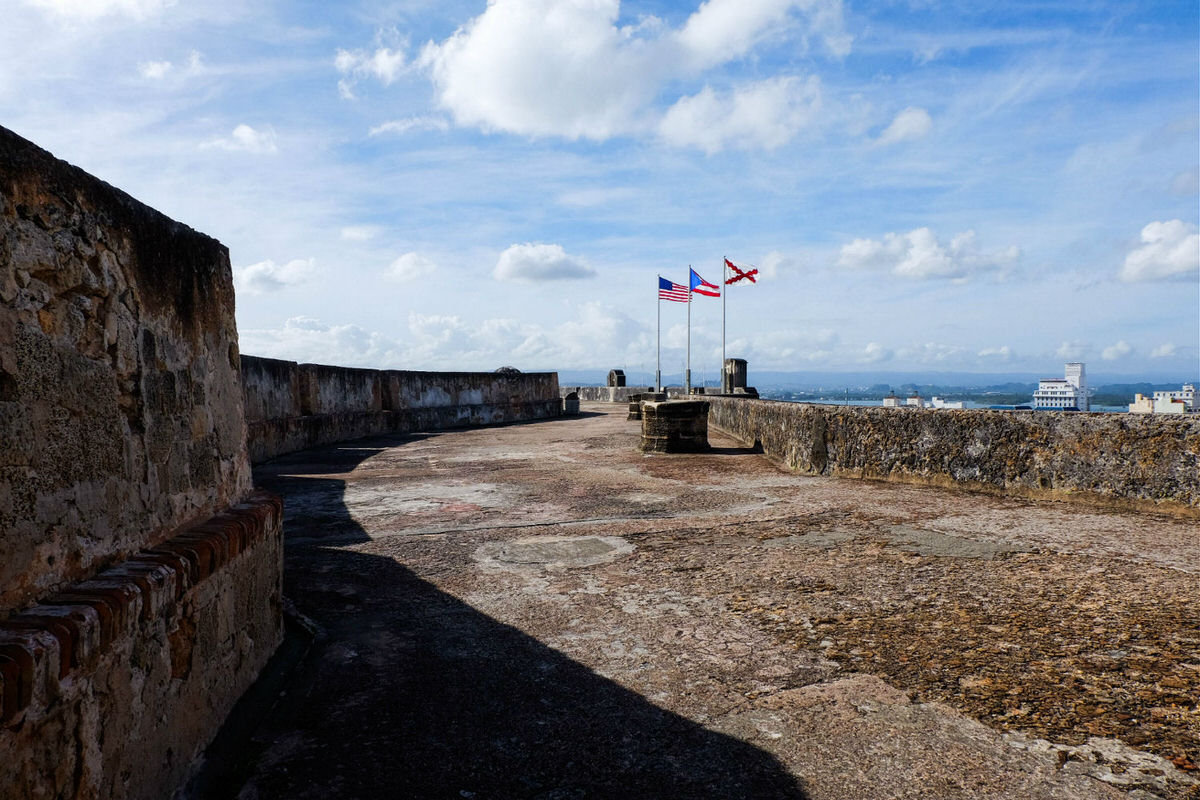 San Cristobal (Photo: Michelle Rae Uy)
Families cannot visit Puerto Rico without a proper exploration of its capital city. San Juan is a perfect blend of European flair, Spanish colonial architecture and all the modern conveniences of a US city. Visit and explore the historic walls of its massive forts, San Cristobal and San Felipe del Morro, both part of the San Juan National Historic Site; quietly admire the intricate architecture of the Cathedral of San Juan Bautista and the Capitol of San Juan; and walk around the old city's cobbled streets to appreciate the endearing and brightly colored houses that line them. Visit around the holidays and watch local Christmas performances and squares adorned with lights, garlands and Christmas trees.
Leave some time to explore the new part of the city as well, which flaunts delicious cuisine, a vibrant culture and an exciting street art scene. For a family-friendly hotel to serve as your base, consider the waterfront Caribe Hilton.
Boating Along a Mangrove Forest
Many boat tours around the city can take families to explore the island's channels of mangrove forests. For a more interesting excursion that cater to kids, however, head to Museo del Nino de Carolina (Children's Museum of Carolina). The interactive museum, which encourages kids to find their passion and interests, not only features several areas for studies and endeavors (from theater and art to science and mathematics) and fun exhibits, it also boasts a tiny zoo populated with friendly chickens, ducks, exotic birds, goats, sheep, cows, horses, donkeys and emus; a go kart track; and an old plane that visitors can board to explore. Complete your visit with a relaxing boat ride along the nearby canal lined with mangrove trees, and see iguanas and local birds as well as the occasional alligator. Keep an eye out for those duck nests as you walk around the property to catch a glimpse of the eggs and maybe a chick coming out of one of them, if you're lucky!
Michelle Rae Uy contributed this to MiniTime. She is a travel writer based in Los Angeles and MiniTime's Head of Content who spends her free time on adventures and film photography.