Universal Studios Hollywood with kids
By Michelle Rae Uy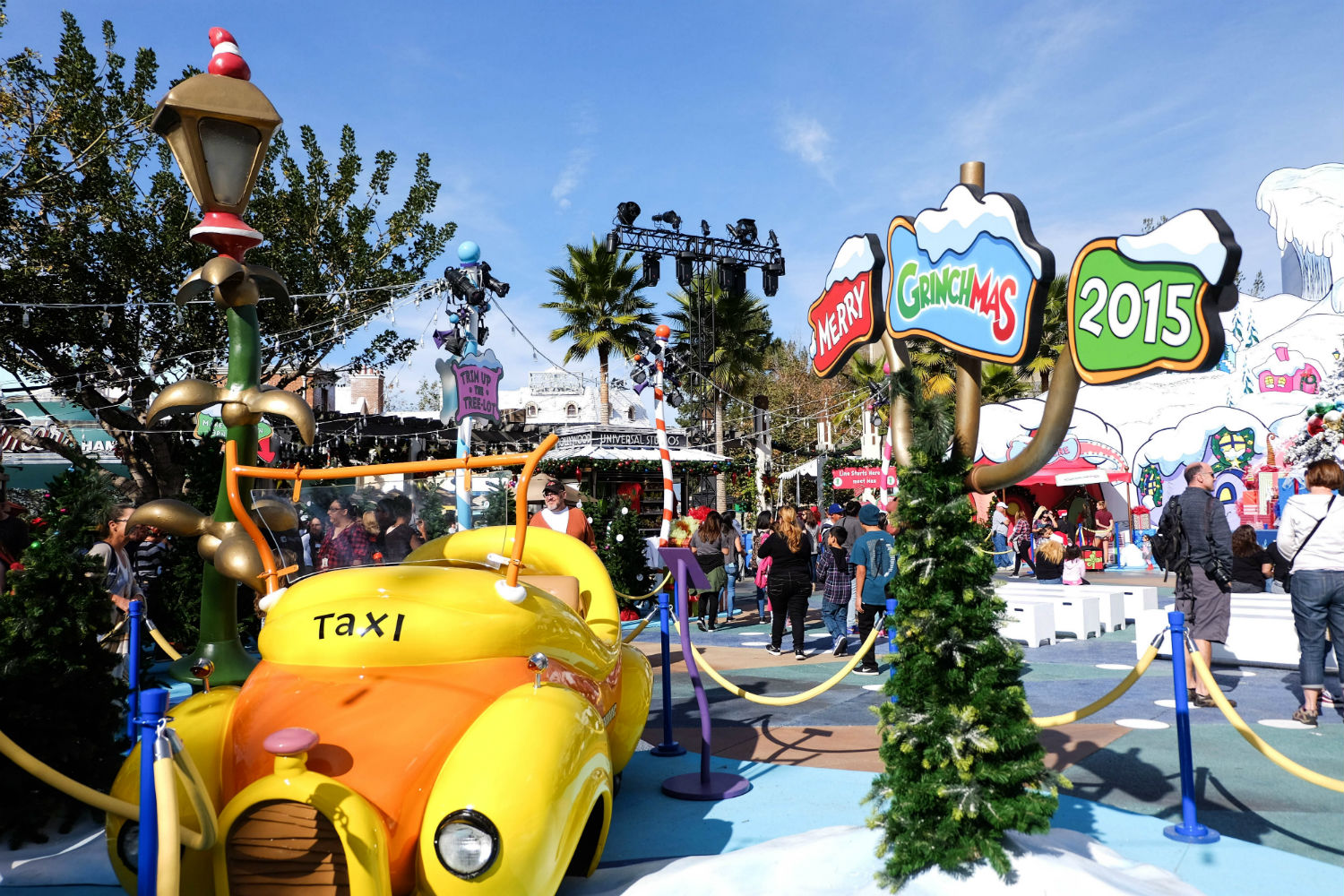 Grinchmas 2015 at Universal Studios Hollywood (Photo: Michelle Rae Uy)
Merry garlands, sparkling ornaments, thousands of string lights and white snow deck the movie-themed streets of Universal Studios Hollywood, turning it into a lovely winter wonderland. But that's just a preview of what's in store for families at LA's favorite theme park during the holiday season.
Whimsy, wonder and the Whos await kids (and grown-ups) in Whoville as Grinchmas ushers in the holidays, and the Who-lebration is more than joyful, it's unforgettable.
Here are a few reasons why we just can't get enough of Grinchmas at Universal Studios Hollywood.
(MORE: Lights, Camera, Action: A VIP Tour at Universal Studios Hollywood)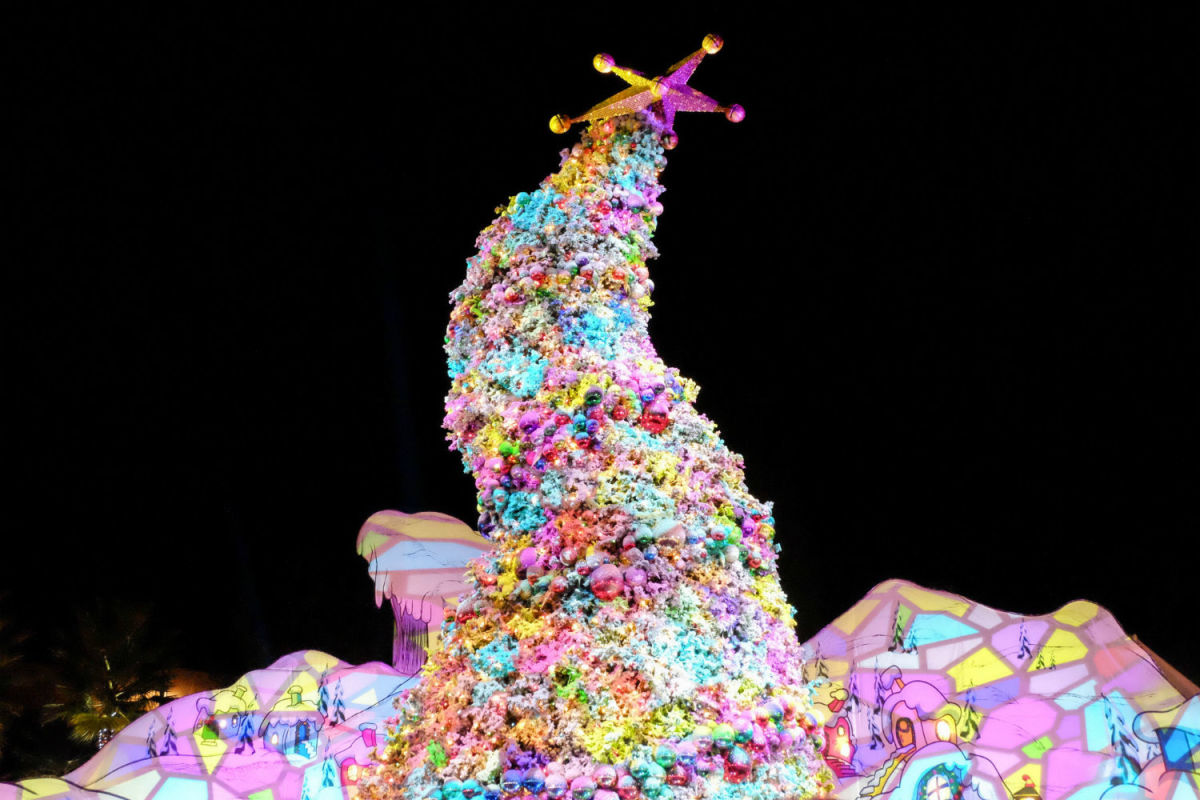 Christmas tree (Photo: Michelle Rae Uy)
Inside the theme park, the Dr. Seuss-inspired Who-liday event isn't holding back. Just take a look at that whimsical, rainbow Christmas tree that soars over Universal Plaza, which has been turned into Who-ville at Christmas time. The gorgeous, snow-covered tree is undeniably one of the best in Los Angeles, with its playful twisted form and its quirky light changes in the nighttime. Take some quiet time with the kids to admire it in all its magnificence, and see the Who Dolls and the Wholiday Singers perform their festive musical sets.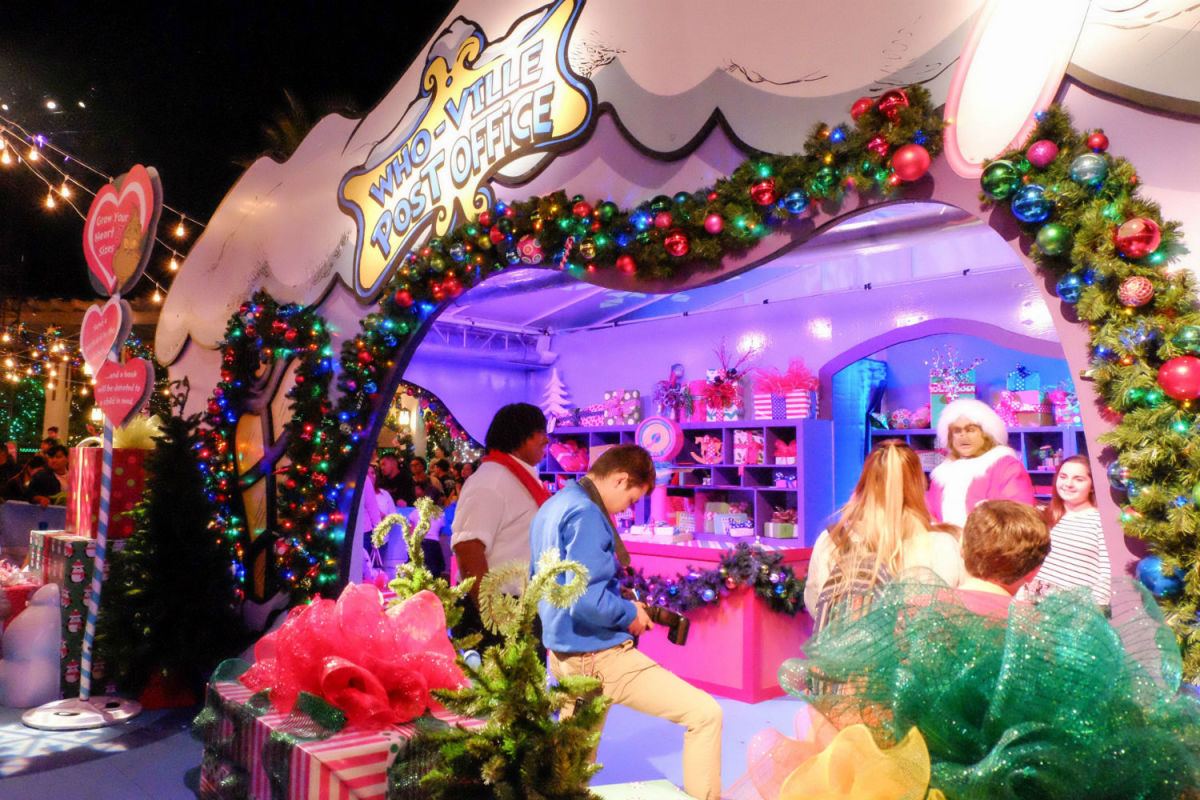 Who-ville Post Office (Photo: Michelle Rae Uy)
It's never too early or too late to teach your kids the gift of giving, the true spirit of Christmas. That's what's great about the Who-ville Post Office nearby, where kids not only get to meet The Grinch and take holiday photos with him, they can also participate in Universal Studios' "Grow Your Heart 3 Sizes" campaign, which lets them share their good deeds with The Grinch on a postcard and give back to kids in need. For every postcard you mail to The Grinch at Who-ville Post Office, Dr. Seuss Enterprises, L.P. and Random House Children's Books will donate a book to a child in need in your behand.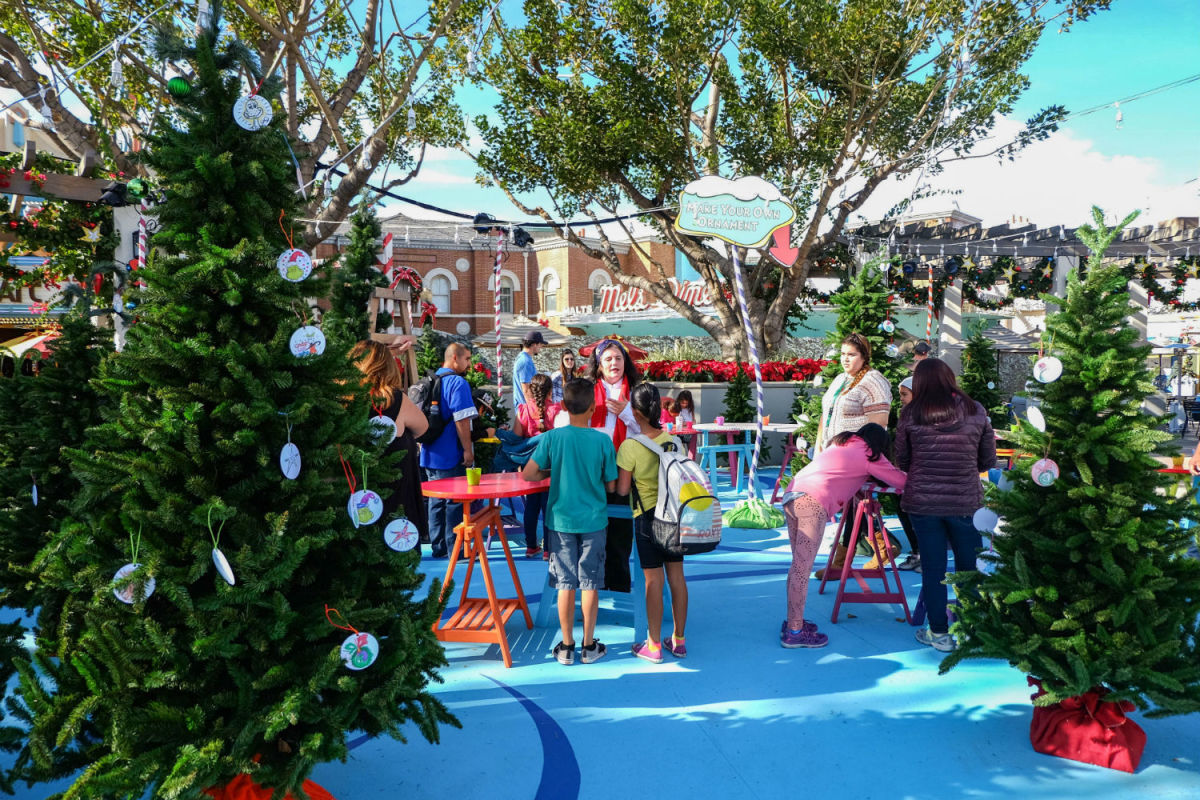 Trim up the Tree Lot (Photo: Michelle Rae Uy)
Christmas isn't complete without a tree to decorate, and in the Trim up the Tree Lot, kids will get a chance to make their own ornaments on brightly colored tables. After Story Time with Cindy-Lou Who under the tree, take the kids to the nearby tree lot to color and personalize their own Who-themed ornaments that they can hang on one of the trees on the lot. After, if their creative juices are still flowing, take them to Who-bilicious Cookie Dec-Who-rating to decorate their own gingerbread or Christmas tree cookies with frostings and sprinkles.
Go on the crowd favorite Studio Tour around the Universal Studios backlot and see a special Who-liday production. On top of seeing the filming locations and studios of your favorite movies and TV shows as well as experiencing the high-octane Fast & Furious – Supercharged, the kids will be treated to a short but sweet show featuring the original and all decked out How the Grinch Stole Christmas movie location, Max and, of course, The Grinch himself.
Photo opportunities abound as the citizens of Who-ville roam the Plaza dressed in their best, so don't be shy and just ask. They'll be more than happy to chat and indulge your request. You can also meet and take photos with Max in his little dog house next to the tree and with Cindy-Lou Who and the Who-liday Singers in the photo corner next to the yellow Who-ville taxi.
(MORE: 5 Tips for a Family Day at Universal Studios Hollywood)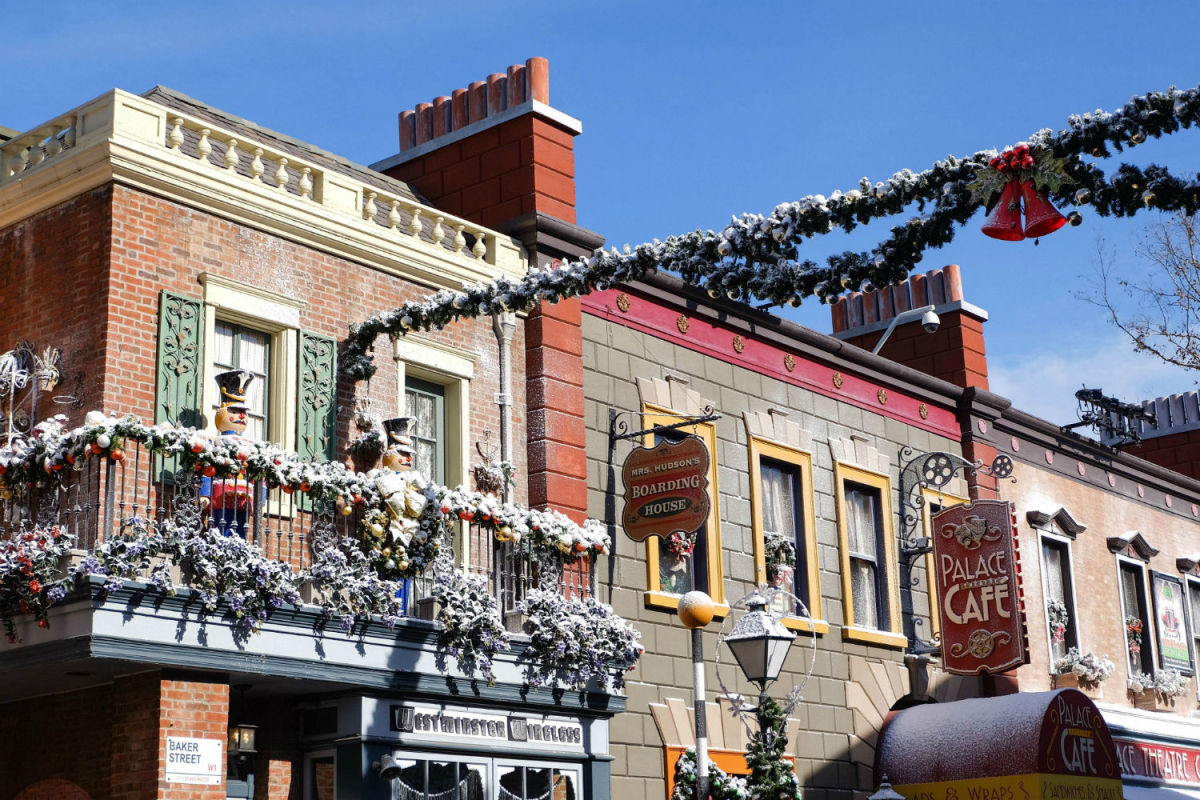 Snow-covered Baker Street in the London area (Photo: Michelle Rae Uy)
In the European-themed areas next to Universal Plaza, the streets of London and Paris are more picturesque than ever. Everything from the street lamps and shop windows to the rooftops are covered in snow and adorned with wreaths, ribbons, string lights and garlands. Instead of fighting to get an open table at one of the restaurants, have lunch at one of the quiet squares there and watch the other park visitors go on their merry way.
While a long day at any theme park may prove exhausting especially for the kids, stay just a little while longer. At the bedecked CityWalk, the evening snowfall that occurs every hour is a wonderful way to top off your festive day at Universal Studios. It's not real snow, sure, but look up and look around, and see those white flakes decorate the dark sky and the icicle-lit plaza. Make sure to admire that stunning 40-foot tall Christmas tree and its 200,000 LED icicles, and stick around to see at least one of the free concert performances on stage. It's a perfect ending to your night.
The family-friendly Hilton Universal City is within walking distance to Universal Studios, so you can get there conveniently before the crowds, and boasts a heated pool, an outdoor hot tub and cribs upon request.
Michelle Rae Uy contributed this to MiniTime. She is a travel writer based in Los Angeles and MiniTime's Head of Content, who spends her free time on adventures and film photography.