Windjammer Cruises for Families
By Michele Bernic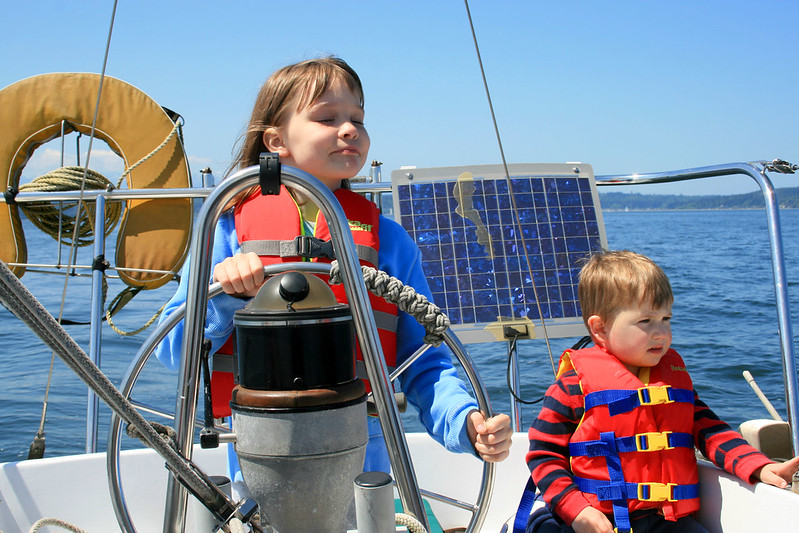 Cruising the magnificent and rocky Maine coast aboard a historic windjammer is on many a traveler's bucket list. Bringing the kids along makes for an unforgettable family vacation. One outfitter that offers family cruises several times a summer is the J & E Riggin, a circa-1927 former oyster dredger that once sailed Delaware Bay. She is now co-captained by Jon Finger and his wife Annie Mahle, a husband-and-wife team known for offering not only a wonderfully scenic journey but also a fabulous culinary experience—Yankee Magazine named the schooner the "Best Dinner With a View" in New England—with Jon in charge on deck and Annie and two cooks preparing three meals a day in the ship's tiny galley kitchen.
Last summer, our correspondent, Michele Bernic, sailed aboard this schooner with her husband, Marijan, and three children. It turned out to be one of the best vacations they've ever had.
Schooner Vacations in Maine
Outfitter: The Schooner J & E Riggin
Excursion: Maine Kids & Family Cruise
Location: Windjammer Wharf, off Tillson Avenue in Rockland, Maine
Schedule: The family cruise is offered several times each summer.
Duration: Four nights, with three full days of sailing
Group Size: Maximum of 24 passengers plus six crew members
Cost: 4-night cruise: $788/person, including the cruise and all meals. ("Keep an eye out for specials. I was able to get a 50% discount off my rate with a Mother's Day special that ran in May, which saved almost $400.") For the Bernics, a family of five, the total pricetag came to $3,546, plus 5% to 10% tip for the crew. ("The tip was well-deserved because those guys were so personable, fun, and knowledgeable. A former crew mate who came back to sail with her son passed an envelope around so that individual tipping wasn''t awkward. We were free to slip in whatever amount we felt comfortable with.") Note: If you make a reservation before February 1 of the year you want to sail, you'll get a 5% discount off the listed price.
Minimum Age: 6 years old for the Kids & Family cruise. ("Other outfitters offer schooner cruises in Maine, but those we researched had a minimum age of 10 or 12.")
Prep Work: No previous sailing experience is needed. Early on, passengers receive a quick run-through of the mechanics of the boat, including how to flush the toilet, the importance of conserving electricity and water, how to turn on the shower, and so on. ("We learned as we went, with the crew and Captain Jon instructing anyone who wanted to help hoist the sails, raise the anchor, prep food in the galley, or participate in another way.")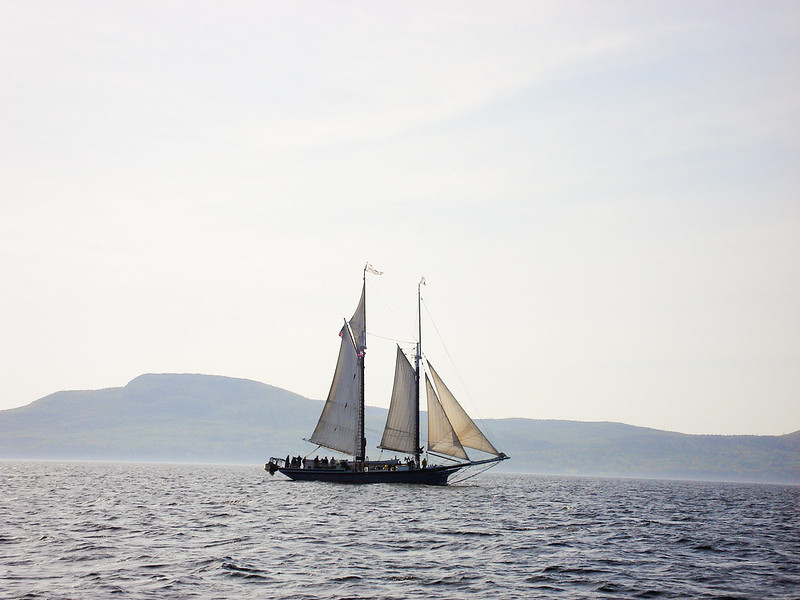 Sleeping Quarters: Aboard this historic boat, families really get a feeling for what it was like to be out at sea nearly a century ago. There is no motor and nothing is automated—there are only sails and ropes, polished brass and beautiful woods. ("Cabins are very tight, but the windows open below deck and there are sinks with cold running water. There are two bathrooms up on deck for everyone's use. There is not a lot of space or opportunity for romance, although being out on deck at night is great for cozying up. There are only two people per cabin, and our kids were totally fine being in separate cabins, literally an arm's reach across the tiny hallway in our separate 'wing' of the forward berth. Besides, the kids were knocked out every night by 9pm from their full day.")
Meals: Captain Annie is a trained chef and offers a slightly scaled-down version of her usual gourmet fare for children's tastes and palates. She gets up to light her wood-burning stove every morning at 4:30am, and offers freshly baked breads in the morning. Salads are made with vegetables from her own garden. ("We enjoyed hearty breakfasts, great coffee, pasta with sausages, churned ice cream—the kids cranked an old-time ice-cream maker—and cobblers.") One night Captain Jon ferried passengers ashore on a wooden motor boat for a lobster bake. ("We had delicious, fresh Maine lobsters with butter, corn, potatoes and s'mores on the beach.")
The Real Fun: For 9-year-old Lauren, the best moments of the cruise were ringing the bell for mealtime—kids took turns for each meal—chopping herbs in the galley, taking out the rowboat with her dad, and swimming. ("The girls on this trip went swimming every day, even at dusk, and some jumped off the high ropes! The crew organized a tightrope walk out onto the bowsprit—the pole extending from the bow of the vessel—which was fun to watch our kids' adventurous side shine through, or not. Also, when we went to the beach for our lobster bake, all the kids played together along the shore and searched for starfish, crabs, and seaweed to cover the lobster pot. The kids were so excited to find 32 starfish and line them all up on a rock for a picture! All the children meandered around and got to know one another that first memorable night, while the adults sat back and enjoyed a great kickoff to what was a nice, cellphone-free, old-fashioned sailing trip.") On the last night, Jon and Annie treated everyone to a sea shanty sing-along on deck under the stars. ("With guitars and mandolins strumming, cups of hot chocolate in hand, and a few new tunes to fill our heads, we settled into a lifestyle of seafaring days gone by. Oh! And Brian lost his first tooth on board. How cool is that?")
Wow Factor: When it was time to hoist the sails, Captain Jon, behind his wooden wheel, would ask, "Ready on the throat?" and passengers would call back, "Ready on the throat!" To the other side he yelled, "Ready on the peak?," and passengers shouted, "Ready on the peak!." ("Then we would pull a one-way tug-of-war with the woven ropes, one by one, hand over hand, with our neighbors doing the same thing while the sails rose high into the cloudless blue sky as the pristine Maine coast rolled by. Our kids were pulling with all their might, leaning back into us, tossing the ropes through their little hands, as the whole boat of strangers worked as a team. As we sailed, porpoises jumped along side our vessel. Seals poked their heads out of the distant water, and mackerel shimmied in the calmness of our anchored mornings. Lighthouses dotted the entire shoreline. We were fortunate to experience sea life and simple life on a boat at its very best.")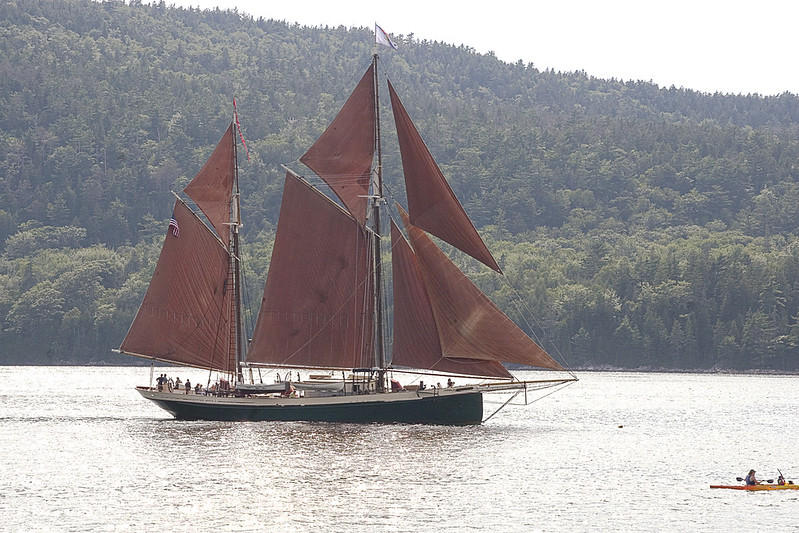 Need to Know: Seasickness is not an issue in Penobscot Bay. Hesitant about accommodations? Michele describes this trip as a cross between camping and staying at a B&B that happens to be located in the middle of cobalt blue waters. ("The schooner is Jon and Annie's summer home, which they share with guests to embrace a part of history. It's not at all luxurious, and folks should plan to be gritty, salty, and dirty by the end of the trip. Don't bother with makeup, but bring plenty of deodorant. Our kids didn't mind at all. They swam off the deck every day in crisp, 70-degree water and didn't shower the whole time.") There were 19 other passengers on board the Bernics' cruise with various family configurations—one mom and her son, a grandma with her 'tween granddaughter, a dad and his daughter, and a family with boys who were unplugged from their video games. ("There were many different parenting styles. Patience and a laid-back attitude are helpful.")
What to Bring: The Bernics found the website's packing list to be very helpful. ("Camping towels were far better than plush beach towels when it came to drying off after swims. Anything that got wet took forever to dry unless it was out in the sun. With these camping towels, you can wring them out and the dry in a flash and then fold them up really small. The boat itself is damp, especially at night, so we found that packing our belongings in giant Ziploc bags kept everything dry. One bag per person was enough.") Plenty of sunscreen and comfortable shoes (Crocs or Keens for kids) are musts. ("Also, I found that Dove facial cloths and Johnson's bath cloths, which are already loaded with soap, came in very handy for quick washes with no little bottles to fuss with. And with the small quarters on this small boat, earplugs saved my life; the guy next door snored like a fog horn!")
Would be Even Better If: After the anchor was pulled, food prepped, and sails up, the Bernics sometimes wished there were more organized activities on board. ("Relaxation wasn't on every child's mind while we were sailing. We had brought board games, cards, crafts, and other diversions, but a workshop on knot-tying, or sessions of sea stories, deck games, or group competitions would have made the trip 100% fun. Left to their own devices, some kids got restless. Our older son is an avid reader and our daughter made friends with and crafted with the Captain's daughter. But our 5-year-old son fed off of whatever mischief came his way from other children. Spending any alone time with our kids was tough to come by. Needless to say, there was lots of reading, napping, chatting with our fellow passengers, and gazing out into the sea.")