Resorts dial up the spook factor
By Katrina Brown Hunt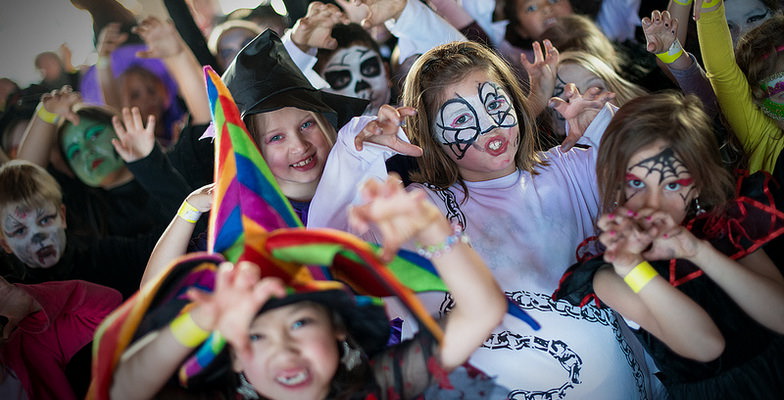 flickr:vdrg
Plan a getaway at a family resort in October, and the chances are excellent that you'll run across more than a few goblins, ghouls, and ghosts. Here's a sampling of hotels and resorts that are hosting special Halloween events in October:
Where: Orlando, FL Why: Because October is "Nick or Treat" month at the Nick Hotel (see our review). The hotel's activities range from paint-your-own-pumpkins and Halloween games to trick-or-treating with favorite Nick stars. On Saturday evenings, "Nick After Dark" kicks off with spooky movies, snacks, and plenty of slime. Family suites start at $144 a night. Book two nights and you'll get a third night free with the Free-for-Fall special.
Where: Twelve locations in the US and Canada, including Williamsburg, VA Why: Because this year's "Howl-O-ween at the Wolf," at this popular chain of indoor waterpark resort features a trick-or-treat trail, pumpkin painting, a trolley ride to a "haunted" cemetery, a spooktacular costume contest, Halloween-themed arts and crafts, and more. Available October 6-31, Sunday to Thursday, starting from $239 a night.
Where: Plymouth, MA Why: Because the one-night "Haunted Stays and Corn Maize Package" saves you up to 30% on lodging, plus you get two tickets to a local corn maze, where there are hay rides, a cow train ride, and a corn cannon. The package also includes two tickets to a 90-minute "Ghosts & Legends" walking history tour, which points out the most haunted spots in town (including the inn). This package is available on Fridays and Saturdays through October 30, starting at $155 per night.
Woodloch Resort
Where: Hawley, PA Why: Because fun-filled weekends at this all-inclusive family-run resort (see our review) include a haunted hayride, scavenger hunt, costume party, pumpkin hunt, ghost stories by the campfire, a petting zoo, and many other fall activities. Available October 14-16, 21-23 and 28-30: on the first two weekends, the all-inclusive, two-night package starts at $398 per adult, and $136 and up per child over 3; on the last weekend, the adult rate drops to $328.
Where: Lake George, NY Why: Because the "Fright Fest Spooktacular" package at this indoor waterpark resort includes unlimited admission to the waterpark and 20 free arcade tokens per child. Plus, families have the run of the park's Halloween entertainment, which includes haunted hayrides, wandering zombies, and a spooky street party. Available October 7-30, from $278 per night.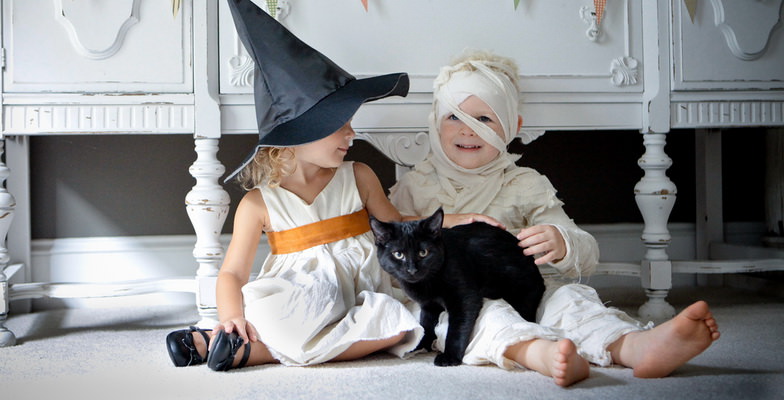 flickr:50997200@N07
Hyatt Regency Mission Bay Spa & Marina
Where: San Diego, CA Why: Because this upscale resort perched along the coastline is just a stone's throw from the San Diego Zoo, SeaWorld, and other family-friendly attractions. For Halloween weekend, expect a hula-hoop and monster mash contests, pumpkin painting, trick-or-treat bag decorating, and more. The pool area is all decked out, too—eerie fog on the waterslides, spooky lighting, and haunted music, as well as and spider-webbed pool cabanas and creepy cocktails for adults. Come nightfall, families can trick-or-treat around the property, and then enjoy a family movie at the pool. Rates start at $169 a night, and include breakfast for two.
Where: Cape Cod, MA Why: Because this beachfront resort on the Nantucket Sound is idyllic in fall—and it has a Halloween party planned for both kids and the grown-ups. The Haunted Hotel weekend offers a dive-in movie at the indoor pool, treasure hunts, and supervised kids activities during the evening, so that parents can go to a live-music party of their own. There will also be "sightings" of a 19th century captain and crew, whose ship was the original Red Jacket. The two-night package starts at $99 a night and includes two tickets to the adult party (the kids' party costs extra).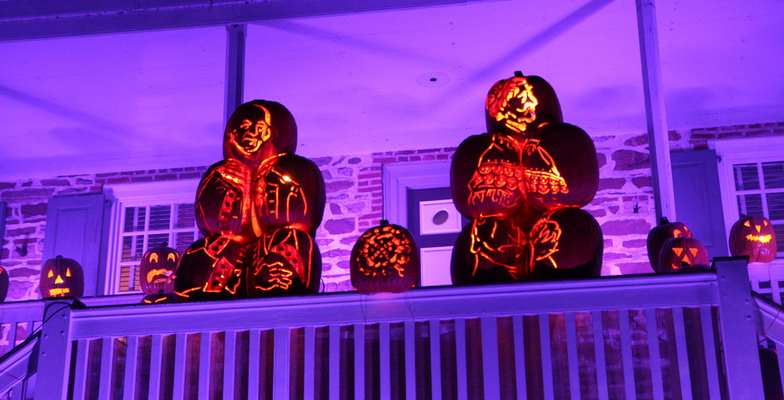 flickr:sierraandi
The Ritz-Carlton Lodge, Reynolds Plantation
Where: Greensboro, GA Why: Because this secluded resort on Lake Oconee is having a Halloween party every Saturday night in October, with pumpkin carving, trick-or-treating and ghost stories around a campfire in the adjacent forest. Kids ages 5 to 12 can also play during the day at the Ritz Kids Club, open all year. The Great Pumpkin package starts $305 a night and includes a carving kit as well as a $25 daily resort credit.
Where: Estes Park, CO and Snow Mountain Ranch, CO Why: Because these popular family camps are doing Family Fall Fest Weekends during the last two weekends of October, with activities such as pumpkin-throwing contests, costumed roller skating, tours of an "enchanted forest" and s'mores around the campfire. The two-night package costs $340 for a family of four with kids ages 6 to 12 (kids 5 and under are free), and includes five buffet-style meals, as well as all weekend activities.
Where: Port St. Lucie, FL Why: Because this all-inclusive, family-friendly resort is putting on a big party every week in October, with activities for everyone—infants, toddlers, kids, teens and grown-ups. There will be costume dress-ups, trick-or-treating, spellbinding games and prize giveaways, as well as Halloween-themed dance parties. Seven-night packages start at $810 per person, as part of the Seven Day Weekend deal.
Where: Tarrytown, NY Why: Because this grand inn north of the Big Apple has a history of its own ghosts, yet this season's focus is more on whimsy with the Blaze package. The $299 room rate—and $25 extra for each child—gets you daily breakfast and tickets to the Great Jack O'Lantern Blaze, a local exhibit that features more than 4,000 hand-carved jack o' lanterns, such as super-sized dinosaurs, pirates and even a huge spinning UFO. If you want a chance at seeing some real ghosts back at the hotel, ask for a room in the estate's 169-year-old King Mansion.