Top Utah ski resorts for families
By Camille Miller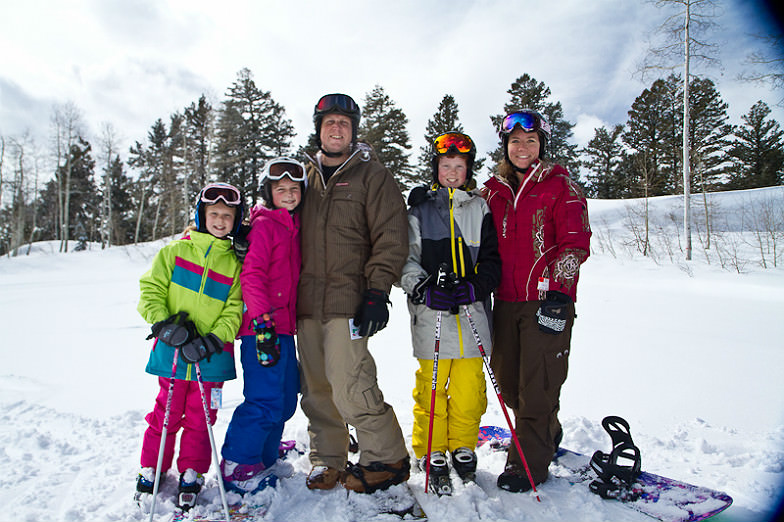 Family at Beaver Mountain (Beaver Mountain)
Utah's reputation as the ideal place to find big-mountain ski opportunities is well-earned. From powder in the backcountry to pristine groomed slopes, some of the best snow in the world is found in this state. Here are a few suggestions to help you plan your Utah ski family trip this season.
(TRIP PLAN: Find out how a MiniTimer and her family spent their winter vacation on the slopes from their trip plan.)
Best Places to Go with Beginners
Snowsport School of Beaver Mountain (Garden City, Utah)
Skiers ages 5 years and up, and snowboarders 7 years and up will enjoy signing up for a series of classes that extend from January to the beginning of March. Sessions of seven days, two weeks, and four weeks are available to groups of children learning how to turn, carve, and safely course down the mountain. (435-946-3610)
Deer Valley Resort Ski School (Park City)
Private lessons are available for one to two skiers or you can sign up to learn in a small group setting with Deer Valley Resort Ski School. Classes specific to teen ski skills are also available. Instructors focus on safety in their instruction so students feel comfortable navigating the winter wilderness when they are done. (800-424-3337)
Nordic Valley (Eden, Utah)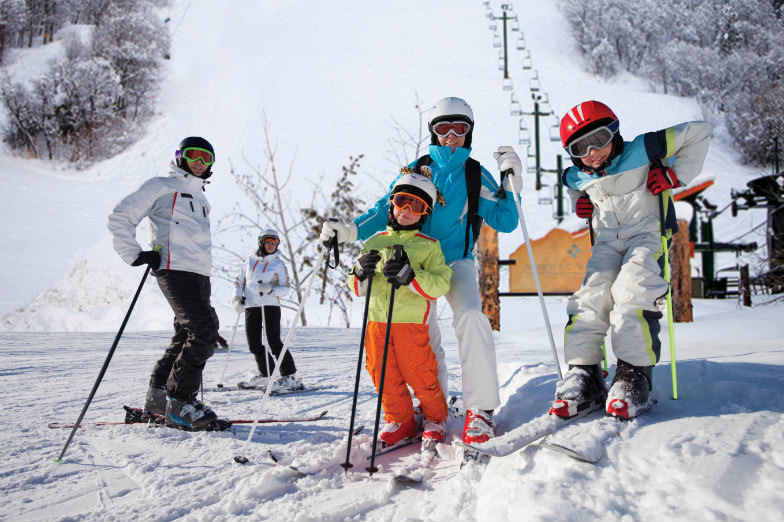 Nordic Valley slopes (Nordic Valley)
Beginners will appreciate the Magic Carpet, a conveyor belt lift designed to assist those just learning basic skills. Over 35 percent of the mountain is beginner-friendly, and the Ski Academy offers an affordable learning package that includes the lift ticket, lesson, and ski rental. (801-745-3511)
Best Places to Go with Advanced Skiers
Snowbird (Little Cottonwood Canyon)
Snowbird represents the best qualities of steep slopes. It is the place for speed, and coming down fresh snow feels like skiing through air. Traverse until you find a line you love and then charge with your kids through the finest flakes on earth. (801-933-2222)
Diamond Peaks 6 Run Heli-Ski Tour (Huntsville, Utah)
Book a heli-ski day trip for the family with Diamond Peaks in Ogden. After some safety instruction, the family running this business takes you to their own private ski terrain, with snacks and a guide. After drop-off, you have the mountain to yourself! (801-745-4631)
Powder Mountain Resort (Huntsville, Utah)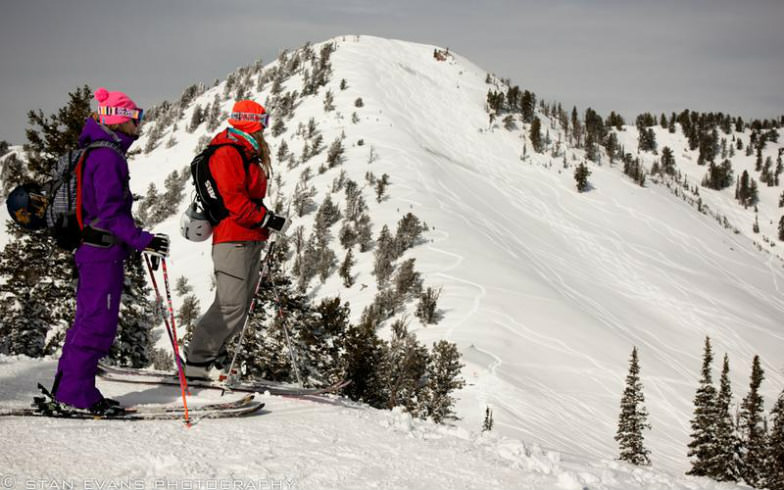 Powder Mountain Resort (Powder Mountain)
Powder Mountain is a powder-heavy favorite with locals that enjoy the absence of crowds there. The staff is friendly and the snow is real. Lots of terrain ensures that you'll find some fresh powder to dig into without fighting a crowd for it. The vintage facilities add to the charm of the experience. (801-745-3772)
Best Kids' Clubs
Park City Mountain Resort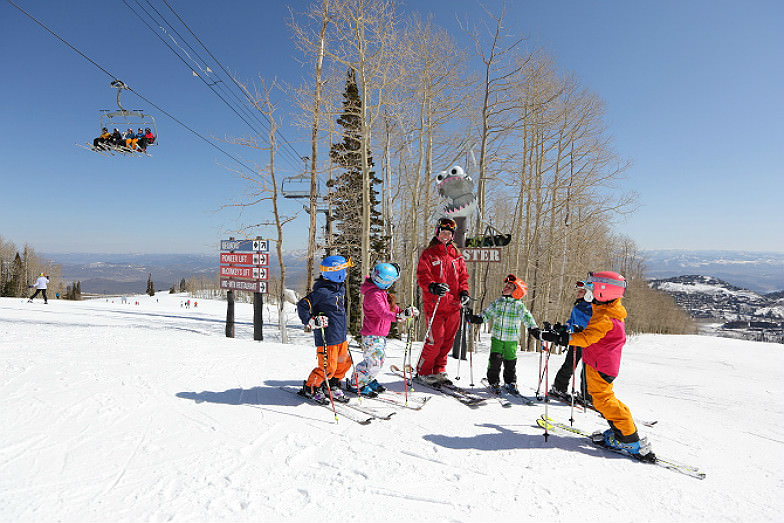 Kids Signature Program at Park City Mountain Resort (Park City Mountain Resort)
The Kids Signature Programs of Park City Mountain Resort are customized to give the best opportunities to the widest range of ages (from 3 to teen). Class sizes are limited to five students or fewer, and kids are encouraged to learn and explore the mountain under close supervision. (800-227-2754)
Alta Children's Center
While you play outside, your children can play inside at the Alta Children's Center. Providing child care for children ages 6 weeks to 9 years of age, the helpful staff leads music time, dramatic plays, host crafts and games and more. Lunch and snacks are provided. (801-742-3042)
Snowbasin Resort
Snowbasin Resort has a licensed day care and children's programs that run for either a full or half day. Ages range from six months and up. Certified instructors are available to teach the children basic ski skills, or they can play with other children through lunch or snack time, while you fit in some time for yourself. (801-620-1111)
Best for Non-Ski Winter Activities
Utah Olympic Park (Park City)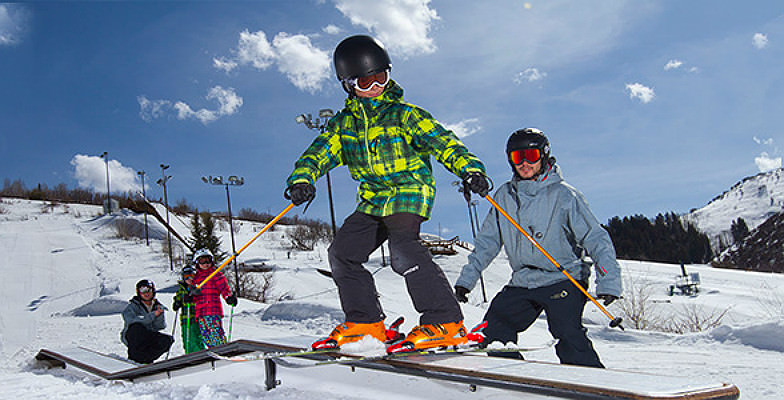 Young snowboarders at Utah Olympic Park (Utah Olympic Park)
Since the Salt Lake Olympic Winter Games, the Olympic Park Venue has been a spectator magnet. With six nordic ski jumps, a sliding track for bobsled runs, and a a freestyle aerials training and competition hill, there are lots of exciting opportunities to watch the world's best athletes hone their skills. (435-658-4200)
Snowbasin Resort(Huntsville, Utah)
For more family fun on the slopes, take advantage of the four-lane lift assisted tubing hill. Or take everyone for a scenic gondola ride up through the high alpine forests and have lunch at the peak in Needles Lodge. (801-620-1000)
(MORE: Find kid-friendly hotels and resorts in Utah and book your winter vacation soon.)
Best for Apres-Ski Activities
Park City Food Tours
Most restaurants in Park City are locally owned and operated, so you'll find unique options however you choose to dine. Tour guides are local residents who share with you their favorite spots, and some historical perspective on this mining-town-turned-ski-haven. (435-640-1271)
Owl Bar (Sundance)
Sundance is home to the Owl Bar, the 1890s bar made famous by Butch Cassidy and the Hole-in-the-Wall Gang. Friday and Saturday nights feature live music, and the menu changes with the seasons, so you'll never have the same experience twice. (801-223-4222)
Camille Miller contributed this to MiniTime.
More family-friendly ski resorts: