From hay rides to scare zones, theme parks roll out the orange-and-black carpet
By Katrina Brown Hunt on Sep 23, 2013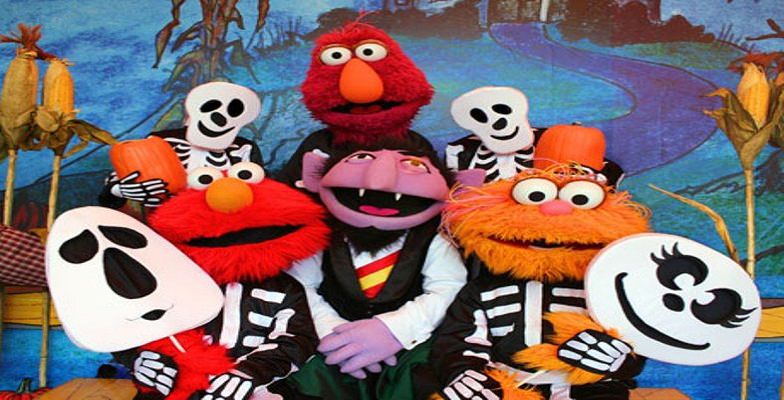 Sesame Place
Remember back when Halloween was a one-night affair? Now the spooky season stretches all the way from mid-September through October 31 (and sometimes even into November), much to the delight of boos and ghouls of all ages.
Throughout the lead-up to Halloween, theme parks are pulling out the stops with special events, from gentle hayrides to jump-out-of-your-skin scare zones. Keep in mind that everything seems scarier in the dark, so choose wisely with your children's ages and sensibilities in mind. Here are some of the many Halloween events going on at theme parks around the country:
The Count's Halloween Spooktacular
Where: Sesame Place in Langhorne, PA When: Weekends only, Sept. 28- Oct. 27, 2013 What to expect: Little ones can go trick-or-treating in their costumes, take a hayride, walk mazes, explore Count von Count's castle, watch the Neighborhood Street Party Halloween Parade, and more. Best for: Ages 2 to 10
Hallow Boo!
Where: Idlewild in Ligonier, PA When: Weekends only, Oct. 5-27, 2013 What to expect: This gentlest intro to Halloween includes trick-or-treating through Storybook Forest—meeting Ricky Raccoon, Mother Goose and other characters—specially themed rides and attractions, games and a walk-through maze, favorite fall foods. Best for: Ages 2 to 8
Kid-o-ween
Where: Wild Adventures in Valdosta, GA When: Weekend days only, Sept. 28-Oct. 27, 2013 What to expect: Children can trick or treat in the park, explore a kooky maze created out of hay bales (or walk through another maze made of foam), boogie in their costumes at the Count Rockula Dance Party, and stop at craft stations to create take-home souvenirs. Keep in mind: at dusk, the park starts up its Terror in the Wild festivities (with scare zones, creatures and a House of Oblivion), which might be too scary for the under-12 set. Best for: Ages 2 to 12
Mickey's Halloween Party
Where: Disneyland in Anaheim, CA When: Select dates, Sept. 27-Oct. 31, 2013 What to expect: Each frightfully fun evening includes meet-and-greets with Disney characters—especially villains such as Captain Hook and Cinderella's stepsisters—treat stations, arts and crafts, seasonal rides (such as Space Mountain Ghost Galaxy and Haunted Mansion Holiday), and a new Monsters U Dance Party. Your tickets (which start at $59 per person for advance purchase) also get you into the park three hours before the usual event start time. Best for: Ages 3 to 12
(MORE: Read parents' reviews of kid-friendly hotels near Disneyland.)
Mickey's Not-So-Scary Halloween Party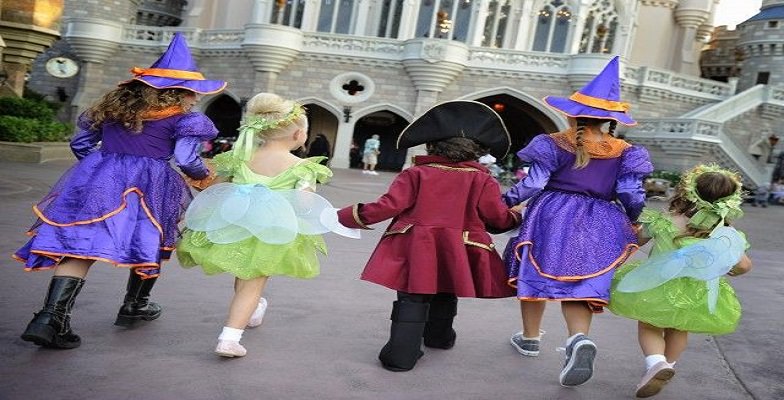 Walt Disney World
Where: Magic Kingdom at Disney World, FL When: Select dates, Sept. 10-Nov. 1, 2013 What to expect: Arrive in costume for trick-or-treating, and be greeted by the barbershop quartets of dead cowboys singing along Main Street. This year's festivities also include the Disney Villains Dance Mix and Mingle party, Mickey's "Boo-to-You" Halloween Parade (where Disney characters will be wearing their Halloween outfits) and the "Happy HalloWishes" fireworks spectacular. Best for: Ages 3 to 12
Howl-O-Fest
Where: King's Island in Cincinnati, OH When: Weekends only, noon-5:30pm, Oct. 5-27 What to expect: This G-rated, afternoon event keeps it mellow with interactive attractions such as a Twisted Tales maze, a foam pit, petting zoo, mask painting, trick-or-treating and a kids-only dance party. Best for: Ages 3 to 9
Brick-or-Treat Party Nights
Where: LEGOLAND in Carlsbad, CA When: Saturday evenings, Oct. 5-26, 2013 What to expect: All weekend, kids in costume can visit "Brick-or-Treat" stations, stocked with candy and healthy snacks, and the "Brick-o-Lantern" craft station where they can build a LEGO pumpkin. There are also live shows on Saturday evenings, with fireworks, costume contests and a new Ghost Cruise Scavenger Hunt. Note: You can brick-or-treat on weekends in LEGOLAND Florida, too. Best for: Ages 4 to 11
Halloween Spooktacular
Where: SeaWorld in Orlando, FL When: Weekends only, Oct. 5-27, 2013 What to expect: Kick off your October weekends early with the park's Spooktacular: Have breakfast with the Count, Elmo and friends, then go to Penelope's Party Zone where they can do crafts, decorate spooky cookies, and make their mark on a mural made out of jelly beans. Best For: Ages 4 to 8
Hersheypark in the Dark
Where: Hersheypark in Hershey, PA When: Fridays through Sundays only, Oct. 18-Nov. 3, 2013 What to expect: At this candy mothership, kids 12 and under can walk their way through Hershey's Trick-or-Treat Adventure, while everyone can stroll though a garden of illuminated pumpkins, listen to the live music, and ride a selection of darkened roller coasters (re-dubbed "roller ghosters"). And—of course—have plenty of chocolate. Best for: Ages 4 to 12
(MORE: View a family trip itinerary: 3 days in Hershey with kids.)
Screams
Where: Screams Halloween Theme Park in Waxahachie, TX When: Fridays and Saturdays, Sept. 27-Oct. 26, plus Sunday, Oct. 27, 2013. What to expect: Billed as "The World's Largest Halloween Theme Park," this Dallas-area park delivers five haunted attractions, including a castle of darkness, a spooky "klown" maze and the new Hotel of Horror. The park also offers a climbing tower, Tarot card readings and musical "scary-oke." Best for: Ages 12 and up
Fright Fest
Where: Six Flags theme parks, nationwide When: Select dates, Sept. 13-Oct. 27, 2013 What to expect: All 13 parks have been transformed with creepy scenes and scare-actors that lurk in the shadows. Rides are spookier, too, thanks to special effects in the darkness. Best for: Ages 12 and up
Halloween Horror Nights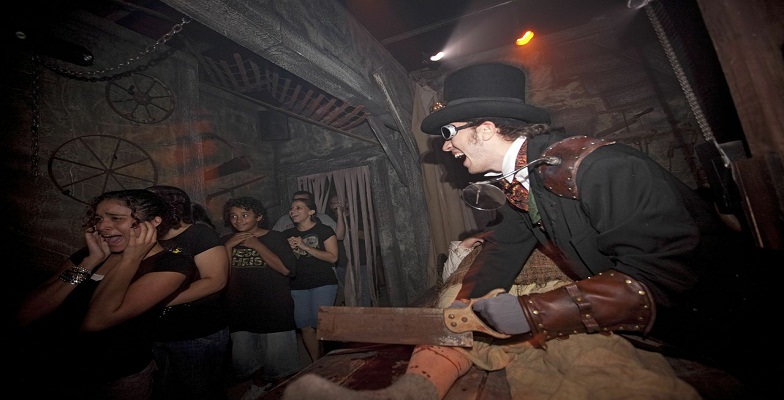 Universal Orlando Resort
Where: Universal Orlando Resort in Orlando, FL When: Select dates, Sept. 20- Nov. 2, 2013 What to expect: Now in its 23rd year, Universal's Halloween Horror Nights is promising to be the most frightening ever, with eight—count 'em, eight—chilling haunted houses—including one based on the AMC series "The Walking Dead"—five zombie-fied scare zones, and several rides with varying levels of spookiness (from Transformers the Ride 3D to Despicable Me Minion Mayhem). Best for: Ages 16 and up
Halloween Horror Nights
Where: Universal Studios Hollywood in Universal City, CA When: Select dates, Sept. 20- Nov. 2, 2013 What to expect: Haunted mazes, roaming scare-actors, and nightmare-inducing rides, shows and attractions. The pop-culture-inspired attractions this year include "El Cucuy: The Boogeyman" and "Black Sabbath: 13-3D." The event promises to be so scary that the web site even warns against attendees under the age of 13. Best for: Ages 16 and up
Halloween Haunt
Where: King's Island in Mason, OH When: Friday and Saturday evenings, Sept. 20 to Oct. 26, 2013 What to expect: Billed as "the most immersive horror experience in the Midwest," this after-dark attraction features 500 ghostly creatures and 13 haunted attractions, including a creepy maze called Cornstalkers, the darkened ride Flight of Fear and a "misfit of magic" show called Ed Alonzo's Psycho Circus. To boost the after-midnight vibes, the park stays open until 1 am. Best for: Ages 16 and up
Knott's Scary Farm Halloween Haunt
Where: Knott's Berry Farm in Buena Park, CA When: Select nights from Sept. 26- Nov. 2, 2013 What to expect: Now running for more than 40 years, this 160-acre living horror movie is filled with 10 chilling mazes, six hair-raising shows, five horrific scare zones, and a cast of a thousand monsters roaming for their next victim. With names such as "Pinocchio Unstrung" and "The Hanging: A Gothic Fairy Tale," this one is clearly for grown-ups. Best for: Ages 16 and up
Katrina Brown Hunt contributed this to www.MiniTime.com