Hang on tight! These rides will take us higher and faster this summer
By Katrina Brown Hunt on Mar 31, 2014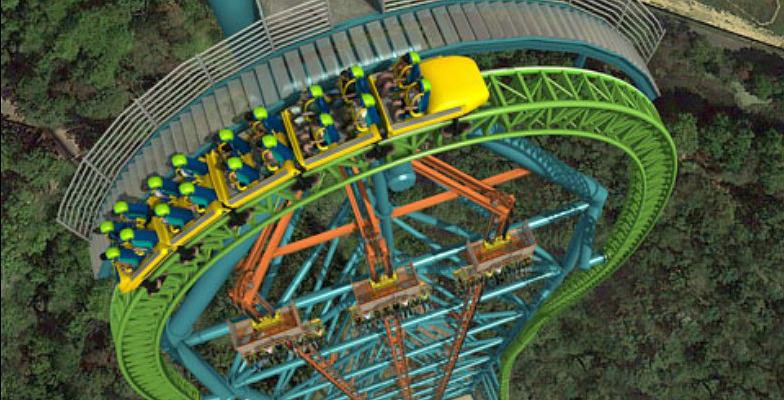 Six Flags
School may not be out for another two months, but the first signs of summer are here: the theme parks are debuting new rides.
Over the coming weeks, as a number of theme parks kick off their summer seasons, they're also unveiling new rides that promise to be taller, faster and perhaps even more stomach-inverting than anything you've experienced before. Here are seven park rides that offer the latest in thrills:
Zumanjaro: Drop of Doom
At Six Flags Great Adventure in Jackson, NJ, this 415-foot tower has been built onto the 456-foot-high side of the Kingda Ka rollercoaster, making it the tallest tower ride in the U.S. From your gondola, you zoom up 41 stories in 30 seconds, and then jettison back down at 90 mph. If you're game to open your eyes at that point, you can watch the cars from the Kingda Ka rollercoaster whizz by as you drop. Minimum height is 48 inches. Opens May 24, 2014.
Harry Potter and the Escape from Gringotts
Universal Orlando is upping the ante on its wildly popular Wizarding World of Harry Potter at Islands of Adventure in a big way. A brand new indoor roller coaster at Universal Studios Florida takes you through the vaults and inner workings of Gringotts Bank, just steps from the new wizard shopping mecca Diagon Alley. Guests can soon travel between the two sister parks aboard—what else?—the Hogwart's Express train. Keep an eye on the Sorting Hat, though: There is no set opening date (or height requirement) yet, but the ride is slated to open sometime this summer.
Goliath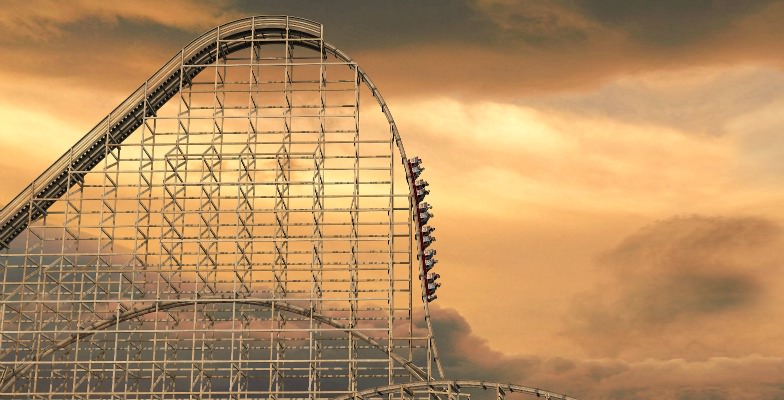 Six Flags
This seemingly old-school, wooden roller coaster at Six Flags Great America outside Chicago makes the most of new track technology, and as a result claims to be fastest lumber-based coaster in the world. Speeds will reach 72 mph and the ride includes a 180-degree zero-G roll twist, three over-banked turns, two inversions and one 85-degree, record-breaking drop of 180 feet. Minimum height is 48 inches. Opens May 24, 2014.
Falcon's Fury
This 335-foot-high ride at Busch Gardens Tampa will be the tallest "freestanding" tower ride in North America (New Jersey's new Drop of Doom is taller, but not freestanding). Falcon's Fury adds a twist, too—literally. Just as you get to the top, the seats pivot 90 degrees so that you face down (or perhaps it is "beak down") for the five-second, 60 mph ride back down to the ground. Height minimum is 54 inches. Opens May 1, 2014.
(MORE: Find a kid-friendly hotel in Tampa.)
Brain Drain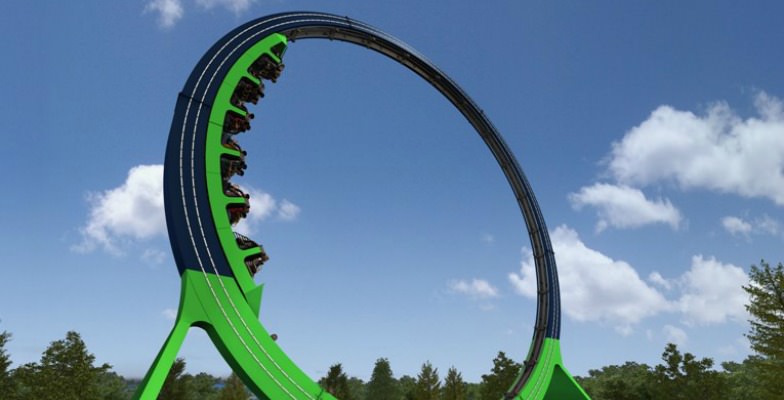 Elitch Gardens
If you really dig coasters with loop de loops, this seven-story ride at Denver's Elitch Gardens is for you: It's just one 360-degree steel loop, on which you go backward, forward and then upside down—then rinse and repeat. Assuming you can remember which way is up, you also get big views of the Rockies and downtown Denver. Height minimum is 48 inches. Opens May 3, 2014.
(MORE: Find a kid-friendly place to stay in Denver.)
The Thunderbolt
Luna Park on Coney Island is recreating a retro wonder, the wooden Thunderbolt rollercoaster, which ran from the 1920's through the '80's. Today's version—the first new coaster in NYC in more than 80 years—will stand 125 feet high, and go as fast as of 65 miles per hour, featuring a 90 degree drop. Height minimum is 48 inches. Opens May 23, 2014.
Banshee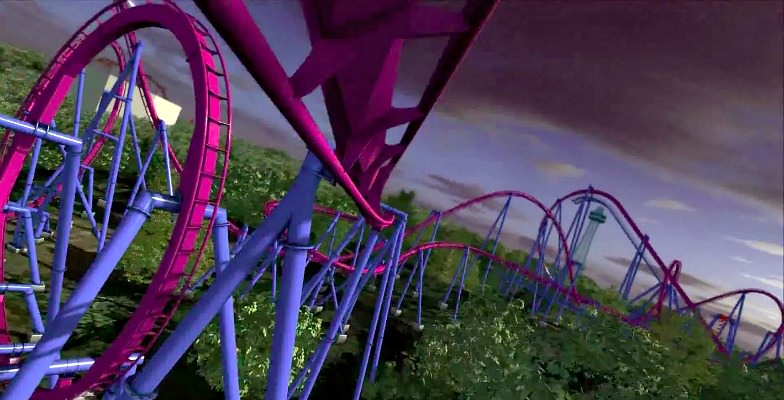 Kings Island
Kings Island in Ohio boasts that this colorful new coaster—channeling a spooky version of girl power—will be the world's longest inversion coaster, with 4,124.1 feet of twisted track, seven inversions and a 150-foot downward plunge into two consecutive loops. Height minimum is 52 inches. Opens April 18, 2014.
Katrina Brown Hunt contributed this to www.MiniTime.com.