Rancho Palos Verdes, California
By Katrina Brown Hunt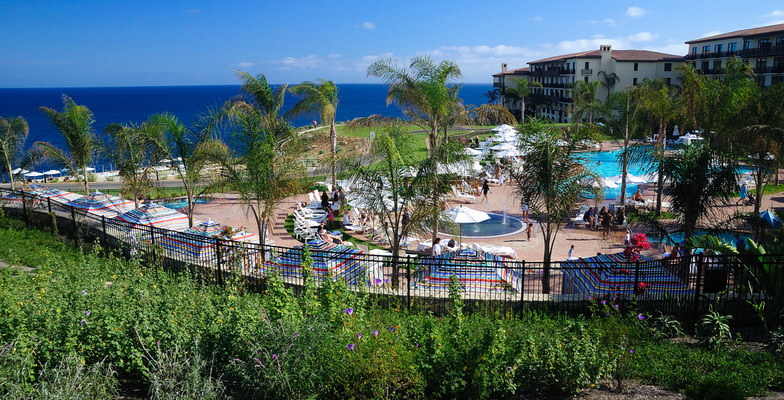 flickr:myhsu
Why Go: Terranea Resort offers something that's increasingly hard to find in LA County: lots of wide-open space and spectacular, natural coastal beauty, paired with a great location close to civilization and local attractions. Set in Palos Verdes—a cluster of tony, low-key communities south of LA proper—Terranea (pronounced Terra-NAY-a) opened in June 2009 with a few forward-thinking twists. Its kids' club and seasonal camps focus as much on technology—think photography or stop-action animation—as on arts, crafts and board games. Its pool area opens up onto the bluffs overlooking the beach and public hiking trails. The resort wears its eco-mindedness proudly, inviting guests to help with whale-counting, placing its gourmet restaurant's vegetable garden in plain view, and offering poolside drinks in cups made from recycled corn.
In other ways, this is a classic, high-end resort, with tony accommodations, nice restaurants, several pools, and a spa. When our correspondent Katrina Hunt stayed at Terranea with her husband and two young daughters, they discovered a very comfortable, friendly resort that was more reasonably priced than many of its upscale peers up and down the SoCal coastline. ("We found plenty to like, from the lovely main pool area to the kid-friendly hiking trails to the attentive, affable staff.")
(MORE: View a family trip plan: 3 days in the South Bay with kids.)
Hunt's main quibble was with the inflated restaurant pricing ("high even by resort standards"), and noted that a family might be let down if they were expecting a huge, sandy beach and many on-site watersports. The small beach is very pretty, but rocky; watersports are limited to guided kayaking or surfing lessons—starting at $89 a pop. ("But in most ways, Terranea met or exceeded my expectations. It is truly gorgeous and has plenty of great touches, from the outdoor firepits to the trails and easy ocean views from rooms.")
Since Southern California has mild, if not necessarily warm, temperatures all year, the resort has all-season appeal. The kids' club runs year-round, and the pool is always open and heated to 80-plus degrees. Even so, the highest concentration of family-friendly activities—from movie nights, storytime by the fire and free yoga classes—happen during the summer and holidays. ("We stayed at a sleepy time of year, so it was fun to have the place to ourselves. But I think staying during a peak season would be the best way to get the most out of the place, when there are more scheduled and free activities going on."
Getting Oriented: Terranea is located on the lush Palos Verdes Peninsula, on the south side of Los Angeles County. Though only 20 miles from LAX Airport, it feels pleasantly out of the way, its hilly neighborhoods dotted with picket fences, horse trails, and some classic Spanish villa-style homes.
The 582-room, Mediterranean-style resort sits on a hill above the beach, on a site that was home from the 1950s to 1980s to a SeaWorld-like park called Marine Land. Over the years, it has served as a location for many a TV and movie shoot, including all three Pirates of the Caribbean films, Pearl Harbor, and episodes of The Partridge Family. During its Marine Land stint, it was also the main set of the Lloyd Bridges TV show Sea Hunt (1958-1961). More recently, Terranea was the setting for a wedding on The Bachelor reality show.
The main hub of the sprawling, 102-acre resort is the hotel, which houses guest rooms, two restaurants, a lobby bar, conference rooms, and ballroom. This building backs up to the pool area, which opens up to the coastal path and the beach below—all offering sweeping ocean views. Outlying buildings include villas, two more restaurants, the gym and spa. There are three pools—one main pool, an adult pool (closed during the winter), and the spa pool (also adults only). ("While enjoying the resort, we saw enough walkers go by that they couldn't all have been hotel guests. You feel like you're in a plush spot, but not enclosed in a resort bubble, either.")
When the Hunts visited in February, the hotel was not terribly crowded. They never had to wait for a table in the restaurants, and the pool was lightly attended. At times, the resort felt big. ("When I went to the spa, I realized I had left my swimsuit back in our room—it was no tragedy, just a long walk.")
Getting Around: A mellow, oceanside vibe makes the Terranea a great base for kicking back with the family. The central location is within an hour's drive of major attractions such as Disneyland, Universal Studios, Hollywood, and the huge Aquarium of the Pacific in Long Beach. If you want to chop your dining bill by eating off-property, there's a bevy of inexpensive eateries about 15 minutes away in suburban Torrance.
LAX Airport is 20 miles away. There is no hotel shuttle service, but the concierge can arrange a town car for $135 one way (including tax and tip). Otherwise, taxi fare will run about $70. Or you could consider renting a car through the resort. Terranea has an arrangement with Enterprise that allows guests to rent a car at the airport and drop it off at the resort. When we checked online, rates started at about $40 a day for a standard car—a good deal compared to the cab.
We Are Family: Terranea offers an array of facilities and amenities to entertain kids, between the pool, kids' club, nature trails, and small beach. The pool complex features three swimming pools and four hot tubs:
the large, amorphous main pool is trimmed in pretty, multicolored tile and overlooks the trails, beach and water. This pool ranges in depth from 3 to 5 feet, with three entries of steps. There are two hot tubs by this pool. Kids are allowed to use them, though a sign asks that kids under 12 stay for 10 minutes or less, and that kids under 15 be accompanied by an adult.
a rectangular adult pool is set along the hiking path, a short walk down from the main pool area. It ranges from 3 to 5 feet, but was closed for the winter during the Hunts' stay.
the spa pool is set between the fitness center and the spa, and only for ages 18 and up.
Families will head straight for the main pool area, which has everything most kids would want. There were no free pool toys or flotation devices for guest use. ("The lifeguard mentioned that the lobby gift shop sells floaties during the summer.") A cheaper option: Bring your own.
The biggest kid magnet was a 120-foot-long curving waterslide that empties into a separate mini-pool. ("The sign said you had to be 48 inches tall, but the lifeguard let our 42-inch daughter go down, as long as my husband helped her.")
For families with young children, there's no kiddie pool, but there is a terrific sprinkler-and-sand play zone with jet sprays and a wide, sandy, beach-like area equipped with shovels, pails and beach toys. ("The location of this zone is great—right next to the waterslide, so families could keep an eye on both big and little kids.")
There are also several cabanas near the main pool, which are available for rent in the summer at $174/$225 (half/full day) and at $75/$125 in winter.
If you're looking for an ocean beach that's fantastic for swimming, the Terranea will be a letdown. You reach the resort's small beach ("a cove, really") by going down the "Discovery Trail." The resort keeps chairs and umbrellas down there for you to use, as well as kayaks to rent ($89/person), but the beach is separated from the water by large rocks, so it's not a swimming beach. Still, it's a great place to come with a book, collect rocks, or play in the sand. ("We saw a few people fishing and hiking, and some teens sitting on big rocks. My girls had a great time skipping stones with their dad.")
The two-mile Discovery Trail, which connects to other coastal trails, features stops with coin-operated telescopes and placards displaying trivia factoids. From these trails, you can access wider network of hiking trails along the coast—it's all easy and very picturesque. ("Other than a few steps over which we had to hoist our stroller, it was very kid-friendly, and a great place to spy marine birds.") In winter and spring, you might see whales migrating, too.
Behind the pool area, there is a grassy area with a bocce ball court and croquet area; equipment is free to borrow. There is no arcade or game room at the hotel.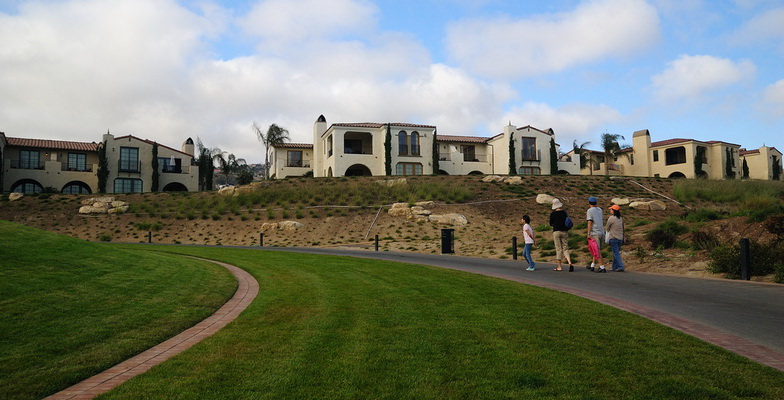 flickr:myhsu
For kids 4 to 12, the Tide Pool Kids Club is available from 9am to 4pm, 7 days a week, year round. It is on the pricey side, at $15 an hour, per child, with a four-hour maximum (lunch is included). The kids' clubroom is impressively tricked out with a few Macs, a Wii, arts and crafts, toys, books, and photography equipment. One regular activity is "Shutterbug Shootout," where kids take pics, print them out, and then make frames. The club schedule varies by day, and while the website indicates daily themes like "pirate adventures" or "outdoor sports," the club seemed able to adapt the theme to whomever is attending.
For younger kids ages 2 to 4, the resort also offers a Tadpole Adventure Club (also $15/hour), which runs from 10am to 1pm. ("The only hitch we saw: the counselors may call you for diaper changes if your child is not yet potty-trained.") During summer and holidays, parents can accompany their children on visits to the Tide Pool club between 7am to 9am at a cost of $10 per child, per hour.
During holiday and summer, the resort also offers weeklong kids camps for $425 per child (it boils down to about $10/hour). For grades 1- 3, the camp focuses on making stop-action movies about your own Lego creations; kids in grades 4-6 can attend a Video Game Creation Camp; children in grades 4-8 can learn computer editing software to make movies with special effects.
When the Hunts arrived to drop off Mirabel (5) and Caroline (4) on a Monday, the tables had been set up with paper, glue, crayons and felt for crafts. Unsurprisingly, given that they were visiting during the off-season and on a weekday, the girls were the only kids in the club, and the counselor geared the activities to them. ("Disney princess songs were playing when I dropped them off.") The counselor-to-child ratio can go up to 8 kids per counselor. ("Our counselor was friendly and genuinely seemed like she was having fun.")
During their four-hour stay, the girls made necklaces, beaded bracelets, coloring books and even little cloth tote bags. They also played Candy Land, did a princess puzzle and had lunch. The highlight, though, was a little hike down to the beach where they looked at the cave and buried a "treasure." ("The treasure was a rock, but they raved and raved about this pirate's cave. They are usually very indoor-oriented, girly-girls, but this dazzled them.")
For lunch, the menu offered pizza, PB&J sandwiches, hot dogs, burgers, or grilled cheese. The Hunt girls also had some fruit (strawberries, honeydew melon, watermelon) and a little carafe of white or chocolate milk. Snacks tend to be fruit, crackers, or trail mix.
The counselor told Hunt that the kids' club had had 28 kids on New Year's, and were expecting as many for Valentine's Day. Walk-ins are usually fine, though the staff prefers if you call the day before if you want a full four-hour session.
While their daughters were in the kids' club, the grown-up Hunts used their down time by hanging out at the gym and spa. The spa use fee, if you don't have a treatment scheduled, is $40 per person per day. The resort has a 9-hole golf course, The Links at Terranea, whose greens fees start at $30 per adult, $20 for teens and $10 for kids under 12. Teens and kids can golf after noon. On weekends during the winter and some weekdays during the summer, the gym offers free yoga or fitness-walk classes.
While there is no teen club, there are a number of activities that would appeal to teens, such as sea kayaking, horseback riding and surfing lessons, which range from $89 to $195 per person. The teens the Hunts observed seemed to always be by the pool or at the beach—happily, both free.
Need a babysitter? The hotel can also help you arrange one through an outside provider ($12/hour for one to three kids).
Where to Eat: There are seven dining options at Terranea. Overall, the Hunts' biggest complaint was pricing. ("It felt like they priced adult menus for corporate, expense accounts rather than leisure guests.") Tipping is discretionary.
Catalina Kitchen is the only three-meals-a-day restaurant, whose Spanish-style dining room opens onto a patio and overlooks the pool. An eggs-any-style breakfast costs $15; organic oatmeal with raisins $12. For kids, a breakfast of pancakes or eggs and bacon runs about $6. The lunch menu features items such as savory flatbreads (read: fancy pizza) for $12-$14, or a grilled-chicken-and-brie sandwich for $18. At dinner, choices include Alaskan halibut in a Pinot Grigio essence ($27) and NY strip steak ($36). The kids' menu for lunch and dinner runs $6 or $7 per entrée, served with fruit or fries, for standards such as a hot dog, mac 'n' cheese or penne with marinara. Catalina Kitchen also does a Friday night seafood buffet ($48/adult; $20/child ages 5 to 10; free for 4 and under). Open daily 7am to 10pm.
The Terranea Grill is a small bar and patio area, also overlooking the pool. It has the same kids' menu as the Catalina Kitchen, while the adult menu focuses on light fare such as appetizers, salads, and sandwiches ($8-$17). Sample fare includes chicken skewers in peanut sauce ($12), crispy fried squid salad ($15) or a turkey BLT ($14). Open Mon-Thurs 11am-5:30pm and Fri-Sun 11am-8pm.
Nelson's serves as the resort'sports bar and casual restaurant. It is located on a bluff on the resort grounds, not far from the spa and gym. Named after Lloyd Bridges's character in Sea Hunt, the cozy bungalow features pictures of Bridges and has outside seating around firepits. This was the Hunts' favorite restaurant during their stay. ("Even though it was kind of a schlep to get there, it had such a nice cozy atmosphere. If it had been a little less windy that evening we would have sat outside by the firepits. A hotel staffer gave us a ride back to the main entrance in a golf cart, too.") The adult menu features appetizers, salads, and comfort-food options such as a hot Bavarian pretzel ($8), a seared ahi sandwich ($16) and a classic burger ($8). The kids' menu offers items such as chicken fingers with sweet-potato fries ($7), a kid-sized Caesar salad ($5) and fish and chips ($7), which apparently won a local readers' choice award. ("We concur. They were excellent.") The Hunts thought this kids' menu seemed geared toward older kids, in part because serving sizes were huge.") Open Sun-Thurs 11am-10pm Fri-Sat 11am-1am.
Mar'sel is the most upscale restaurant, set in a bungalow-home-style building near the main pool. The dinner menu features starters and entrées such as creamy Jerusalem artichoke soup with duck confit and quail egg ($14), Tasmanian sea trout ($32) and roasted loin of Cervena venison from New Zealand ($37). You can see the kitchen's lush vegetable and herb garden as you walk to the front door. ("The room is comfortable but romantic—a place you'd rather visit as a couple and leave the kids with a sitter.") Open Tues-Sat 5:30pm-10pm.
Sea Beans, located near the resort entrance, is a good place to grab a coffee and pastry (about $3), breakfast burrito ($8), pre-made sandwiches and salads ($8 – $12) or scoops of gelato ($5). This is also where the hotel sells gift items, such as tee-shirts and sundries. Open weekdays 6am-9pm and weekends 6am-10pm.
The Lobby Bar, right off the lobby, is furnished with comfy couches and a fireplace and offers patio seating. Open Sun-Thurs 3pm-11pm and Fri-sat 3pm-midnight.
Cielo Point is a café alongside the adult pool is for adults only. You can, however, access the snack bar from the Discovery Trail, to purchase ham and cheddar on a roll ($12), a hot dog ($6) or jumbo cookie ($4). Open daily May through September, 11am-6pm.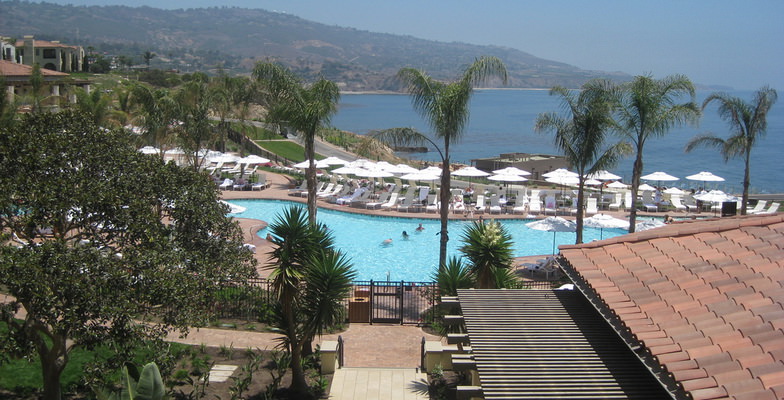 flickr:tiarescott
(MORE: Find attractions near the Terranea Resort.)
Nightlife: Terranea gets pretty quiet on a February weeknight, the Hunts discovered. There is one event scheduled every night, year round: a ringing of crystal singing bowls to mark sunset. ("We missed it both nights, which was disappointing because I was curious.") During summer evenings, however, the resort offers more activities, such as movie screenings, storytelling around the firepit, and s'more-making.
For kids ages 4 to 12, the Tide Pool Kids Club offers an evening kids program from 6pm to 10pm. The session is priced at $55 per child, and includes dinner off the same menu offered at lunchtime. The evening session is a slightly better deal than the daytime session, since even without dinner the hourly rate works out to less than the $14 an hour. The counselors told Hunt that they tailor the evening program much as they do during the day. Guests typically need to reserve a day ahead.
Where to Stay: Accommodations are scattered throughout the property, and include the main building (360 rooms, including 30 suites), 20 bungalows, 50 ocean-view casitas and 32 villas. The two- and three-bedroom villas are the most removed from the hub. ("At first I wasn't even sure they were part of the resort—they looked like townhouses"), while the three-bedroom casitas are situated closest to the bluffs. The two-bedroom bungalows (up to 1,600 square feet), which look like condos, are tucked in between the main building and the spa and gym.
If you come with kids, you're probably best served in the main building, which has immediate access to the pool area, the kids' club, and the bulk of the restaurants. The three- to five-story building (it sits on a slope) offers at least partial-ocean views in 85% of the rooms; the rest overlook the resort grounds.
The Hunts stayed on the fifth floor, in a double-double room that looked out over the pool area. ("I could almost have shimmied over the balcony and onto the pool slide") and had a wide view of the bluffs and ocean. The room—decorated in blonde oaks, golden yellows, and light neutrals—held an easy chair and ottoman, desk with two chairs, and a dresser that held drawers and the mini fridge. The resort will provide a crib at no charge.
There was one closet ("kinda small, but fine"), and the bathroom—done up in seafoam green with shell-crusted sconces—had a tub and separate shower and toilet rooms. There was a balcony with two cushioned rattan chairs and a small mosaic table.
The cable TV offered Nickelodeon, Disney and PBS, and you could also order pay-per-view from PBS Sprout or Disney for $2.99 per episode. Rooms don't come with a DVD player, but you can request one, or a Wii, for free.
The Hunts felt the room was adequately sized and very comfortable. ("I liked that the fridge was empty, saving us the trouble of emptying it to put in our milk, yogurt, and 'Daddy's beer.'") The hotel offers an in-room shopping list with some kid-friendly items, such as six sodas for $12, three yogurts for $10, a Fruit Rollup for $1.
The Hunts never experienced any noise from the pool. ("Maybe it would be different in summer, but I think the ocean sounds would help muffle it anyway.") If they return, the Hunts might ask to be closer to the elevator, or even the ground level. ("Having a patio somewhat close to the pool would cut down on a lot of hall-walking and elevator time.")
Price Tag: From June through September, rates start at $335 for a room with a resort view. The Hunts' room would cost $395 a night in the summer. During the fall and winter, rates start at $300 a night for resort view and $355 for ocean view. The casitas and bungalows offer good value if you're traveling with extended family; we found a two-bedroom casita for $780 in summer, featuring a living room, kitchen and patio with firepit.
There's a daily resort fee of $25, which covers the basics (pool, gym, newspaper) and also free wifi access, free transportation around the resort, and even rides within five miles of the resort.
While Terranea's rates may seem high, they're competitve for a beachfront resort in southern California. Up the coast a few miles at Santa Monica's Shutters on the Beach, rates start at $465 a night; at Surf and Sand Resort in Laguna Beach, rooms start at $505 a night; and Laguna's Montage's prices begin at $695 a night.
The area where the Hunts felt they were most overcharged was the food—ironically, the food for grown-ups. ("I expect to pay $6 or even $8 for a kids' meal at an upscale resort, but I don't expect to pay $16 for a burger overlooking the pool.") If you're staying more than a few days, plan on going off-site for a few meals. ("There's an In-N-Out Burger less than 20 minutes away.")
Check the Special Offers page on the resort's web site for upcoming deals. At press time, we spotted several value-added packages that included resort and dining credits. There was also a 20% discount available to guests booked with an American Express card.
Insider Tips:
Despite the resort's year-round appeal, visiting during the summer or holidays ensures more kid-friendly programming options.
Ask for a patio-level room near the pool if your kids want to spend a lot of time swimming.
Bring your own snacks, and maybe even some quick breakfast items, to mitigate dining costs.
Go down to Nelson's and sit by the firepits, then ask for a ride back to the hotel.
Hike the resort trails but also go to Pointe Vicente, just up the road, which has more trails, a cool interpretive center and a lighthouse.