Boston, Massachusetts
By Emily Mastrianni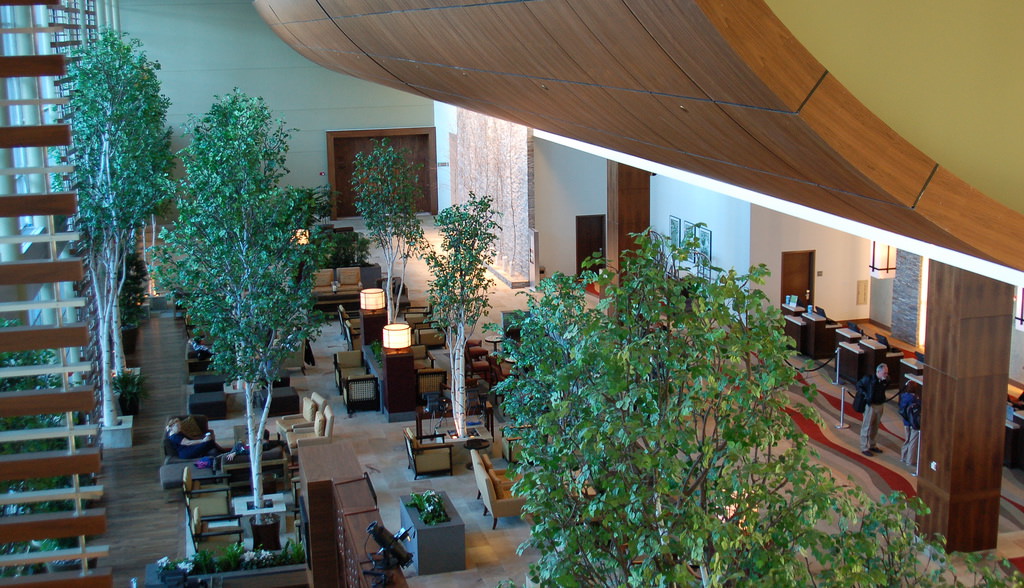 First Impressions: Formal yet friendly. Upscale yet hip. Caters mainly to business folk yet welcoming to families. For our correspondent, Emily Mastrianni, and her family, The Westin Copley Place was love at first sight. ("The public areas are fabulous. The lobby is upscale and quite luxurious. The kids adored the escalators and revolving doors.") The sleek building is integrated right into the trendy, bustling Back Bay, with ample shopping and dining attached to the hotel by suspended walkways called sky bridges.
Location: 10 Huntington Avenue, on Copley Place, a big bull's eye if you're looking forward to serious shopping and sightseeing. Think chic shops, beautiful architecture, and block after block of pleasurable walking. Getting around is quite easy, thanks to a plentiful number of door and bell staff on hand to hail a cab or help guests with directions. The concierge armed the Mastriannis with easy-to-follow maps and quickly highlighted areas of interest for the kids.
The hotel is just two blocks east of the Prudential Center with its myriad shops and stunning views from the 50th-floor Skywalk Observatory. It's also three blocks south of boutique-lined Newbury Street, four blocks southwest of Boston Public Garden, and a short walk from the Charles River Embankment. "The highlight of our trip was being able to walk from the hotel to so many great sites." (For more great kid-friendly things to do in the vicinity, see our Insider Guide to Boston.)
Rooms: The Westin's 803 guest rooms are luxuriously decked out with quality furnishings and rich fabrics. The Mastriannis' junior suite was a very spacious corner room with large windows on two sides that afforded great views of Boston and the Charles River. ("Plenty of room for a family of five.") There were two queen beds and more than enough room for a cot, though it was not needed. The Mastrianni girls quickly learned that an oversized stuffed chair and ottoman could be pushed together to make a cute, comfy bed. ("My kids fought over it, and my 8-year-old slept quite comfortably on it.") The one downside: ("The bathroom, though, was quite small.")
Every room has small fridge and a coffeemaker. Along with cable TV, there are pay-per-view movies available ($8.99 to $10.99 each for children's titles), as well as a Nintendo console and games ($6.99/hr).
Just For Kids: Never mind that families make up a relatively small portion of The Westin's clientele. This hotel makes a more genuine effort to welcome families than the average chain hotel does. At check-in, Mastrianni's three girls each received a Westin Kids Club backpack, which contained crayons, a coloring-and-activity book, and a hat. ("It was quite welcoming and a hit with our girls.") The kids' club—a service, not an activity center—also offers a story line, which kids can call to listen to a pre-recorded bedtime story. ("The hotel made it quite easy to travel with our kids. There were enough special things for kids to make them feel welcome.")
Best of all, Westin Kids Club services won't cost you a dime. Need a crib, a cot, or bedrails? No charge. Brought the baby? The staff can provide bottle warmers, strollers, and even diapers and wipes—all for free. Nice!
Babysitting: Like most Boston hotels, The Westin neither provides a babysitting service nor will the staff make arrangements for you. The concierge can, however, recommend two outside babysitting agencies that are fully licensed, bonded, and insured. It's then up to you to contact the agencies yourself.
Recreation: Guests have complimentary access to the hotel's indoor pool and fitness area, which are separated from each other by a set of glass doors. The two areas share changing rooms.
The Reebok-partnered gym is equipped with up-to-the minute climbing, elliptical, leg curl, treadmill, and step machines, as well as bikes and weights.
The pool is small, with a uniform depth of four feet and three ladders for entering and exiting. Since there are no steps or a true shallow end, parents of small tykes might consider bringing their own swim vests or bubbles from home. There are kickboards and noodles available to guests at no charge, as well as thick towels and plenty of lounge chairs around the deck. There is a hot tub (minimum age 16) in the pool area.
Like to run? Ask the concierge for a three-mile or five-mile Runner's World jogging map, which display routes through the neighborhood.
The hotel also has a spa offering massage and other treatments.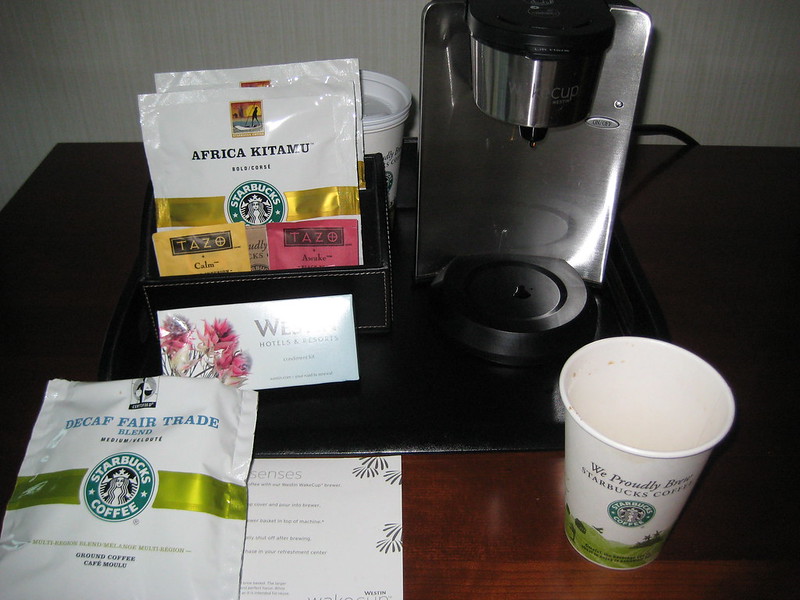 Service: You can look forward to immaculate housekeeping, efficient front desk personnel, and a super concierge desk. Check in at 3pm, check-out at noon. ("There was no line at check-in and the personnel was extremely friendly. At check-out there was a line, but it went quickly and also was hassle-free.") Video check-out is available for a speedier exit. Late check-out is sometimes possible, depending on the level of occupancy.
("The best service we received on this trip was from the concierge services at The Westin. The woman working that Sunday morning could not have been more helpful. We didn't want to eat in the hotel's fancy restaurant with our three kids that morning. We were looking for a good breakfast but in a more casual setting. She recommended a great restaurant at the hotel across the street! It was fabulous.")
Where to Eat: The Westin has three restaurants, each with a children's menu. Even so, most of the fare tends to be aimed at adult diners. There are two additional bar-cum-lounges at the hotel where the cocktail crowd gathers. The dining options are:
The Palms Restaurant is a popular steak-and-seafood restaurant with a reputation for its huge lobsters. (Open Mon-Sat lunch and dinner.)
The Huntington is a breakfast-only restaurant with a lovely, sun-drenched dining room. (Open daily breakfast.)
Osushi is a trendy sushi bar. (Open daily lunch and dinner.)
Can't face the day without a morning belt of caffeine? Head to the Starbucks outlet in the hotel lobby.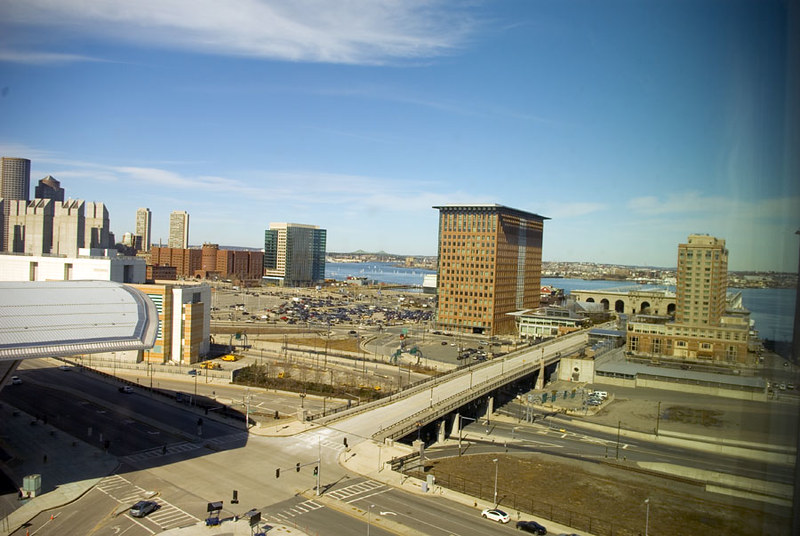 Concierge's Picks: When the Mastriannis were looking for a good, yet casual breakfast spot, the concierge pointed them to The Back Bay Café at the Copley Square Hotel, directly across the street from The Westin.
For a kid-pleasing lunch or dinner, the concierge also recommends Papa Razzi (271 Dartmouth St.; 536-9200), a casual Italian restaurant whose menu includes delicious brick-oven pizza.
Price Tag: Not cheap, but comparable to other four-star hotels in Boston. For a standard room with two queen-size beds, rack rates range between $195 and $409, depending on time of year and whether you visit midweek or on a weekend. The nightly rate for a junior suite runs between $264 and $484.
Don't forget to check the hotel's web site for "Hotel Offers." At press time, you could grab a room during the low winter season for as little as $179 a night.
Additional Costs: Welcome to Beantown, home of parking fees and hotel taxes. Figure on paying a minimum of $40/night in extra charges. Double that if you bring your car.
$40/night for valet parking. There is no readily available public parking nearby.
Dining: 5% meal tax. For parties of eight or more people, add in 18% service charge. Otherwise, tipping is discretionary.
Room service: 5% meal tax, plus 15% service charge, plus $4 delivery charge.
5.7% Massachusetts state hotel tax.
4% City tax.
2.75% City convention center tax.
Insider Tips:
For a tremendous view, ask for a room on an upper floor facing the river.
If you will have special needs, such as a babysitter or a dinner reservation at a specific restaurant, contact the concierge prior to your trip.