Smart ideas for streamlined travel
By the MiniTime Community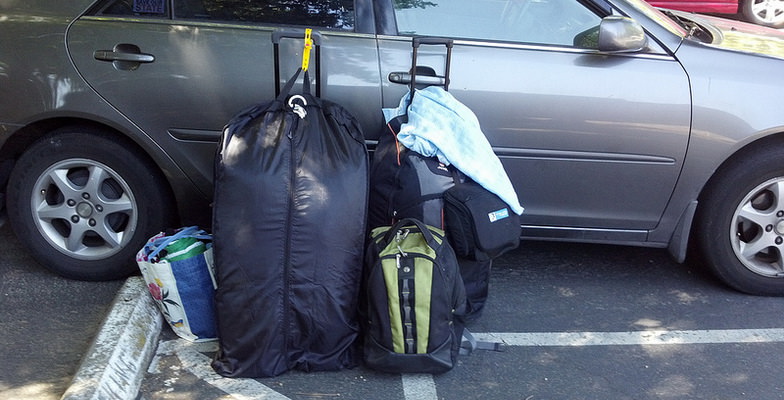 Have a list when you're packing so you won't miss anything. (Flickr: alice_mercer)
Good General Advice
1. When I pack for a trip longer than three days, I take the time before we leave to pack my kids' individual outfits in gallon Ziploc bags. For example, I put in a t-shirt, a pair of pants, underwear, socks and anything else they would wear that day. It saves time when we are on the trip to already have the outfit ahead of time. Then when we are done with the day and the outfits are dirty, we put each outfit back in the Ziploc and label it dirty. When we get home, we take it out of the bag and put it right in the laundry. –Jen from New York, NY
(MORE: Grab a free packing list for your trip.)
2. In every piece of luggage, place a photocopy of your complete itinerary, including your home address, all flight information and hotel addresses. Include all travel dates. If your bag gets lost in transit, airline staff or other authorities can only forward your bag if they know where to find you. –Marjorie from Chicago, IL
3. Pack a "permanent" toiletry bag. Buy trial sizes our doubles of your shampoo, body wash, toothpaste, contact lens solution, deodorant, lotion, and so on for your toiletry bag. Don't forget a hairbrush, toothbrush, tweezers, and mini first-aid and sewing kits. Use a gallon-size Ziploc bag for anything like makeup or medication that needs to be unpacked when you get home. Your fully-stocked toiletry bag can stay right in your luggage for your next trip. This helps you not forget anything when you're packing to leave, especially if you have to pack in a hurry. –Heidi from Sibley, IA
4. Whenever we go on a trip (even a daytrip), I pack a mini first-aid kit in my backpack or handbag. I use a small flat Tupperware-like container, but even a sandwich-size Ziploc bag would work. My first-aid kit typically contains about 10 Band-Aids of assorted shapes and sizes, a small bottle of hand sanitizer, small tube of bug bite sting reliever, several antiseptic wipes, small tube of antibiotic ointment, several individual packets of Advil and Children's Tylenol, and a few stickers or temporary tattoos that I give my patients after their treatments. My little doctor's kit has come to the rescue a hundred times, like when my daughter's new sandals gave her a blister on Day One at Disney World. And on our hiking trip in Sequoia National Park, when my son got a nasty scrape on his knee. I am even armed to eradicate Mommy's headache caused by backseat bickering on a road trip. –Beth from San Bernardino, CA
5. Instead of folding clothing items, roll them into tube shapes, then stack them. Your clothes will fit far more neatly, they'll rarely wrinkle, you can fit far more in, and even kids can help pack with this method. –Stacy from Allendale, NJ
6. I've discovered that I always, repeat ALWAYS, take too many clothes on vacation, so I've started getting my stuff out and then making a conscious effort to put half of it back before I start packing. Lighter bags and less stuff to haul around is important to this 58-years-young traveler. I've also found that $3 for a baggage cart at the airport makes a lot of sense. –Sue from Austin, TX
7. Need a quick way to get organized before your next trip? Check out our handy, dandy printable packing lists. We've got lists for your carry-on bags, toiletry bag, and for different kinds of getaways. –Editor
8. I've discovered that a 6-foot extension cord can be very useful on a cruise. Quite often, there's only one pair of outlets in your cabin and they're usually not positioned in a handy spot. –Lynn from Peoria, AZ
9. Right after our flight home from a wonderful family vacation, I arrived at the baggage carrousel to discover that my suitcase had been opened during a random security search. The lock had been cut off. Since then, I have purchased a TSA luggage lock. I know the combination, and TSA officials can open it with a universal key if they need to. –Roberta from Morrison, NJ
Editor's Note: Great tip. Transportation Security Association-approved locks are designated with one of two logos. You can find TSA locks at Target and Eagle Creek, among other retailers.
10. I've read again and again that even just-cleaned hotel rooms are full of germs. That's why I never travel without sanitizing wipes. When we first get into our hotel room, the first thing I do is wipe down all the surfaces that the housekeeping crew would probably miss: Light switches, TV remote control, telephone, doorknobs, bedside alarm clock, and especially the toilet flush handle. Oh, and I always remove the bedspread. –Pam from Mason, OH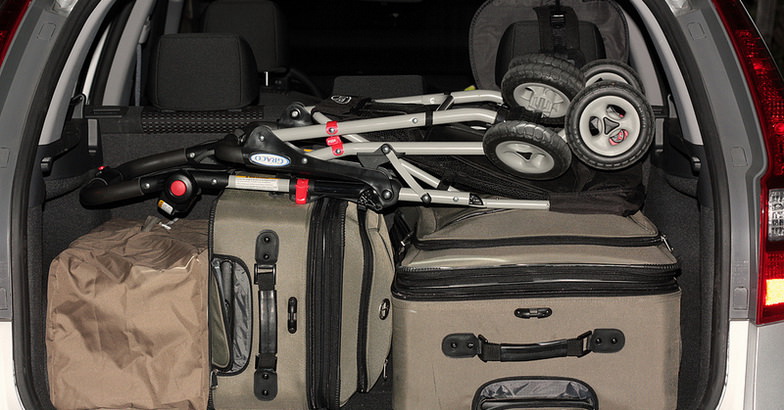 On a road trip, it is easier to pack one bag for a day. (Flickr: seanmfreese)
11. We pack Ziploc bags for all the typical travel uses, but have discovered a few more. If you put a little water in one, you can use it as a drain stopper. And one time the kids blew air into a two-gallon bag and used it as a pool float! –Autumn from Big Timber, MT
12. Before you go on vacation, buy a collapsible hamper at a dollar store. During your trip, use it for dirty clothes. If you have to do laundry while you're on vacation, you'll have something to carry it in. If not, it will keep the floor less cluttered and make packing for home easier. –Keith from Limerick, PA
13. I've found that blue, low-tack painter's tape is a handy take-along. This can be used to (a) child-proof electrical sockets, (b) hang up kid's artwork in your hotel room, and (c) prevent a camera lens from opening while you travel (just place tape over the closed shutter). –Beverly from San Diego, CA
14. Something I always keep in my purse or backpack: Baggie ties. They have got me out of 101 MacGyver moments whenever I needed a quick fastener. I've used them to create homemade ID tags when we travel. (I run a baggie tie through my daughter's jacket zipper, then write her flight info on an address label folded once over the baggie tie ends like a ski lift ticket.) I've used baggie ties to fasten keys to the interior ring of my handbag, so that I can find them easier. I once used a baggie tie to repair my son's flip-flop. —Joy from Durango, CO
15. Want to pack lighter? When my family goes on trips that are longer than three days, I always bring two key items: a Ziploc bag filled with powdered laundry detergent and a sink stopper. The laundry detergent always comes in handy for washing out favorite items of clothing, like my toddler's beloved bear tee-shirt. I bring the sink stopper because, in my experience, so many hotels have leaky sinks and tubs. I use the stopper in the sink to wash clothes and in the tub to make sure that my kids can take a nice long bath. —Anna from Wilmette, IL
16. I always tuck a crushable duffle bag into an outside zippered compartment on my largest suitcase, and we have yet to return home without using it. If I check my bag and it happens to be over the weight limit, I just take out the duffle and transfer some of my belongings into it so I can avoid the penalty. Other times, we use it to bring back souvenirs that we bought on vacation. —Jodi from Milford, OH
17. I always bring baby powder if we are going on a beach vacation. I keep it in my beach bag. Sprinkle it on your skin and any clinging sand will fall right off. —Krista from Morris Plains, NJ
18. If we're taking on a road trip and will be staying in a different place each night, it is often easier to pack one bag for a day instead of using a separate bag for each person. By packing everyone's clothes for one day into a single suitcase, you only have to bring one bag into the hotel each night and the others can be left in the locked car. —Autumn from Big Timber, MT
(MORE: Find additional packing tips here.)
19. Always pack a jumprope! It's easy small-space exercise for parents or older kids, and can double as a clothesline or emergency fastener. It even makes a great toddler leash in a pinch! –Christy from San Francisco, CA
1. Whenever I travel with my baby and toddler, I always bring along a box of denture cleanser tablets. They are amazing for cleaning pacifiers, baby spoons, sippy cup lids, and anything else that is hard to sterilize on the road. I just fill a glass with warm water, drop in the item, and pop in a tablet. We're good to go in five minutes. –Amy from Burlington, VT
2. I use those nylon mesh lingerie laundry bags for packing little items, such as my baby's socks or my 3-year-old's undies. I can see what's in the bags, the small items stay organized, and I don't lose any tiny socks! –Maura from Berkeley, CA
3. Keeping your hands free is handy anytime you have a little kid in tow—but especially in a busy airport. Before my last trip, I bought a pack of inexpensive carabiners (D-ring snap-on clips), which are available in most grocery and big box stores. I snapped a couple of carabiners on to my carry-on bag (and to my 5-year-old son's backpack) and I was able to tote extra items of clothing, small toys, and sippy cups while still keeping my hands free. Best yet, everything stayed within easy reach. When we arrived at our destination, I transferred the carabiners to my daypack. –Eileen from Gilbert, AZ
4. On long flights, I keep my 13-month-old son busy with small, inexpensive toys that I've bought at the dollar store or borrowed from friends. I keep them all hidden in my carry-on bag, then produce them, one at a time, in 20 or 30 minute intervals. A new item keeps him happily occupied and quiet longer than one he already has seen. We also go for short walks on the plane once the "fasten your seatbelt" sign goes off. –Gwen from Chatham, NY
5. I always keep my hands free in the airport. When my daughter was an infant, I used to tote her in a baby carrier or a sling. When she got too heavy for the sling, I would wheel her right to the plane door in the lightest umbrella stroller I could find. I'd ask the crew to stow it, and I'd collect it when the plane landed. –Lindsay from Walla Walla, WA
6. I've learned the hard way that it's important to prepare for delays. To calculate how many diapers, baby wipes, meals, and beverages to bring, I compute the length of our door-to-door journey and add six hours. –Barbara from Atlanta, GA
7. Ziploc bags are an essential in-flight accessory. Pack a complete change of baby clothes in a two-gallon Ziploc bag. In case of an accident, you'll not only have clean replacement duds but a place to put the dirties. Give yourself 10 bonus points for packing a clean tee-shirt for yourself. Also, pack your toddler's full sippy cups (even the "no spill" kind) in large Ziplocs, since changes in cabin pressure can turn them into bubbling fountains. –Editor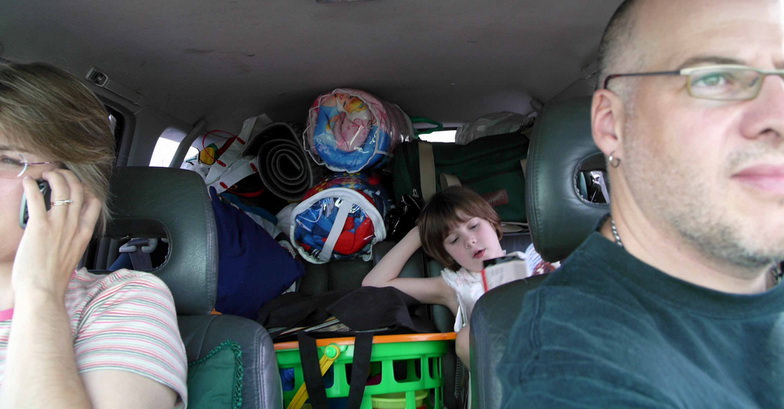 Pack activity sets for kids to keep them entertained. (Flickr: two stout monks)
1. One of our favorite bring-alongs is those small bottles of bubbles that come in packs (the kind that kids get in goodie bags at birthday parties). Whenever we're waiting in a long line, I blow bubbles for the kids to pop. All of the parents around us always think it's such a great idea because it keeps everyone entertained. Their kids always call me "the bubble lady." –Jennifer from Owassa, OK
2. When my child turned 2, I started packing a small, kid-size backpack for him to carry on his own. Inside, I put his favorite stuffed toy and small Ziploc bags containing various "activity sets": Perhaps five crayons and a small pad of paper; two little pots of Play-Doh and two shape cutters; and inexpensive action or animal figures; a travel-size Etch-A-Sketch or magnetic sketcher. My son loved having his own bag. As he got older, he learned to pack his own travel bag with things to keep himself occupied. –Lori from Sugar Land, TX
1. If you're going to a resort with a kid's camp, bring a package of inexpensive, new white tee-shirts—I typically can get a 3-pack for around $11. Inevitably, the kids will wind up making tie-dye tee-shirts as an activity one day and you'll end up paying $10/each if you buy one on the spot. –Diane from Cold Spring Harbor, NY
2. One of the biggest time-sinks of traveling is preparation. To make this easier for my 8-year-old daughter, I've designated a backpack that she uses only for traveling. The backpack is brightly-colored and durable, with cushioned straps and lots of storage. Inside, are things that are reserved for traveling and do not get unpacked when we return. For example, we keep a Ziploc bag of crayons and mini-markers, coloring and activity books, Handi-wipes, hand sanitizer, tissues, and chewing gum. When it's time to get ready to go, my daughter already has all her "essentials" and can focus on fun items, like her camera, favorite books, Nintendo DS, and so on. Because the essentials already take up room in her backpack, with each trip she has gotten a progressively better understanding of what she can add and how much she can comfortably carry. And I don't have to worry that she's forgotten anything, packed too much, or packed things she doesn't need for the trip. –Jenny from Pompano Beach, FL
Click to rate this post!
[Total:

0

Average:

0

]