Staying stress-free in Orlando
By Suzanne Rowan Kelleher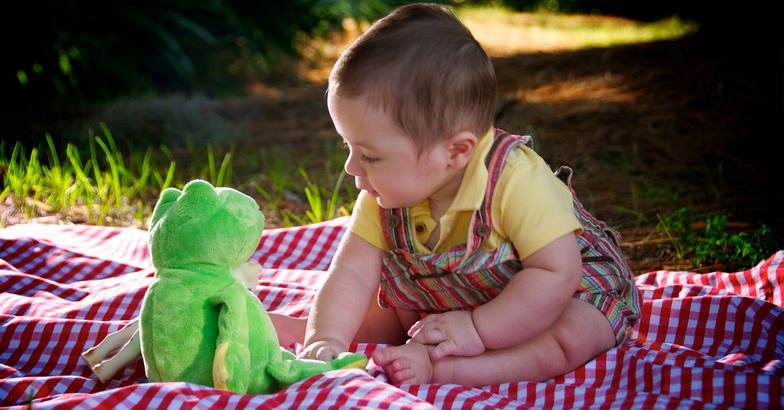 Traveling with a toddler (Flickr:beija)
Q: Hooray! In early April, my family is going to Orlando. We haven't had a family vacation since my daughter was born, so I decided to tag along with my husband on a business trip and bring our 15-month-old daughter with us. We haven't booked a hotel yet and can't afford to spend a lot, so we are open to suggestions. It is sinking in that my husband will be out at his conference for a good chunk of the day and my daughter and I will be on our own for the most part. Now that she is walking, she is a handful—especially at meal times—so I am starting to stress a bit. I would love your advice on where we should stay and I would welcome your tips on how to eat out with a toddler on my own. – Stephanie from Allentown, PA
A: First of all, good for you for deciding to get away. Since you haven't booked a hotel yet, I suggest that you look for an extended-stay hotel near where your husband's conference is being held. Popular extended-stay, or all-suite, chains include Embassy Suites, Hyatt Inn, Residence Inn, Homewood Suites, Comfort Suites, SpringHill Suites (my family's choice for a recent getaway in Montréal), and a dozen other brands.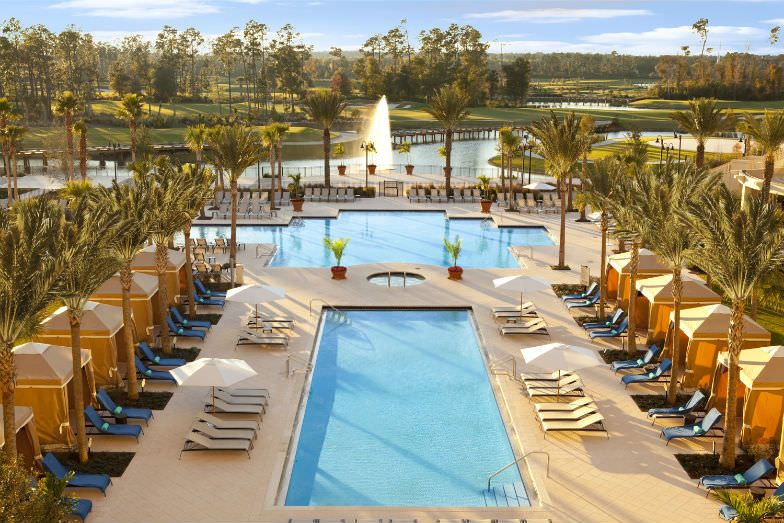 Waldorf Astoria Hotel Orlando (Courtesy Waldorf Astoria Hotel Orlando)
Extended-stay properties are marketed mainly to business travelers, but it's an open secret that they are a fantastic option when you're traveling with kids. For starters, suites deliver more space than a standard hotel room for a similar price and a floor plan that really works for families. Typically, you get both a bedroom and a living area with a pullout sofa, plus either a kitchenette or a wet bar (mini fridge, microwave, sink). All of these features will make life with a toddler a lot easier, since you will have the space to set up a crib or Pack 'n' Play (some hotels will even provide you with one) and also be more self-sufficient about making some of your daughter's meals in your room. Of course, I'm not suggesting that you spend all your time holed up in your room. Yet having the right set-up will make your whole stay run more smoothly.
Since you didn't mention where your husband's conference is being held, I won't recommend specific hotels. But location is going to be key. Look for an address that is convenient for your husband and also within walking distance of laid-back places to explore with your daughter, such as a park or outdoor plaza, or even another resort set on expansive grounds. If your daughter gets restless in a high chair, plan picnics in the park or head to open-air restaurants and cafés that offer plenty for your daughter to look at while you're eating. Many extended-stay hotels offer a free buffet breakfast. Toddlers are notorious grazers, so take advantage of the opportunity to bring yogurt, milk, bread, and cereal back to your room.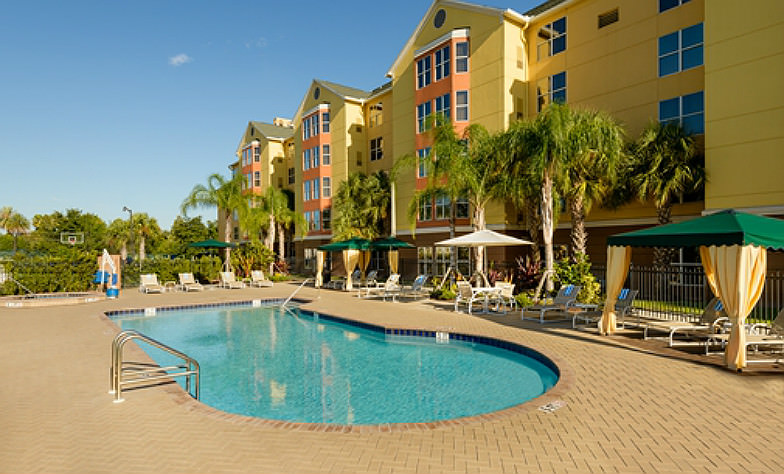 Homewood Suites Universal Studios (flickr:marriottsandestin)
Your options increase if you have a car, but so do the hassles associated with driving and parking. If you won't have a car, choose a hotel that offers free shuttles to several of Orlando's major attractions. Your toddler will enjoy free admission to many of them. And, of course, try to choose a hotel with a nice pool area—ideally with a kiddie pool or splash pad where your daughter can safely have fun.
Don't forget the sunscreen, and enjoy your trip!
More on Traveling with Young Kids: