Highgate Springs, Vermont
By Suzanne Rowan Kelleher
Why Go: The meadow at the Tyler Place, which slopes gently down from the inn to the shores of Edward's Bay on Lake Champlain, is a very special place. The owners' grandparents met there as 10 year olds in the summer of 1874. Time passed. They fell in love, got married, and taught their own daughter to love the simple pleasures of summer. Like picking blackberries, catching frogs, building treehouses, and lying on the meadow that slopes gently down to the shores of Edward's Bay.
That girl grew up, got married and became Judy Tyler, known to everyone as "Mrs. T." She and her husband, along with his sister and her husband, bought the property. Back in 1933, Mrs. T had a tremendously progressive idea: They would open a resort just for families, and only in the summertime. Pricing would be all-inclusive, so guests wouldn't be reaching for their wallets all day. And, most importantly, their resort would offer imaginative, age-staggered children's programs that left plenty of couple time for parents.
The rest, as they say, is history. For the past 75 years, this beloved resort in the northwest corner of Vermont has helped families create old-fashioned, magical summer camp memories. Quite a few more will be made this summer on that very special meadow.
Our correspondent, Suzanne Kelleher, and her family knew the Tyler Place was something wonderful as soon as they arrived. ("The big tip-off was that everyone else seemed to know their way around. Loads of families were on bikes, with the kids in the lead.") On that week in July, nine out of 10 families were repeat visitors. Throughout their stay, the Kellehers met folks who'd been returning each summer for seven, nine, or even 12 years in a row. ("It was as if each family could top the last one. One woman had been coming for 22 years, first as a kid and later as a parent.")
To any parent who has struggled to put balance in family vacations, a visit to the Tyler Place can be something of an epiphany. There is a wonderful mix of family time, kid time, couple time, and alone time. Kids experience a fun camp-style week and leave brimming with memories and accomplishments. ("I'm not sure what they put in the water up there, but my kids seemed more willing to take risks and stretch. They had so many wonderful first experiences packed into one week. And it wasn't just our family. I wish I had a buck for everyone who insisted that his kid learned to ride a two-wheeler at the Tyler Place.") While so many family resorts focus entirely on kids, the beauty of the Tyler Place is that it takes equally special care of the grown-ups. ("The programming for adults is better than I've seen anywhere else. You can spend the week trying new things or indulging in old favorites. You are always connecting, be it with people, nature, yourself, or your family. It's very restorative and edifying. My husband, Emmet, and I have never enjoyed a family vacation more.")
The Tyler Place is owned and managed by Ted Tyler and his sister Pixley, whose grandparents were those 10 year olds who met on the meadow. Many of their kids and grandkids work here, too, along with an exceptional staff. ("Everyone, from waiters to housekeepers, is empowered to answer questions and solve problems. Without exception, the staff is unfailingly cheerful, helpful, and wonderful.") And then there are the guests. ("The atmosphere is very outgoing and inclusive. Not only do kids make friends, but parents make friends. It was lovely how guests who had been coming for years became self-appointed ambassadors to first-time guests.")
So who wouldn't like it here? ("Diehard introverts, possibly. If you don't enjoy meeting and mixing with other families on vacation, you may not be able to fully appreciate this place. The social aspect is definitely a big part of its appeal. And to get your money's worth, you should partake in the many marvelous activities.")
Getting Oriented: Highgate Springs is a tiny village in northwestern Vermont that skirts Lake Champlain. Thanks to its proximity to the I-87 and I-89 interstates, the Tyler Place is very accessible by car. It's a 45-minute drive north of Burlington and an hour south of Montréal. ("It's a very charming, rural part of Vermont, and only a few miles from the Canadian border. As you approach, you start picking up French-speaking stations from Québec on the car radio.")
If you live on the Washington DC-to-Montréal corridor, you can also get to the Tyler Place by train. Amtrak operates The Vermonter daily between Washington DC and St. Albans, Vermont (20 minutes from the Tyler Place) and The Adirondack runs daily between New York City and Montréal. The closest stop is Rouses Point, New York (30 minutes to the Tyler Place). The Tyler Place can help you find a taxi service to and from the train station.
The entrance to the Tyler Place is off Route 7. The main drag is Old Dock Road, a narrow country road lined with clusters of cottages. It curves to the left and then heads straight down to the water, passing tennis courts and an indoor-and-outdoor pool complex before ending at the boat dock. Off Old Dock Road, Tyler Road leads up a small hill and to the inn and children's clubhouses. There is a bike shed, basketball and tennis courts, climbing wall, mini golf course, fieldhouse, archery field, and an arts and crafts center. More cottages are found off of Shipyard Road, which makes a loop from Old Dock Road to the resort's entrance on Route 7. Directly across Route 7 is a tiny cluster of buildings that is quintessential Vermont. There's a little white, steepled church, a tiny post office, and a grocery-cum-tackle-cum-hardware store called Martin's. ("This was a good place to pick up sundries for the cottage.")
Getting Around: To encourage guests to leave their cars at their cottages, the Tylers give every guest use of a bike for the entire week. After check-in, the Kellehers headed over to the bike shed to pick out their wheels. There were hundreds of bikes arranged in rows: mountain bikes, sporty kid racers, girlie princess bikes, grown-up bikes with baby seats, tiny 12-inchers with training wheels, and plenty of trail-a-bikes. Helmets were also provided for free. Kelleher got a trail-a-bike so her 4-year-old could ride with her tandem-style. ("How awesome is that? My kids were deliriously happy to have their own bikes. The whole thing works on an honor code. You don't leave a deposit, sign anything, or even give your name. It's a terrific example of the spirit of generosity so prevalent here.")
Having bikes added an important dimension to the Kellehers' vacation. ("I can't tell you how much fun it was to get around this way. First thing in the morning, I would often cycle down to Martin's to pick up milk or juice. We took a couple of nice family rides around the resort. Once our two oldest kids knew their way around a bit, we let them ride their bikes to and from the children's activities on their own. They loved having some independence, and we knew this was a safe environment.")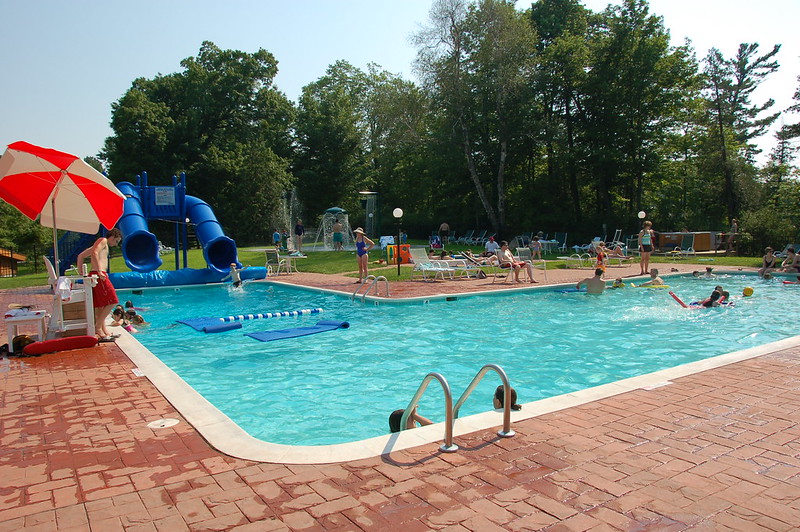 We Are Family: The Tyler Place has the best all-around family programming we've ever seen. Not only are the children's programs exceptional, but the family and adult offerings are outstanding. The day allows for kids to have fun with kids, grown-ups to have fun together, and also for families to spend quality time together.
The kids' daycamps are known here simply as "group." There are nine age-staggered groups from newborn through 15 years old, each with its own clubhouse and the best counselor-to-child ratios we've ever run across at a resort. ("The Tyler Place is famous for its amazing counselors, and they definitely lived up to their reputation. They were always engaging the kids, joking around, singing songs or playing a game. There's never any pressure for a kid to do something she's afraid of, but the counselors create such an encouraging atmosphere that kids often conquer their fears of swimming in a lake or waterskiing or whatever it may be.")
Newborns to toddlers 30 months old are divided into three groups: newborn to 12 months, 12 to 18 months, and 18 to 30 months. These groups are headquartered at a large building near the inn called The Playhouse, which has separate playrooms for each group. These youngest children spend six hours of each day in camp, enjoying activities with puppets, rhyming games, tumbling, bubble play, story time, water play, and nature outings. Each child is assigned a parent helper for the week, who gives one-on-one care and companionship whenever the child is in group. Your parent helper takes your child to various baby-friendly activities held in the playroom or outside to the fenced-in and shaded toddler playground. In the evenings, your parents helper eats dinner with your child before playtime at The Playhouse. Or, your child might be taken back to your accommodation for an early bedtime you have dinner.
Kids 30 months to 9 years old are divided into four groups: 30 months to 3 years, 4 and 5 year olds, 6 and 7 year olds, 8 and 9 year olds. These kids spend a total of eight hours a day in camp, from 8:30am to 1:30pm and again from 5:30pm to 8:30pm. ("My kids had attended kids' camps at many resorts before, but only for a few hours at a time. I was wondering if eight hours would be too much, but it worked. My kids had a ball in their groups. They were always dying to get back to their friends for the evening session.")
Each group follows its own schedule of activities, and does different and exciting things every day. They play old stalwarts like Capture the Flag and Kick the Can, and learn new games, too. They go swimming in the lake, play on the giant water trampoline, and go boating. There are craft projects and nature outings and scavenger hunts. They learn a zillion camp songs, including one about a sticky moose and some juice. In the evening group, there are movie nights and pizza parties. In other words, they have a terrific week at camp. ("As children move up from one group to the next, more challenging activities are added to the schedule. So the younger kids are seeing puppet shows, cooling off at the Splash Pad, and having pontoon boat rides and fishing trips, while the older ones are kayaking, going on banana boat rides, and ziplining across the meadow.")
Preteens (10 to 12 year olds) and teens (13 to 15 year olds) spend a bit longer in camp each evening. Preteens do many of the same activities as their younger counterparts, in addition to new ones like waterskiing, archery, and the driving range. The teen group gets even more daring, with bumper tubing, wakeboarding, and an off-site bike tour.
While kids are in the morning group, their parents are also having fun. Each morning, the adult program offers five or six different activities. Fitness classes included Nei Kung, yoga, aqua aerobics, and Pilates. You could go rock climbing, skeet shooting, or fly casting for trout. Creative types could try pottery, watercolor, or silkscreening. There were tennis tournaments, low ropes courses, walking tours, canoe trips, bike rides, kayaking trips, antiques-hunting excursions, and winery tours. ("These programs were exceptional. All the activity leaders were passionate about their specialty, and there was always a spirit of fun and cameraderie. The only hard part was choosing what you were going to do each day, since everything looked like so much fun.") If you don't want to sign up for a group activity, you can get a massage, head to the pool, or go down to the dock and take out a kayak or Hobie Cat at no extra charge. ("Early in the week I took two free sailing lessons with one of the fantastic dock staff. I was hooked, and for the rest of the week, I took out a Hobie Cat every chance I got. Learning to sail was a highlight of my week.")
During the four-hour afternoon break, families do whatever they like. Every day, two or three organized afternoon activities are offered. Sign-ups are the evening before, in the inn. There are family fishing outings and pontoon boat rides, banana boat rides, waterskiing, bumper tubing, family nature hikes, arts and crafts workshops, and pony rides. One very popular outing is a tour of a local dairy farm. On the last day, there is a "Duckling Triathlon," a fun race for kids. ("We loved the fishing outing and the banana boat rides. Some afternoons, we didn't sign up for anything and just headed to the pool or the lake. It was down time.")
The pool complex features an indoor and an outdoor pool, with a kiddie pool and a Splash Pad that has fun water features like fountains and water guns. Lifeguards are on duty and life jackets are available for children, if needed. Freshly laundered, thick towels are provided to everyone. Both pools have 3-foot shallow ends and 9-foot deep ends. Each has a large curvy tunnel slide at its deep end. ("The outdoor pool was always busy, but never overcrowded. It was always spotless and there were always enough lounge chairs for everyone.")
Even though the organized groups end with age 15, the Tyler Place is still a lot of fun for teens. ("We met several families whose kids had aged out of the programs, but who still came because they just love the place so much.")
Where to Eat: Food is a highlight at the Tyler Place. ("Waaaay above-and-beyond our expectations.") All meals are included in the base rate. In general, kids eat with their groups and adults eat together. ("Again, initially, I wasn't sure if this would work. Not sharing any meals with my kids for a week? But after the first day, I was sold. The kids loved being with their friends, and Emmet and I really enjoyed dining together and meeting friends. Mealtimes were very social.")
All kids' meals are served buffet style in the individual clubhouses. At breakfast, favorites include pancakes, waffles, sausages, bacon, cereal, yogurt, homebaked breads and muffins, and fresh fruit. For lunch and dinner, there would be PB&J and grilled sandwiches, sloppy joes, spaghetti, chicken tenders, pizza, Tater Tots, French fries, and fresh fruits and vegetables. (In the words of Kelleher's 8-year-old daughter, Aisling: "There were always many tasty things to eat. Definitely kid recommended!")
From 7:30am to 9:30am, a breakfast breakfast is served in the inn. The Lakeside Dining Room is a parents-only area, but the main dining room is open to families. ("We usually gave our kids cereal or something light in the cottage before sending them to group at 8:30am. But a lot of families liked to have breakfast together before group started. Once our kids were in group, Emmet and I often came into the dining room for something light before the day's activities kicked in.")
For parents, both lunch (served noon to 1:30pm) and dinner (served 6:30pm to 8:30pm) are worth looking forward to. ("The food was delicious and very thoughtfully prepared. Vegetarians are catered for very well, and special dietary needs were never a problem.")
From 5:30 to 6:30pm, there was always a cocktail hour for adults. ("It's all incredibly civilized. And again, very social and fun.") The second night is always reserved for "Mrs. T's Lawn Party," held outside on a nice sweep of lawn near the pool.
There is table service at lunch and dinner for appetizers and drinks. Orders for alcoholic drinks are put on your tab. The rest of the meal—salad, main dish, and dessert—is served buffet-style. ("The long mealtimes really encouraged people not to rush. It was very relaxing and conducive for conversation.") The salad bar always featured several kinds of lettuce and spinach and a wide array of fresh and interesting vegetables and toppings. ("The salad dressings were all homemade. I developed an addiction to the maple balsamic salad dressing.") Every meal was beautifully thought-out. Even something you might think of as very simple, like a burger bar, ended up exceeding expectations. ("We would find not only beef burgers, but veggie, seafood, and chicken burgers, too, with a zillion toppings and different bread choices. One night, they did a surf and turf with lobster and sirloin steaks. Desserts were almost impossible to resist.")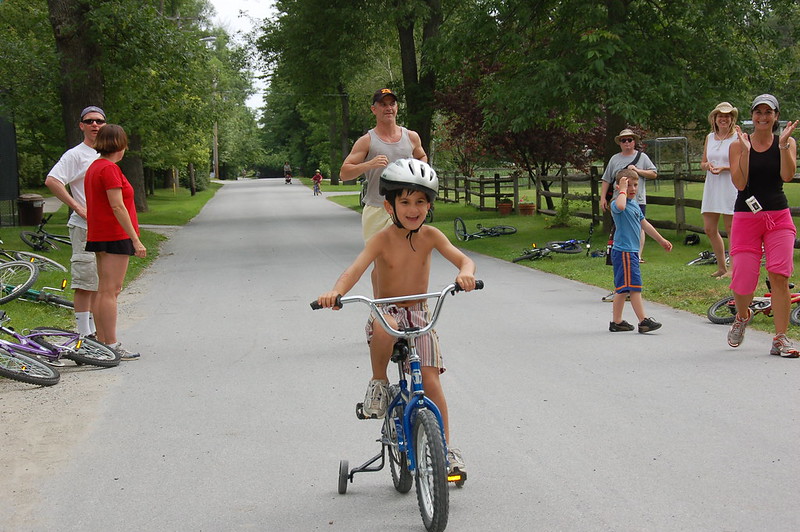 Nightlife: After you've picked up the kids from evening group and put them to bed, there is always an adults-only event or show held every evening from 9pm to midnight. There was a karaoke night, an evening of jazz, a DJ dance night, and a bonfire night at Raake's Point, which is reached by pontoon boat. Wednesday was Game Night. ("This night was packed. Everyone split off into groups to play Pictionary, poker, charades, and other parlor games. We joined a very spirited game of Celebrities, which was a huge amount of fun.") On the last night, there was a Carnival night for the whole family with clowns, maple cotton candy, carnival games, a bounce house, and acrobatic performers. ("This was a lot of fun for everyone, and a bit bittersweet because everyone knew they were leaving the next day.")
If you want a babysitter, you just ask at the front desk. Even on a popular night, like Game Night, they will find one for you, but it's best to put in your request by noon on the day you need the sitter. The babysitters pool is made up of Tyler Place staff, and you can ask for your child's favorite counselor if you like. ("We got a babysitter for Games Night. We didn't make a special request, but the sitter ended up being one of the counselors from the Senior group, so Aisling knew him. He was great. My 4-year-old kept asking for us to go out another night so could come back.")
Where to Stay: The Tyler Place's 67 accommodations are spread throughout the resort. Most are cottages and guesthouses, but there are also inn rooms and several apartment-style units carved from larger mansion-style homes. In keeping with the old-fashioned feel of the resort, no accommodations feature a TV. ("This was great. None of us missed it.") Since each property is unique, the best way to find specific details about a cottage is to visit the Tyler Place web site or speak to their reservations staff. Regardless of where you stay, there is a terrific daily housekeeping service. Guests returning from the previous year get first dibs. ("Since so many guests return year after year, people tend to hang on to their units. In fact, they feel very proprietary about them, in a good way, the way people with vacation homes do.)" As a new guest, the more flexible you can be about dates, the better. If you are limited to a single week or two, you may not have many choices.
The Kellehers stayed in a cottage called Winnie's, which is a mid-priced property at the Tyler Place. The front door led into an enclosed front porch, which featured a twin daybed, dresser and nightstand. This led into a good-sized living room with a couch, large armchair, and table with two chairs. The look was rustic Vermont farmhouse, with lots of wood, vintage lamps, and overstuffed upholstered furniture. There was a good-sized master bedroom with a queen bed, dresser, two small armchairs, and a full bathroom that contained a stacked washer/dryer. There was a smaller bedroom with a twin bed and dresser that also had an upright piano tucked into an alcove. There was a very large enclosed sunporch on the side of the cottage that featured a couch, twin bed, and a full bathroom. A wide passage between the living room and sundeck doubled as a galley-style kitchen. Built-in floor-to-ceiling cabinets lined one wall. There was a refrigerator, oven and stovetop, plus a full assortment of dishes, cookware, and utensils in good condition. A sliding door from the living room led to a large, tiered outdoor deck out back. ("We fell in love with Winnie's right away. Each kid picked a bed and started unpacking. Our family of five had plenty of space. The kitchen was set up for cooking, though of course we didn't need it to be. Still, it was nice to have a fridge and we did buy snacks, PB&J fixings for the kids, and a few bottles of wine. It was extremely charming and yet very comfortable. The kitchen and bathrooms were up-to-date, and the place was spotless.")
Price Tag: During the peak season (June 19 to September 4), all guests are on a seven-day, Saturday-to-Saturday schedule. Rates at the Tyler Place are virtually all-inclusive. They include lodging, all meals, the children's camps, and the overwhelming majority of adult and family activities. Your base price will depend on three things: Your accommodations, how many children you have, and your children's ages.
Adult rates are based on where you stay. In general, the most expensive digs are waterfront cottages or cottages close to the inn. You can save by requesting a cottage further from the hubs of activity. During the peak season, rates for adults range from $187 to $346 a night. That translates to a weekly rate of between $1,309 and $2,422 per person. For a couple, figure on between $2,618 and $4,844.
There is a flat $116-a-day rate in peak season for kids aged between 30 months and 15 years old. That works out to $812 a week for each child. Note: Babies and toddlers under 30 months are charged at a much lower rate, but there is an additional cost for parent helpers.
Add up the cost of the adults and the kids, and a family of four arriving in mid-summer could pay anywhere between $4,242 and $6,468, depending on where they stayed. A family of four renting Winnie's would pay $5,250.
Your vacation will be significantly less expensive if you come on the fringe weeks of summer. From Memorial Day weekend to June 19 and September to September 11, rates are as much as 50% below those in mid-summer.
What do you pay extra for? Alcoholic drinks. The motorized watersports, like banana boat rides, bumper tubing, and waterskiing, cost between $25 and $35 per family outing. A few of the adult courses, such as the pottery workshop, also incur a fee. You also pay extra for spa services and golf.
The policy at the Tyler Place is "absolutely no tipping to spoil the spontaneity and fun" during your stay. You never tip your housekeeper, wait staff, bartender, or boathouse guys. But on the day you leave, your bill will reflect a flat 10% service charge.
Overall, we believe the Tyler Place offers fabulous value for money, considering the quality of, well, absolutely everything. ("There is no skimping of any sort here. The Tylers only do something if they can do it right.")
Insider Tips:
Bring a valid passport. Several of the Tyler Place's most popular excursions go to nearby Québec.
Pack sunscreen, a sun hat, and bug spray.
Handy-to-have items include water shoes (for exploring the shore), hiking boots, and a daypack.
Sports attire, jeans and shorts will get you through the days, but you will want a few nicer outfits for evening. (Think sundresses or smart slacks for ladies, button-down or polo shirts for guys.)