Whistler, British Columbia
By Shane Leinster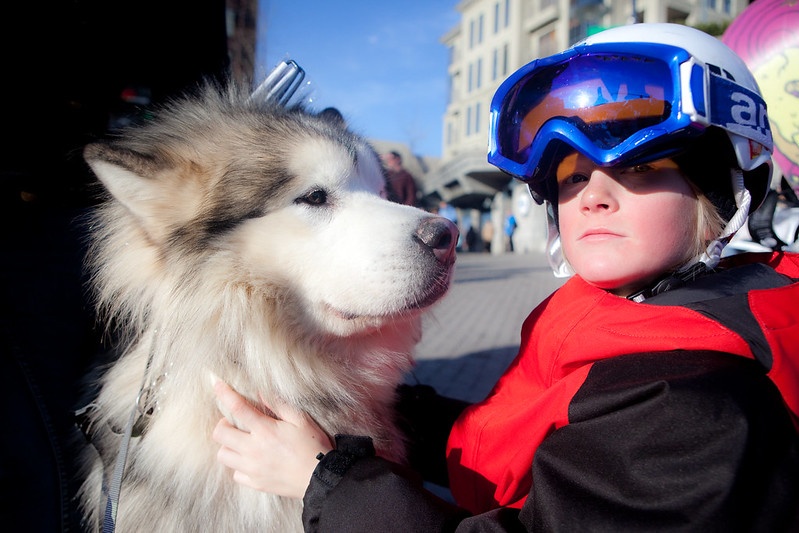 Why Go: Two words: Big Buzz. Even before the International Olympic Committee chose Whistler-Blackcomb to host the 2010 Olympics, the place was a Goliath among ski resorts. The mountains are so awesome—with peaks towering some seven thousand feet above the valley floor—that unless you look at them from bottom to top on a clear day, well, you simply can't grasp their immensity. Then there are those mindboggling numbers: Three glaciers, 37 lifts, 12 bowls, over 200 trails, 5,280 vertical feet (yesiree, folks, that's a mile), 8,100-plus skiable acres, 404 inches of annual snowfall, and an unbelievable 8-month season that typically runs into June. Heck, this place is so colossal that it often has several microclimates all to itself. Snowing in the village? Head mid-mountain and there might be a patchy fog. Hop an alpine lift to the top and you just may need to break out your sunglasses and SPF45.
(MORE: See other top family ski destinations.)
Being chosen to host the Olympics ensured that Whistler-Blackcomb will continue to get better all the time, which is one reason why the readers of Ski magazine voted it the number two resort in 2008 and 2009, slipping just a tad in 2010 to the number three place. In preparation for the games, over $17 million CAD ($16.7 million US) was injected into the resort for on-mountain improvements, including better snowmaking and grooming, and a new nighttime tubing park on Blackcomb. The buzz has brought the inevitable explosion of upscale hotels, fashionable restaurants, and salubrious day spas. On any given day, 20,000 people regularly swarm the village's hotels, bars, restaurants, and streets and yet, thanks to all those trails, the mountain always stays marvelously crowd-free. You name it and they're here: Lumberjacks, lawyers, secretaries, and CEOs. Old folks, boomers, college kids, and toddlers. Latinos, Brits, Asians, and Aussies. Fashionistas, preppies, slackers. And, yes, even families.
Most folks who bring the kids are here for one of two reasons: The big mountain experience or the well-regarded Whistler Kids ski program. Our correspondent, Shane Leinster, and his family visited for a weekend to see if such a massive resort really can deliver the proverbial something for everyone.
Getting Oriented: The resort lies about 85 miles north of Vancouver on the scenic Sea to Sky Highway, whose pre-Olympics upgrades have made a positive impact on travel time. Whistler and Blackcomb are two separate, mammoth mountains that sit side by side and have been operated as a single resort since 1997. The top third of each peak is the high alpine—imagine enormous, treeless basins divided by windswept ridges. On the mid-mountain third, you'll find trails of all kinds—cruisers, bumps, glades—carved between the trees. And the bottom third is made up of nice wide boulevards that bring everyone safely back to the base and to the heart of Whistler village.
The ever-so-pretty village has a great center feel about it, thanks to its compact layout and many pedestrianized streets. Everything is spankin' clean (Whistler gets awards for its environmentally-friendly policies) and shiny and new. Hotels in the village are just a short walk from both the Whistler and Blackcomb ski lifts. Yet while the two mountains share the village, each has its own Whistler Kids ski school and its own childcare facility.
About five minutes down the road, on a road that skirts around the bottom of Whistler mountain, is yet a third ski base, called Creekside. Anywhere else, Creekside would qualify as a nice little resort on its own, but at Whistler, it's the runt of the litter. At Creekside, you'll find yet another gondola and more chair lifts, another Whistler Kids location, another daycare facility, and another lovely—albeit smaller and quieter—village with more squeaky-clean, fresh-out-of-the-box lodging, restaurants, and shops.
Getting Around: Once you arrive at Whistler-Blackcomb, it's conceivable that you wouldn't need to get back in your car until you leave for home. Hotels, restaurants, and ski lifts are all within walking distance of each other, whether you're based near Whistler village or at Creekside. Interconnecting trails let you ski between the two areas, and free buses run all day around Whistler village and back and forth to Creekside.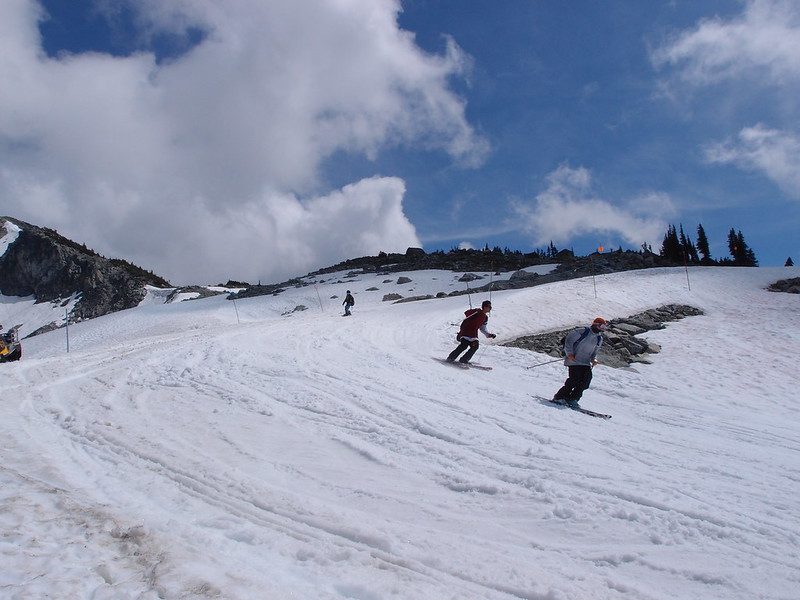 We Are Family: What ski-crazy families with older kids and teens might see as Whistler-Blackcomb's most compelling assets—its vastness and wonderful diversity—could be a negative for families with young kids. The sheer size of the place can be disarming. To help make itself more accessible, the resort offers its ski school and childcare at three different locations.
There are daycare centers located at the Blackcomb base (for 18 to 48 months), Creekside base (for 3 to 36 months), and in the Westin hotel (for 18 to 36 months) in Whistler village. During peak season, each location is open 7am-9pm (8am-5pm in early and late season). Friendly counselors keep tykes engaged in age-appropriate activities throughout the day. Bonus points: They give you a pager for the day when you drop off your bundle.
At Whistler Kids ski school, kids can learn to ski at 3 (if potty-trained) and snowboard at 5. Neither of the Leinster girls had been on skis before, and were enrolled for two full days of ski school. Regardless of which of the three locations you choose, classes are grouped by age and the school day unfolds in the same way. Just before 9am, kids arrive at the base of the mountain in front of the gondola, where they meet their instructors and classmates and say good-bye to their parents. Each class then rides the gondola to the school's mid-mountain lodge, which is set on a safe, flat section isolated from other ski runs. Kids take the "magic carpet" surface lift up the learning hill and start out making wedges and "S" turns, and learning to stop. Older kids quickly learn to ride a chair lift and tackle some easy-going cruising runs.
Importantly, the Whistler Kids instructors know how to make skiing fun. ("My kids were always full of smiles and excitement.") The day is spent on the slopes, except for snack time, lunch, and a play break in the lodge, which features coloring tables, a play area with toys, and large windows to let in natural light. Parents pick up their kids at 3:30 pm back at the base of the gondola.
The Whistler Kids set-up has a lot going for it. Isolating the school from other skiers provides a safe, distraction-free environment so instructors can do their job. ("I loved the idea of our kids being in the safe hands of great instructors.") Parents are strongly encouraged not to hang around at the kids' lodge, and not to drop in unannounced during the day. If you do visit, you're asked to remain in the discreet viewing area off to the side rather than approach your child directly. We think this "leave your kids to us" system works extremely well for school-age kids.
But for little kids who aren't used to a full school day or being away from their parents for long stretches, personality and temperament will play a big part in determining whether this kind of school makes sense for your child. If your kids are nervous about ski school, we suggest taking a free test ride on the gondola together and visiting the mid-mountain base before the first morning of ski school. This may dispel any separation anxiety that children (and parents) may have.
On several occasions when Leinster was peeking on his 5-year-old's class from the viewing area, he observed the instructors having to ask parents to leave, because it had upset some of the younger children whose moms and dads hadn't come. Whistler Kids might consider coming up with a better way for parents to reassure themselves without interrupting the learning process, perhaps by inviting parents to pop in during designated break times. ("It would have been nice not to feel so awkward checking in on them.")
The 6-hour day was perfect for 9-year-old Muirenn. ("She loved it so much that she cried when it was over.") While 5-year-old Aislinn enjoyed every minute of her first day on skis, she was too worn out to attend the next day's class in which she'd been enrolled.
While most people come to Whistler-Blackcomb to ski or ride, it's possible to partake in practically any type of winter activity, including snowshoeing, cross-country skiing, tubing, sledding, dogsledding, and ice skating. There's even a castle climbing structure designed for kids in ski boots, and a guided tree trek through the forest canopy. In 2008, the resort rolled out the Peak-To-Peak Gondola, an awesome 11-minute ride that spans the length of the two mountains. One highlight for the Leinsters was a half-hour Clydesdale-drawn sleigh ride through the backcountry of Whistler. While enjoying the spellbinding mountain scenery, "we were kept cozy with lots of warm blankets and hot chocolate" until the final destination: The Fairmont Château chalet and a gourmet three-course fondue dinner ($109CAD/107US/adults and teens; $59CAD/$58US/kids 12 and under; free for kids 4 and under; kids' menu available). It was a splurge, but "my girls will remember it for years to come."
In Whistler village, there are many more opportunities for family fun: A large outdoor playground, a rock wall climbing center, an arcade, a bowling alley, an 8-cinema movie theater, and a number of toy shops and bookshops. There's also a skateboard and BMX park, and a sports center with in-line skating and an indoor pool.
Where to Eat: Whistler has more than 130 restaurants of every ilk, with something to please every palate. Every one of the 17 on-mountain eateries is kid-friendly and many have childrens' menus. At the Roundhouse Lodge (top of Whistler Village gondola) and Rendezvous (top of Blackcomb's Solar Coaster Express), your kids can play Playstation while you finish your meal. In Whistler village, family favorites include the Old Spaghetti Factory, the Pita Pit, Trattoria di Umberto, and Avalanche Pizza. In Creekside village, try Dusty's Backside and Boston Pizza.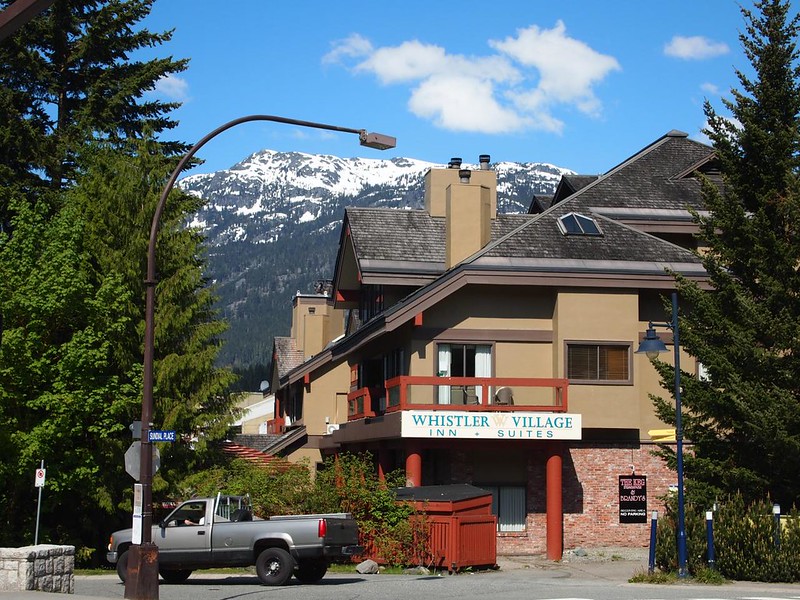 Nightlife: Whistler is very much a party destination for 20-somethings from every corner of the globe. In an effort to make the après-ski scene more family-friendly, most establishments welcome kids until 7pm, so parents can enjoy a quick drink while the kids have a hot chocolate or a soda. As the night goes on, however, the scene becomes more alcohol-fueled, as partiers hop between cigar bars, dance houses, lounges, and nightclubs. For families walking around the village at night, the atmosphere is not threatening, but it can get loud and raucous.
If you want to sample the nightlife, many hotels provide in-room babysitting through outside agencies.
(MORE: Browse kid-friendly hotels near Whistler.)
Where to Stay: With over 115 lodging options and some 5,400 rooms (including condos, hotels, B&Bs, and motels), it can be difficult for families to know where to start. Whistler could do more to help steer families toward lodging that meets their needs, perhaps by designating certain sections of the resort for "family lodging" to build a sense of community, or by flagging the most family-oriented properties on its web sites.
We called Whistler Central Reservations on six separate occasions to get advice on which lodging options were the most family friendly. Several operators stated that "Every property is family friendly." Every property may indeed accept children, but we wanted to hear about those that actually address the specific needs of families. Big difference. Our advice: When you search for accommodation here, be very specific about your priorities and needs: Do you need ski-in/ski-out convenience? A location near one of the Whistler Kids meeting points? Kitchen facilities? A quiet location? A pool or kids' room? How about babysitting?
The Leinster family stayed at the chic Summit Lodge & Spa, in the section of Whistler village known as Village North. Their one-bedroom condo was comfortable and spacious, with a queen-size bed, pull-out king sofa, a small kitchen, and on-demand movies. Downstairs, there was "a superb staff," a pool and hot tub, a gym, and massage service. But while "it would be great for families with teens," we wouldn't recommend it for families with young kids because it was too noisy at night. ("Our sleep was interrupted by the thump-thump-thump of dance beats from, well, it seemed from everywhere.")
If you're heartset on staying in Whistler village, one of the most kid-friendly options is the five-star Westin Resort & Spa (twice named the number one ski resort hotel in North America by Condè Nast magazine), located steps from the Whistler Kids meeting point at the Whistler gondola. It's got ski-in/ski-out convenience, an indoor/outdoor heated pool, and a kids' club. One of the resort's three daycare centers is located here, too. Plus: While it's located in the village, it's far enough away from the nightclubs to remain quiet at night.
Our preference for families is Creekside, because it's quieter than Whistler village but still has a community feel, as well as a Whistler Kids school and a daycare center. Try Legends, an all-suites hotel located at the foot of the gondola, for ski-in/ski-out convenience. You can choose between 1-, 2-, and 3-bedroom suites, which feature WiFim fully-equipped kitchens and gas fireplaces. Family-friendly features include an outdoor heated pool (open four seasons), laundry facilities, a kids' room featuring computer games and TV, a lounge with a pool table, and a media room with large-screen TV and seating for eight. In the evening, Legends hosts family-friendly movie nights.
Price Tag: While the resort's web site promotes dozens of package deals available at any given time, none only one is specifically targeted at families, and includes discounted adult lift tickets, plus free kids' lift tickets, five nights' lodging, rentals, and airport transfers for kids 12 and under (kids six and under normally ski for free). Off-season rates for the Family Package are $101CAD/$96 US and $139CAD/$132 US per adult, per night during peak-season. If you are looking for a shorter ski vacation (the family package is only available for five night stays), you'll still be able to save by booking through Whistler Central Reservations, which can bundle discounted accommodation with lift tickets and Whistler Kids lessons.
So what can a family of four expect to pay for a 3-day/3-night ski weekend? Staying in January in a 1-bedroom suite at Legends, located at Creekside, including two 3-day adult lift tickets and the 3-day Whistler Kids ski program for two children (assuming they are over the age of six), start at roughly $2,300CAD/$2,254US, including 14% tax. The identical package in a 1-bedroom suite in the Westin Resort, in Whistler village, would run roughly $2,700CAD/$2,649US, including tax. Be sure to check the online deals available on the resort's web site. If you plan a 5-night holiday during certain periods, you can get the last night free.
The favorable exchange rate (at press time, $1CAD = $0.98US) is offset somewhat by the whopping 14% tax, which is comprised of a 2% lodging tax plus 12% sales tax.
Insider Tips:
In case we hadn't mentioned it, this place is big. Trust us: You'll need help getting your bearings. Tag along on one of three complimentary 1-1/2 hour mountain tours, which meet at 11:15am daily. At Whistler, meet at the Guest Satisfaction Centre at the Alpine Lightboard (top of the Whistler Village gondola). The Blackcomb Orientation Tour and Blackcomb Glacier Tour both meet at the Guest Satisfaction Centre (top of the Solar Coaster Express).
Ask about the hidden tree fort in the woods of Whistler, complete with tube slides for the kids. It's a great spot to kick off the skis for a moment and recharge.