Hawley, Pennsylvania
By Stacy Lu
Why Go: Pennsylvania's Pocono Mountains have long been a playground for city folk and suburbanites who yearn for the Great Outdoors and the convenience of a full-service resort. While the vast majority of these properties cater to a wide clientele, Woodloch Pines Resort is unabashedly and quite unapologetically a family resort. It's been owned and run by the Kiesendahl family for 48 years. The current owner, John Kiesendahl, grew up here and took over from his parents. By all accounts, what has always set Woodloch Pines apart is the highly personal service. As Kiesendahl puts it, "We try to treat our guests as if they were company in our home." That's no sales rhetoric. At dinnertime, it's not uncommon for several generations of Kiesendahls to stop by your table just to say hello and make sure you're having a good time.
When our correspondent, Stacy Lu, and her family spent a weekend at Woodloch Pines, it was clear that the go-the-extra-mile brand of hospitality extends beyond the owner. Folks who work here genuinely seem to love their jobs. ("They were without exception cheerful and professional.") Many employees have been with the Kiesendahls for decades, and anyone in a uniform can tell you just about everything about the resort, including its history.
Whatever the season, whatever your age, there's always something fun to do. In winter, you can ice skate, go tubing, drive go-carts and bumper cars, go sledding, or just play on the massive, three-story jungle gym. Discount tickets to nearby Big Bear ski resort are available at the front desk. Indoor activities include rifle shooting, swimming, and racquetball. All day long, there are back-to-back family fun-style games—the goofier the better—that include trivia contests, "Name That Tune," bingo, scavenger hunts, and tubing races. Everything is done in an inclusive, communal spirit that makes it easy to meet other families. ("It's one big deluxe sleepover camp, and I mean that in the best possible way.")
Perhaps a cruise ship is a better analogy, if we can forget for a moment that this place is some 110 miles inland. For starters, the resort's all-inclusive pricing (pretty much everything is included except beverages and gratuities) means that you don't have to worry about racking up a huge bill for food and entertainment, and it encourages you to take part in as many activities as you like. Every morning at breakfast, you receive a schedule of the day's activities. Nothing has to be pre-booked, except for babysitting or perhaps a massage. And, just like on a cruise ship, you eat dinner at the same time, at the same table, served by the same waitress, every night.
Over the years, Woodloch has been cited as one of America's best family resorts by Parents, Better Homes & Gardens, and Family Circle. Lu met families that had been coming to Woodloch for the past four, 16, even 30 years. It's particularly popular with large, multi-generational family gatherings. One mom told Lu that she lets her children choose between Walt Disney World and Woodloch, and every year Woodloch wins out.
Still, such comparisons don't get to the crux of Woodloch's appeal. Families love this place as much for what it isn't—pretentious, stuffy, or in any way stressful—as for what it is—endearingly old-fashioned and wholesome. The lodges have an outdoorsy feel, with huge picture windows that look out onto a tubing run, sledding hill, or some other scene where families are out having fun. The lobby evokes a huge, comfy living room that's neither grand nor formal. ("It practically screams 'Pennsylvania!' to this native, anyway.") Two log fires crackle at all times throughout the winter. A self-serve table is set up with cakes and coffee next to a big wooden Indian. Toddlers wrestle and flop around on the overstuffed plaid sofa. It's the kind of place where you dress casually for dinner, except maybe on Saturday night when there's a (largely unenforced) jackets-for-men dress code. Public areas are always happily noisy and bustling. No matter how rowdy your kids are, nobody bats a judgmental eye. Should a tyke get off his chair and roll around on the floor at dinner, your waitress will just cheerfully step over him. You get the idea. Above all else, Woodloch is easy.
Getting Oriented: Woodloch Pines is a self-contained resort set in the Pocono Mountains in the northeastern corner of Pennsylvania, about 100 miles northwest of New York City. Regardless from which direction you come, you'll hit hilly local roads for the last 15 miles, so bring your four-wheel-drive if you have one.
The heart of the 1,000-acre resort is a curved strand of low-lying buildings set near the shore of Lake Teedyuskung and surrounded by a forest of gorgeous eponymous pines. You check in at the lobby in the Main Lodge, where there's also a nightclub, sports bar, movie room, and dining room. A second main hall, called the Inn, has two additional dining rooms. Most of the 150-odd guestrooms and suites are scattered throughout three residence buildings: Greenbriar, Springbrook, and Mountain Laurel. Almost everything is within easy walking distance of the main buildings, except for certain activities, such as skating or rifle shooting, which are located up to a 1/2-mile away but still on the resort's grounds.
Getting Around: Park your car and forget about it for the weekend. Several shuttle buses loop the grounds daily from 8am to 2am, stopping at each residence and activity area. Officially you might have to wait 15 minutes for a bus, but the Lu family never waited for more than five, even though the property was full almost to capacity. Note: Because the resort is self-contained and extremely safe, many parents let their school-aged kids travel on the buses alone.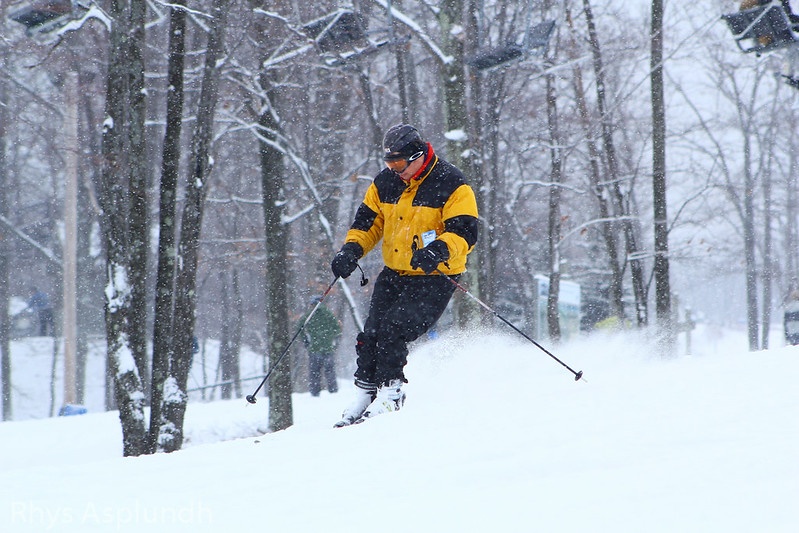 We Are Family: With few exceptions, activities are designed for all-family participation. Many facilities are open all day (toddler playroom, arts-and-crafts room, two arcades, indoor heated pool and kiddie pool, skating rink), so you can go whenever you like. Other activities, like tubing and go-carting, are available during two-hour periods. On top of this, there's an all-day roster of organized events. The line-up might include a kid's puppet-making class, organized toddler games, a trivia contest, bingo, a tubing contest, and a kid's yelling contest. There's even a mock Winter Olympics (ages 7 and up), complete with awards ceremonies. ("The whole point is to relax and watch your kids enjoy themselves, and for big people to play along and get foolish, too.")
Every facility appears to have been designed solely for parents' convenience. At each activities outpost, there are changing tables in both the women's and men's rooms. Play areas have hand sanitizers by the exits, a big hit with Lu. There are ample cloakrooms and designated stroller parking areas in every building. Guestrooms are childproofed. Woodloch can provide a crib, bed rails, or a cot ($20/stay). If you need a nightlight, one can be procured in a jiffy.
Kids of all ages can run off energy in Woodloch Forest, an elaborate indoor padded playground designed to resemble a forest. There's also a separate Toddler Forest with pint-sized equipment. Little tykes can drive kiddie-sized, battery-operated jeeps. Those who don't make the height requirement to drive their own go-cart can ride with their parents. Kids 10 and up can also try rifle shooting, in an ultrasafe environment with bolted-down guns and under close supervision. Teens can drive bumper cars and, if they have driver's licenses, go snowmobiling.
For the Lus, the weekend at Woodloch was all about relaxing and having fun in each other's company. ("The kids had an amazing time.") They went ice skating, swam in "the very nice heated pool," and hung out at the outdoor bonfire. The 4-year-old twins played in Woodloch Forest, played games in the arcades, and had a blast driving Barbie jeeps. Both parents shot 22s at the rifle range (one at the time, while the rest of the family watched from behind a plexiglass wall).
Despite Woodloch's all-family, all-the-time vibe, it's conceivable that you might want a few hours to yourself to take advantage of the well-equipped gym (with sauna), professional massage service, or to try a yoga, line-dancing, or cooking class. You can book a babysitter (the resort uses mainly staff members) who will gladly escort your kids to any activity with the exception of the pool ($6/hr for first child; $1/hr each additional child; minimum $25). Note: Guests at Woodloch Pines now have privileged access to a full menu of spa treatments and services, including half- and full-day programs, in the brand new Lodge At Woodloch spa.
Where to Eat: The all-inclusive American Plan includes three meals a day in the dining room, served family-style, with plenty of children's choices available, such as PB&J, chicken tenders, hot dogs, yogurt, and even a cheese plate. The food is "plentiful and delicious." Except for the copious buffet smorgasbord laid out for Sunday lunch, every meal features an a-là-carte menu, with a choice of entrée, soup, salad, and side dishes. Want seconds? Just ask.
Vegetarian? No problem. Atkins? They can do it. If your child is allergic to nuts, somebody in the kitchen will hand slice bread, wearing gloves, in a nut-free area. Want a certain brand of packaged cheese sticks to go? You got 'em. When the Lus' waitress heard that the twins' favorite dessert was frozen strawberry yogurt, it magically materialized, though technically not on the menu.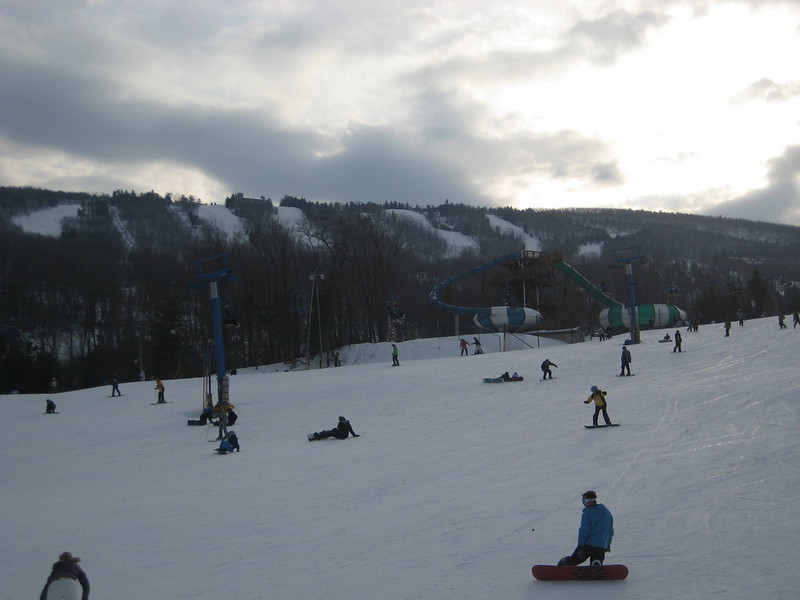 Nightlife: Every night, a character greets the kids, to great popular acclaim. After dinner, there are movies for children and balloon shows. ("Dr. Balloonicus even made special butterflies for the girls after the show, when Isobel cried for one.") For teens, there are DJ dance nights, and the arcades and indoor pool stay open until about 11pm.
As is true with daytime activities, audience participation plays a big part of the evening fun. During the Lus' visit there was a very well-attended horse racing night, which involved a lottery-style wheel and cardboard horse cut-outs. ("It was hysterical. There must have been 350 people or so of all ages—and I mean babies, too—packed into the room, cheering for their favorites.")
For adults and teens (minimum age 13), a highlight is the professional, Broadway-style musical revue. When the resort is full, as it was when the Lus visited, there might be also be a 5pm show so younger kids can come, too. If your kids are too young to attend the show, you can book a babysitter (for rates, see "We Are Family"). While it's recommended that you book a sitter by 11am, the staff will do its best to accommodate last-minute requests.
Where to Stay: The Lus stayed in a Deluxe Lakeview room in the Greenbriar residence. It was spacious, with two queen-sized beds, a pull-out couch, and a large private balcony with a view of the frozen lake. There was a large walk-in closet with an additional sink. All guestrooms feature mini-fridges, irons, ironing boards, coffeemakers, hair dryers, cable TV with on-demand movies, and pay Nintendo ($6.95/game). Rooms in Greenbriar have indoor access to the Main Lodge, where the nightclub and many activities are based, a boon to those who would otherwise have to bundle their kids for each trip. While accommodation isn't luxurious, rooms are very comfortable and well-appointed.
Most suites, similarly spacious, have kitchenettes and are located in Springbrook and Mountain Laurel, which don't have indoor access to the main buildings. Each residence building has its own spotless, coin-operated laundry, and every building is wheelchair accessible.
Larger families can rent one of the 56 private cottages or houses, which have up to five bedrooms and full kitchen facilities.
Price Tag: The American Plan, which includes all meals, activities, and entertainment, offers the best value. The per-night adult rate depends on which accommodation you choose. Children's rates are on a sliding scale by age, so the older your kids, the more you pay. A 2-night weekend for a family of four like the Lus, with two pre-schoolers, starts at about $1,000 for a standard room; the same weekend in a Greenbriar lakeview room starts at about $1,070. Comparatively, the same weekend for a family of four with two teens starts at about $1,220 for a standard room. Prices are higher during school vacation periods.
At Woodloch, you don't have to stress out over incidentals and add-ons. ("The place has an incredibly generous spirit, from the endless food to bar service that always seemed to have happy hour prices.") The gift shop prices are reasonable. Babysitting costs less per hour than what you'd likely pay a teenager in your neighborhood. You're encouraged to arrive as early as possible on your day of arrival, so you can join in the activities, and Sunday check-out is an extremely civilized 4pm.
Insider Tips:
Go with the intention of participating in the organized games, contests, and competitions. You'll have more fun if you join in!
If your gas tank is nearing empty as you near the resort on your day of arrival, fill up at the Exxon station at the end of Route 6, before you hit the local roads.
At breakfast, remember that you can request snack bags to take along for the day's activities. This can mean the world of difference for small kids who like to graze or eat off-hours.