Less Money, More Mouse
By Suzanne Rowan Kelleher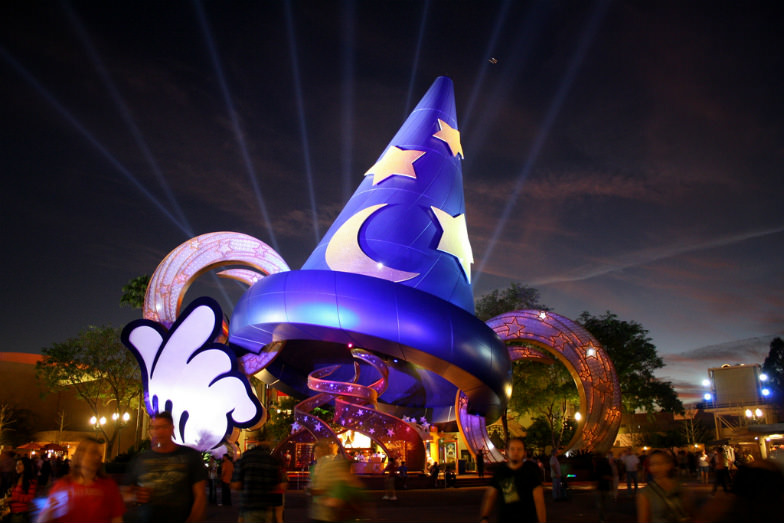 Disney World (Flickr: Dawn Ashley)
Got kids? Chances are, you've probably either already visited Disney World or it's high on your vacation wish list. It's hard to think of another family destination that has as strong an emotional pull or one that keeps 'em coming back year after year.
The good news? If you're dreaming of a trip to Disney World, you can probably get there without cracking open your retirement account or dipping into the kids' college fund. In fact, Disney can be downright affordable with some smart planning and savvy deal snatching. Here are 10 easy ways to save a bundle on your next trip to the world that Walt built.
Go in the off season. Disney hotels generally have five pricing seasons. You pay the least during "value season," which comprises most of mid-August through mid-September, and from early January through mid-February. The fancier your hotel, the more you save by traveling during value season. For a standard room with a garden view at Disney World's most expensive hotel, the Grand Floridian, the price differential between high and low season is up to $250 a night.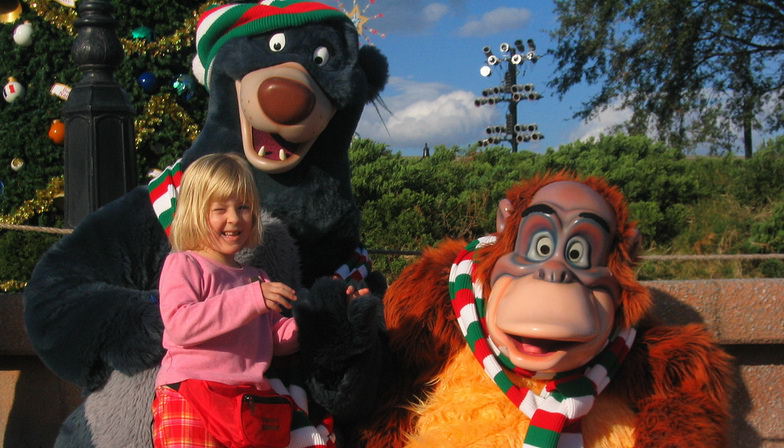 Disney's World Showcase with Balloo and King Louie (Flickr: The Consortium)
Be a happy camper. Got a tent or an RV? If your family likes to rough it—and in Disneyspeak, that can mean not only electricity and sewer, but even cable TV—you can cut your lodging bill to as little as $69 a night at the Fort Wilderness Resort & Campground. There's plenty of inexpensive fun to be had, thanks to two heated outdoor pools, tennis, horseshoes, shuffleboard, fishing, bicycling, pony rides and horseback trail riding, and nightly wagon rides around the resort. Hands down, the most beloved tradition is the nightly campfire sing-a-long and marshmallow roast with Chip 'n Dale, followed by a G-rated Disney double feature on a huge outdoor screen under the stars.
Want luxury? Look beyond hotels. If you're willing to splurge on posh digs, you'll get the most bang for your buck at the Disney Vacation Club resorts. These deluxe, condo-style resorts operate similarly to timeshare properties, but non-DVC members can stay here, too. The big upside? More space for your dollars than you'd get at a hotel. For the price of a standard hotel room with a lagoon view at Disney's upscale Polynesian Resort, for example, you could get a plush one-bedroom unit at Beach Club Villas with a fully-equipped kitchen, two TVs, a large marble bathroom with Jacuzzi tub, and an in-room washer/dryer. A bonus: Having your own kitchen can help you shave your food bill.
Go with a meal plan. Guests who stay at Disney resorts are now eligible for two dining plans. The first is the Magic Your Way Package Plus Dining, which costs as little as $123 per person per day. The package includes one table-service meal, one counter-service meal, and one snack per person, per day—which can be a fantastic value for foodies and folks who love character breakfasts and dinner shows, not to mention the free discounts and vouchers. The second option is the Magic Your Way Package Plus Quick-Service Dining Plan, which includes two counter-service meals, two snacks, and one refillable beverage mug per person, per day—which can be a fantastic value for most families, as well as all the discounts and vouchers.
Join the AAA. This one's a no-brainer. A standard AAA membership costs $48 per year plus the one-time $20 new member admission fee. During value season at Disney World, an AAA member can chop 20% off her lodging bill at any of Disney's moderate and "value" (read: budget) properties or 15% off at a deluxe or DVC property. Now, let's translate those percentages into dollar signs. Stay five nights at the moderately-priced Caribbean Beach Resort during value season, and you'd save about $149. Spend five nights at the deluxe Animal Kingdom Lodge and you'd save more. Outside of value season, the AAA discount ranges from 10% to 15%.
Curb your enthusiasm. When it comes to buying tickets, it's wise to temper your ambitions with a reality check. Let's suppose that you're a family of four, with two kids between 3 and 9. Basic three-day tickets, which let you visit one of Disney World's four main theme parks each day, will set your family back at least $1,132. Then come those add-on options. Want to be able to visit more than one park in the same day? Add the Park Hopper option and the price jumps to around $1,344. Want access to Disney World's two waterparks and one of Downtown Disney's attractions? Your tickets now cost a whopping $1,404! Slow down. Disney World is twice as big as Manhattan. You'll be doing a lot of walking. Most likely, it will be hot. Your kids will get tired. Buying a more expensive ticket doesn't mean that you'll be able to see and do it all. For most families, the basic Magic Your Way ticket will deliver more than enough fun, especially if you plan your days around which park is offering Extra Magic Hours.
Keep tabs on the usual suspects. Flying to Orlando? Check the major airlines' web sites for Disney vacation deals that bundle your airfare and hotel together.
Go for refills. When you stay at a Disney resort, buy a refillable souvenir mug for $8.99 (one day), $11.99 (two days), $14.99 (three days), or $17.99 (entire stay) at the hotel's quick-service eatery or food court. For the duration of your stay, you can help yourself to free refills of the non-alcoholic beverage of your choice—coffee, juice, iced tea, soda, or hot chocolate. The longer you stay, the better the deal. Note: A refillable mug is included in the new Magic Your Way Plus Quick-Service Dining Plan.
(MORE: Find out how other families are spending their Disney vacation with their MiniTime trip plans.)
Buy the tee-shirt before you go. The Wal-Marts, Targets, and Costcos of this world carry cheap Disney merchandise—caps, stuffed toys, tee-shirts, sticker books, you name it— for a fraction of what you'll pay for similar items inside Disney World. Before you go, buy Junior something emblazoned with his favorite Disney character, but don't give it to him until you arrive in Orlando. Even if you choose to let him pick out one more small memento at the end of your vacation, your total souvenir spend will stay reasonably low.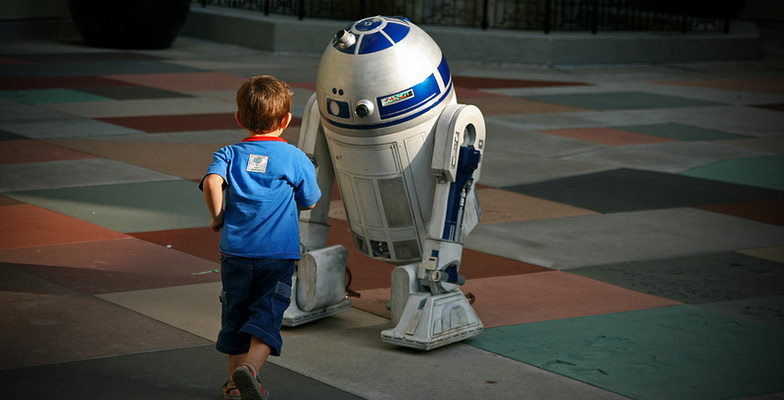 Meeting R2D2 in Disney World in Orlando (Flickr: Lou Oms)
Hitch a free ride. If you've booked a stay at any of the Disney-owned resorts, you can take advantage of a complimentary airport-to-hotel transportation service called the Magical Express. You should reserve this service at least 10 days prior to your arrival, either online or by phone. Disney will send special luggage tags in the mail, which you should attach to your bags. When you land at Orlando International Airport, you skip the baggage claim and go directly to the Disney Welcome Center. There, you'll board an air-conditioned motor coach that will bring you to your hotel. A sweet touch: Disney will collect your luggage and deliver it directly to your hotel room. No hassles, no schlepping, no cab fare.