Family-friendly on-site hotels at Disneyland
By Rowena Carr-Allinson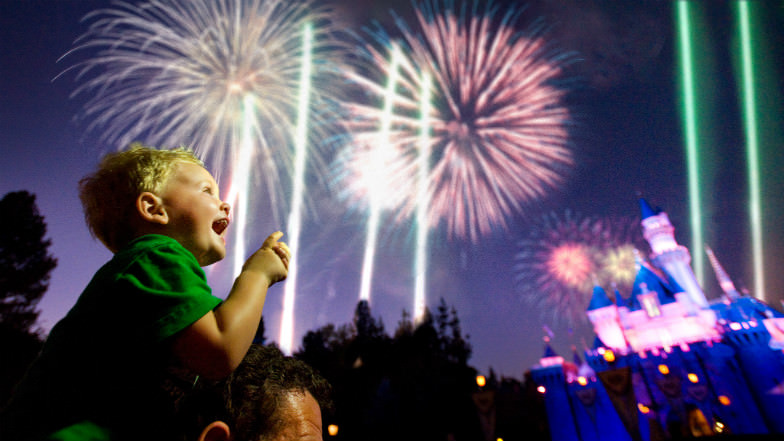 Fireworks at Disneyland Anaheim (Courtesy Disney)
Surely one of the best places in the world for a family vacation, Disneyland Anaheim has been dubbed the "Happiest Place on Earth." Disneyland was built with kids of all ages in mind, under Walt Disney's direct supervision so it's the ultimate kid-friendly attraction in California! Hit Main Street, U.S.A. and take in the beautiful fairytale castle which has become a Disney symbol. Peter Pan fans can explore the future in Tomorrowland, while Star Wars enthusiasts can join the Jedi Training Academy and the youngest guests can experience the joys of the Small World – and that's just to start!
To complete your Disneyland Anaheim experience with the family, here are the park's three onsite hotels and their Disney-stamped family-friendly amenities:
Disney's Grand Californian Hotel Anaheim, Anaheim, California
Disney's Grand Californian Hotel Anaheim (Courtesy Disney)
Set within Disney's California Adventure Park – the second park at the Disneyland Resort, Disney's Grand Californian Hotel in Anaheim is definitely kid-friendly! The newest addition to the resort, it's right on Disneyland Drive and just a few minutes walking distance from the theme parks and downtown Disney district. Families can catch the shuttle service (available for all Disneyland onsite hotels) from the airport for a hassle free arrival. Even better, there's a private entrance to Disney's California Adventure Park and three restaurants on site including the Napa Rose Restaurant, the Storytellers Café and Whitewater Snacks. You'll also find shops, a full-service spa, Mandara Spa, and two heated pools, one of which even has a themed water slide! The kids needed any more entertainment? All 948 rooms have high-speed Internet access, 24-hour room service and TVs, while some even feature bunk beds for the kids to sleep in! Smaller visitors can request a crib, while parents can also make use of Pinocchio's Workshop, the onsite child activity center that provides child care filled with activities in case there is a need for some grown up time out.
(MORE: Save up to 20% when booking a Disneyland onsite hotel this Spring!)
Disneyland Hotel Anaheim, Anaheim, California
Disneyland Hotel Anaheim (Courtesy Disney)
Just off Downtown Disney on Magic Way, Disneyland Hotel Anaheim is ideally located to access the shops, restaurants and parks, thanks to the Monorail service. Recently renovated in 2012, its 975 guestrooms come with air-conditioning, hair dryer, mini-refrigerator, safe, and ironing set and can sleep up to five. Families can order cribs, rollaway beds, and make use of the 24-hour concierge, high speed Internet access, currency exchange, safe, and laundry services as well as room service. Renovated in 2005, the 4-star property also has a game room, a child play area, and a few shops on site, as well the Tangaroa Terrace, Trader Sam's Enchanted Tiki Bar, Steakhouse 55 and Goofy's Kitchen. Kids will love the musical and firework display headboards, the Mickey Mouse handle bathroom fixtures and the famous Disney "Character Breakfast" at Goofy's Kitchen! It's truly a magical place to stay for the entire family.
Disney's Paradise Pier Hotel Anaheim, Anaheim, California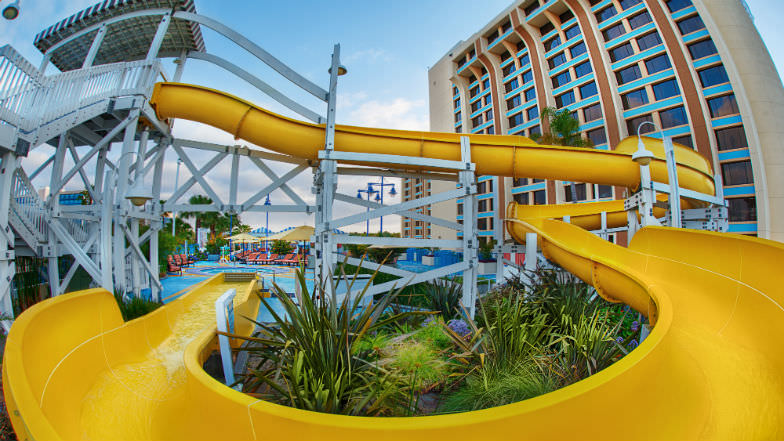 Disney's Paradise Pier Hotel Anaheim (Courtesy Disney)
Disney's Paradise Pier Hotel Anaheim overlooks Paradise Pier in Disney's California Adventure Park. This family-friendly hotel – a mere walking distance from both the Disney theme parks and the downtown Disney district – features 481 rooms with mini-refrigerators, high-speed Internet access, 24-hour room service and TVs. Some rooms even have surfboard-shaped room number signs, Mickey Mouse lifeguard lamps and palm tree-lined bedspreads for those looking for a truly Californian Disney experience! Themed after the irresistible California seaside, it's a fun and kid-friendly place to stay while visiting the parks. The hotel also boasts an incredible rooftop pool with a wooden roller coaster-inspired slide and three restaurants (Disney's PCH Grill, Surfside Lounge and The Sand Bar) so you are assured that every family member will find something to suit their taste. Furthermore, there's a fitness center, an arcade called Flounder's Fun 'n' Games, and shops on hand! Larger families can book rollaway beds or cribs too. Valet and laundry services are available upon request, as are sleeper sofas, cribs and beach umbrellas! Kids will also appreciate the on-site playground. What's more, there's free guest parking, and pets are welcome.
(MORE: Are you a Southern Californian resident? Save big with these Disneyland ticket discounts.)
Rowena Carr-Allinson contributed this to MiniTime. Since the arrival of her son in 2011, she has taken him everywhere from Bangkok to NYC, writing family friendly articles en route.